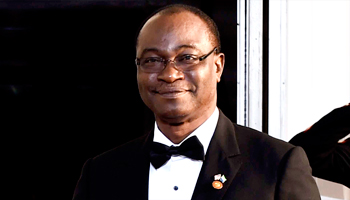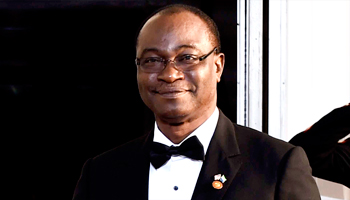 THE NATION IS PROUD OF YOU, DR. SAMURA KAMARA
Dr. Samura Kamara indeed fought the good fight , a fight he was favourite to win but in a world where the final outcome of such contests is not determined so much by the qualifications and capabilities of candidates but by  the intricacies of world geopolitics ,  international power politics and big money leverage , it is actually unsurprising that one of the world's most competent diplomats did not receive the required votes to remain in the race for the presidency of the African Development Bank .
But it is not the end of the world for Dr. Kamara. He has enough intellectual firepower , impeccable  experience in local and international public service, pedigree  and time  to suggest that the sky is still the limit for the 64 year old international diplomat and Foreign Minister of Sovereign Sierra Leone. Cream will always aspire for the top and being still a very young and burstling go-getter, the best is yet to come for him.
For Sierra Leone, one race is over, but it is not the end . We will ever aspire, as a nation.
All will run but only one wins the price. Our nation accepts this truism of life in good faith and with honor.
Dr. Samura Kamara ran a good race.  He ran it so well his name will remain indelibly written  in the sands of time. He will be proud of himself for the excellent manner he has  fought his course and showcased how he could have helped to create a better financial world and the people of Sierra Leone will be proud of him that one of their own fought the good fight in the race to head one of the most important financial institutions in the world. Life is not all about always winning , but in life, there is always a second opportunity.
President Abraham Lincoln 's record,   before he won the ultimate price,  is one of the best examples of the unexpected out turn of events  that a committed man aspiring to serve his world in an even higher capacity  often navigates before achieving his ultimate goal in life. Though Samura Kamara has never said he will aspire for the presidency , this example is being given to prove that there are always opportunities  in a man's life to continue shooting for the moon.
PRESIDENT ABRAHAM LINCOLN
1831 – Lost his job
1832 – Defeated in run for Illinois State Legislature
1833 – Failed in business
1834 – Elected to Illinois State Legislature (success)
1835 – Sweetheart died
1836 – Had nervous breakdown
1838 – Defeated in run for Illinois House Speaker
1843 – Defeated in run for nomination for U.S. Congress
1846 – Elected to Congress (success)
1848 – Lost re-nomination
1849 – Rejected for land officer position
1854 – Defeated in run for U.S. Senate
1856 – Defeated in run for nomination for Vice President
1858 – Again defeated in run for U.S. Senate
1860 – Elected President (success). He became the most powerful man in the world .
Yes, it is not the end of the world for the brilliant economist and diplomat .
Dr. Samura Kamara is still serving his nation as the Minister of Foreign Affairs and International Cooperation, a hallowed and lofty position where he has excelled himself beyond measure and is still able to actualize his commitment to serve country and the world. He  continues to be the nation's international voice and the chief  enabler of our international relations and diplomacy, after President Ernest Bai Koroma, the Head of State and Fountain of Honor of our nation–A capacity in which the Doc. has acquitted himself so honorably well.
Game over, game on.
The sky is still the limit for Dr. Samura Kamara and he will only continue to rise, God willing,  and at his appointed time .
We are proud of you, Doc. Keep on the good work.
WRITTEN BY KABS KANU