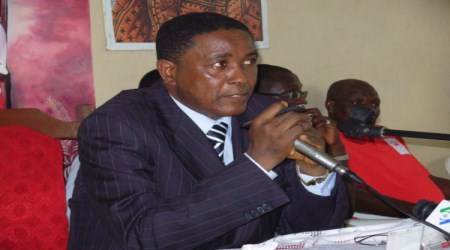 By KABS KANU :
The Minister of Information and Communications, Hon. Alpha Kanu, has been addressing  the dangers of unprofessional and unpatriotic Journalism in Sierra Leone. A section of the Sierra Leone media appear to be operating in the jungle where there are no laws or ethics. Day in , day out they publish blatant lies and distorted information designed to embarrass the Government and stall the development drives of President Ernest Koroma.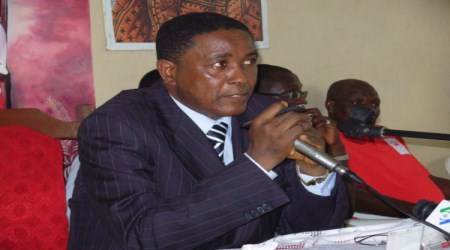 In a discussion with COCORIOKO , the Minister dilated on the problem  . Mr. Kanu told this newspaper :  "It will interest the public to know that President Ernest Koroma was well received by the Government and people of South Africa during the official life celebration and funeral service of the late former President , Mr. Nelson Mandela." Mr. Kanu went on to say that President Koroma and team were received as Presidential Delegation 102 and he was seated next  to Rwanda's President Paul Kagame and his wife. .He was not snobbed as some irresponsible opposition newspapers  have been reporting.
According to a State House source, President Koroma was not attending a jamboree. He was attending the funeral of somebody he considered a role model, a giant of Africa and somebody he admired. When the President arrived in South Africa, he arrived on the tarmac with 6 other Presidents and he left most of them on the tarmac and was escorted by a high-powered security team to the field where the ceremony was being held. South Africa has one of the tightest security apparatus and it was not possible for any head of state of another country to enter without being invited.
Minister Kanu also told COCORIOKO  that President Koroma is very close to the leadership of the African National Congress ( ANC ).
ALSO, IN THE LAST PRESS CONFERENCE OF THE YEAR AT THE Ministry of Information and Communications, which was attended by the Information Minister himself , the State House Chief of Staff Dr. Richard Konteh and many other leading government officials, Hon. Kanu explained to great details why Sierra Leone was adjudged not to have passed the Control of Corruption Indicator of the Millennium Challenge Corporation ( MCC ) . One of the reasons cited by the Minister was negative publicity by the irresponsible , vindictive and unpatriotic opposition press. . The negative perception index was not created by the MCC ,  but by the people of Sierra Leone .
The Minister lamented that it is the whole country that usually suffers  the effect of negative media reporting .
WE WILL BRING YOU MORE DETAILS OF THE PRESS CONFERENCE.
MEANWHILE, according to the State House Media Manager, Mr. Jarrah Kawusu-Konteh, Sierra Leone's Consul in South Africa  has put  Detractors to Shame .
"No words are sufficient to thank His Excellency's presence in South Africa during our time of grief, with so eminent a delegation", says Keith Mokoape (Maj. Gen. (Rtd), Honourary Consul of Sierra Leone in South Africa.
Said Kawusu-Konteh :  "Please read letter below sent to Ambassador Soulay Daramy (SCOP), and have your say since our detractors have seen nothing wrong in their peddling of lies against their own government with respect to the just concluded funeral of the late former South African icon, Nelson Mandela…"