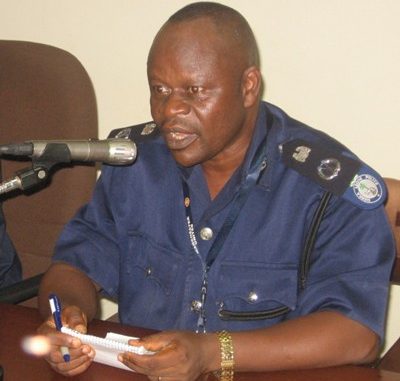 SLP Communications Unit
Inspector General of Police, Francis Alieu Munu, today Wednesday 5th August 2015, addressed Senior Police Officers at the Senior Police Officers' Mess, Kingtom. In a packed hall, the IGP spelt out his vision for the force, and provided a morale boosting talk to the personnel. Speaking from the heart and with much conviction, he informed Senior Officers of the opportunities now existing in the force, admonished them to get trained on new skills and to take advantage of the support that the force provides for education and leadership skills.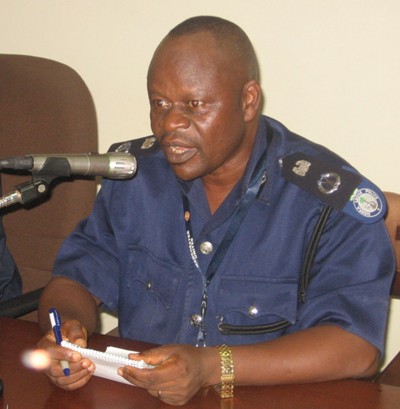 He indicated that some of the investments that the Sierra Leone Police is making on staff welfare, uniforms, recruitment and promotions are all geared towards making the SLP a modern force, committed to raising the standard of service delivery. Whilst commending the rank and file for the fight against the Ebola virus, IG Munu paid tribute to those who succumbed to the virus, especially those who were ranking members of the Police force. To date, the SLP has lost 15 personnel to the Ebola virus disease.
Introducing the Inspector General, DIG Richard Moigbe reminded the personnel of their duty to maintain a professional approach at all times and for them to be secure in the knowledge that the senior hierarchy is working diligently to secure for them, better terms and conditions of service. DIG Moigbe recalled his years in the service as he reminded the senior officers of the absence of such close working when he first started out as compared to that which is now evident in the force. He mentioned the strength of the force as a challenge to provide for and secure individual welfare but with a more robust set of policies, the Sierra Leone Police has improved relations with rank and file personnel under the leadership of Inspector General Munu.
Prior to the address of the IGP, Police Communication Consultant, Titus Boye-Thompson made a brief presentation on the SLPs flagship initiative, "Raising the Standard". In his presentation, he outlined the Vision of the Inspector General to steer the SLP through its post Ebola reconstruction by a commitment to raise the standards of professionalism, efficiency and overall service delivery of the SLP. During the development of this concept, a force wide consultation would undertaken to ascertain from officers specific areas for which they would need to see improvements on their operations. Over 200 Senior Police Officers from the rank of Assistant Superintendent of Police (ASP) were in attendance to hear the IGP's address.