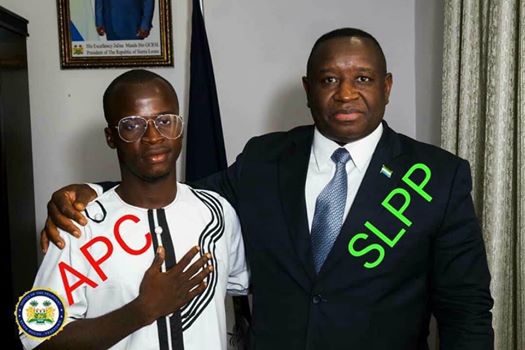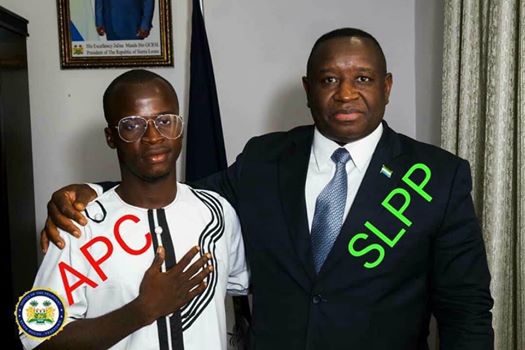 Sesay Hafsat
Must know how this loss at Bonthe  bothers Maada Bio (aka Napoleon of ANIMAL FARM)! Look at how happy Bio looks! One whole Head of State reduced to posing with a small boy local councilor in order to make a cheap political propaganda that Bonthe is now all green. Only for the small boy to go later and say na fowl-face!
We may want to ask ourselves: Why is the President of Sierra Leone playing an active role in creating a regional and tribal division in the country. This Man standing with him the President won an election under the main opposition party APC symbol in Bonthe District which is said to be the hometown of the Deputy Speaker of Parliament and The President himself. Yesterday they have to force him to pledge allegiance to the PAOPA Government in an open stage managed socall press conference. Today we hear a different story from the Man himself that he is still an APC member. Fellow Sierra Leonean this is serious. Lets think Sierra Leone and not SLPP or APC.
I bring you greetings from Avondor land….
Botched transfer deal between the All People's Congress and Sierra Leone People's Party for Councillor Avondor.
Avondor who was elected recently under the APC ticket in an SLPP dominated Bonthe District Council was reportedly poached by the Deputy Speaker of Parliament Honorable Sengepor Thomas who is also a Bonthonian.
The deal is believed to be a whooping undisclosed fee including a special meeting and photo up with President Bio at State House.
Avondor who did not do the symbolic changing of jersey from red to green as it used to be was however unveiled as the newest member of the SLPP at Unity House in the afternoon of Monday 25th June with welcome statement from Prince Bullet Harding.
Avondor was also accorded a VIP treatment at State House with very good photos and a well written report by a State House staffer.
Social media went amok after the news broke with the APC describing the deal as fake even though Avondor was on record of saying he is returning to his Party the SLPP because the APC didnt support his campaign.
Just after a report on his declaration at the SLPP office,confusing everyone Avondor in a telephone interview with Radio Democray's Kadija Bangura on the Gud Mornin Salone Program said he is still APC and has not moved to anywhere.
With such embarrassment on the Office of the President with a deal that never was am sure Honorable Sengepor Thomas will be more embarrassed as the middle man.
For confusing the nation on a Tuesday morning Councillor Avondor is arguably the most popular politician since after Maada Bio becomes President.
Avondor deserves the Best Politician Awards from AWOL.
Let's brace up for more cross carpeting probably more Avondor's will emerge.
SO ALL WHAT SLPP ARE DOING IS PROPAGANDA.  DADDY VOODOO SAID HE REMAINS APC TILL DEATH AS HE IS GRATEFUL TO WHAT THE PARTY HAS DONE TO HIS FAMILY
He said his wife has been threatened and beaten.
MAADA BIO AND THE SLPP ARE WORKING OVERTIME TO ALL WITHIN THEIR POWER TO DIVIDE THE NATION
 SALONE POLITICS IS CURRENTLY TOXIC AND VICIOUS, BUT STILL INFORMATIVE. THE MORE WE TALK AND PARTICIPATE, THE BETTER INFORMED VOTERS WILL BE COME 2023.
APC COUNCILOR DENIES SLPP DECLARATION ….
Says He Never Joined The SLPP But Pledged His Support to Work With The Government.
APC councilor grabs SLPP by the scruff of the neck
By Papani Sandy
You don't need to be a political pundit or commentator or even politician to be able to draw the inference that Daddy Avondor, the newly elected councilor of the multi-member ward 308 on Bonthe Island has figuratively grabbed the ruling Sierra Leone People's Party (SLPP) by the scruff of the neck.
Without going into specifics, since the SLPP assumed the running of the country, the opposition APC has won all bye-elections conducted in Port Loko and Bombali districts and, in Bonthe district, the SLPP and APC took one seat apiece. This gives the opposition more leverage and latitude to operate which leaves the ruling SLPP jittery and perplexed to the core. "How can we lose in Bonthe?", asked one Bonthonaian whose loyalties lie with the SLPP.
The SLPP lost because of neglect and arrogance towards the sons and daughters of the soil. Daddy was denied the SLPP symbol on three separate occasions and they paid direly at a time when they couldn't afford the consequences – disgrace and shame, lack of confidence and ultimately panic.
It is this panic mode which was activated by Daddy Avondor of the Great APC, at least, according to the Deputy Speaker of Parliament Segepoh Thomas, who also hails from the district, the people of Bonthe weren't happy with media hype around Daddy's victory, so they decided to persuade him to return to his roots – the SLPP. This is ridiculous!
"Is it only after Daddy took you by the scruff of the neck, that you realized you did something foolish before?", a founding member of People's Movement for Democratic Change (PMDC), which also has a strong presence in the district quizzed.
If you watched the press conference or followed updates thereof on social media, it was quite visible the APC councilor was being ambushed and pressured altogether. It was clear that when he was surrounded by all those ruling party kingpins, whatever he said is what they call duress. But when he got away from the powers that be, he spoke freely on the radio and disclaimed reports that he had declared for the SLPP.
Whatever the case, it is unmistakably noticeable that Daddy Avondor, the newly elected councilor for APC in Bonthe district has agonizingly bruised the SLPP's ego in the just concluded bye-election in that district and it appears the party is strenuously and desperately fighting the current shock and disgrace. It has reached out to Daddy to publicly cooperate with their government which is a good thing. Daddy has affirmed commitment to work with the government to promote development in his ward and district.
Have you imagined if Daddy Avondor refuses to cooperate with the ruling party, what will be the consequences and impact for development in his area? After all, he knows the current president also hails from Bonthe district, and this victory at the ward level has annoyed him very badly. President Julius Maada Bio is a very vexed man right now because his party lost their first election in his home town. Let's face it, will Daddy Avondor's people continue to be safe, if at all they are safe right now?
It is now left with the opposition APC to ensure Daddy Avondor feels more at home and supported through thick and thin. The party national executive needs to stand by the only councilor the party has on Bonthe island. He needs your support now more than ever because, thankfully, the SLPP already knows he's part of a very big family called the All People's Congress party. No messing around him from now onwards.
Feel free to share 
👉🏿
👉🏿
👉🏿
SLPP and Maada Bio embarrassed and disgraced by councilor Avondor. What a shame