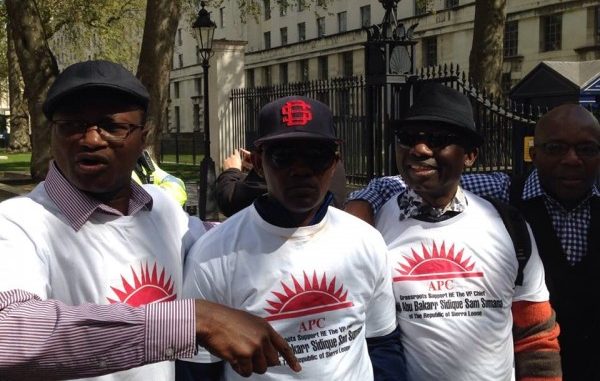 I have just been informed once again by APC officials in the UK that the following faces in APC T-shirts are impersonators . They are SLPP fanatics supporting the dismissed former VP Samuel Sam Sumana now but they are not members of the UK/ Ireland APC Branch.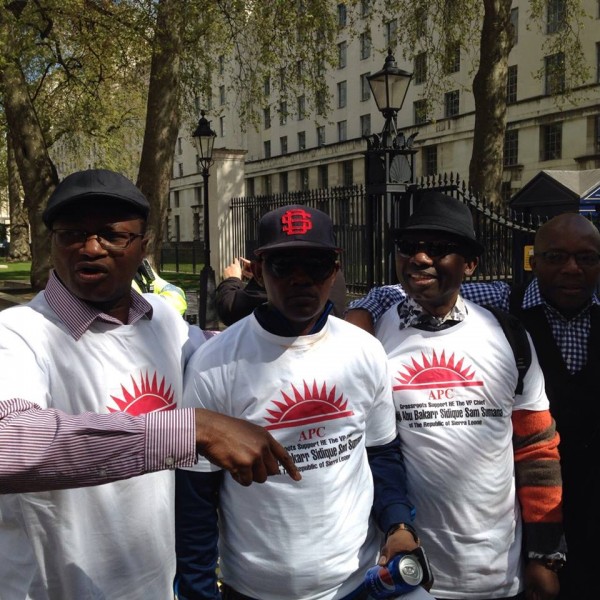 SLPP SUPPORTERS IMPERSONATING AT THEIR LONDON RALLY 
I will be writing an article about this from the information I have received that the individuals who impersonated the APC by wearing the party's colors today are acolytes of the former VP.
IF SAM SUMANA WANTS TO BE SEEN AS A STATESMAN, should he not be condemning these gutter tactics and appealing to his supporters to calm down and wait for the Supreme Court's verdict on his case ? There is wisdom in him restraining his supporters if he does not intend to burn his bridges behind him . These demonstrations are not helping him. I know his advisers are telling him the same. His supporters (and by extension, he too) are not showing any respect for the Supreme Court . If he is a statesman , he should show respect for the highest court in the land as Al Gore did in the great U.S. in 2000.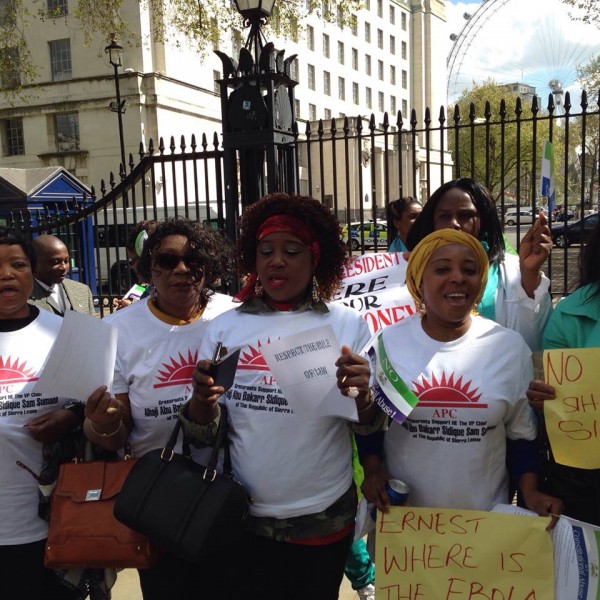 FAKE APC SUPPORTERS : THEY ARE SLPP SUPPORTERS DRESSED IN APC T-SHIRTS
Secondly, which party will he be using to pursue his presidential ambitions ? The APC ? ( Because I do not see the SLPP making him a flag-bearer ).  Will the former VP expect the same APC his cronies are presently demeaning to give him the presidential aspirant ticket ? Forming a new party will not even give him 5% votes in the elections. The SLPP are now making capital of his case for personal ambitions. They are just using him. No true SLPP  supporter will cast a vote for him.
So, how does he plan to be President of Sierra Leone ?
This is a serious question Sam Sumana should be asking himself. I will be looking at all these issues in my article tonight.
This is a shame.