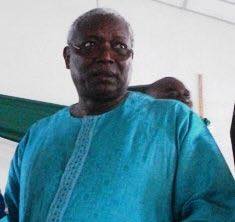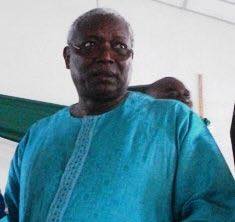 Sierra Leoneans today saw a disgraceful video of its speaker of House of Parliament making rounds on social media.
The video which depicts Dr. Abass Chernor Bundu in the nude is in three short parts during which he exchanges with a female companion whom it is believed was doing the camera work.
Dr. Abass Bundu is a former Member of Parliament, Foreign Affairs Minister, African Union Diplomat and was Presidential Candidate in the Presidential Election of 1996.
Commenting on the video a foreign diplomat says this has an uncanny similarity to the 1961 affair of the British Secretary for War John Profumo who had an affair with a 19 year old topless model Christine Magret Keeler.
Mr. Profumo confessed and resigned but the scandal led to the defeat of Prime Minister Macmillan in British polls of 1964.
There has been no reaction from his party but there are expectations that Dr. Bundu will hand in his resignation soon.
The 1991 constitution puts the speaker of Parliament at number three in the political ladder.
Parliament met today and the Deputy speaker is out of the country.
_____________________________________
*Calls for the resignation of the Speaker of Parliament gathers momentum*
By Alimamy Issa  Kamara
Social media in Sierra Leone is currently abuzz with calls for the resignation of the Speaker of Parliament Dr Abass Bundu after two lewd videos of someone resembling him was leaked on the internet.
The leaked videos posted on hundreds of social media platforms including WhatsApp and Facebook show a naked man sitting on a toilet seat exhorting someone (probably a lady) that no phones are allowed.
The second video shows a simulacrum of Dr Abass Bundu cleaning up after using the toilet. It is quite clear the person who made the film with a mobile phone was the companion (not his wife) of the Speaker of Parliament.
The news has now gone viral and has attracted the attention of activists from various CSOs who are now calling for the immediate and unconditional resignation of the country's Speaker of Parliament – third in line after the President and Vice President.
Most people who have watched these videos agreed that this was indeed Dr Abass Bundu, Speaker of the Sierra Leone House of Parliament.
Sources close to State House have noted this morning that the presidency was disappointed by this development especially after a very successful week with the passage of the three legal instruments for the establishment of three commissions of inquiry into the activities of the past government. "We are weighing requests for his resignation but that's a job for parliament," a source said.
According to close family ties, Dr Abass Bundu himself categorically denied that it was him in the video. He said the person in the video has a big tummy, hence that's not him. "The man in those two videos did not even look like me," he was reported to have claimed.