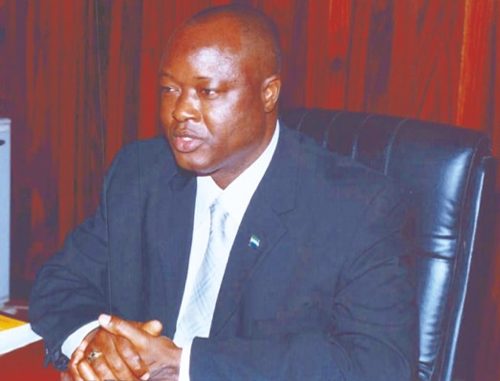 By Mohamed Sankoh (One Drop) —
I'm surprised that some people are surprised at the expulsion of Vice President Chief Alhaji Sam Sumana from the ruling All People's Congress (APC). I'm surprised for the simple reason that those who have been following happenings within the corridors (and narrow alleys) of the APC know that that decision should have been taken donkey years ago. So, showing surprise at that decision is like raising eyebrows at the thought that Christmas is December 25 when it has always been so.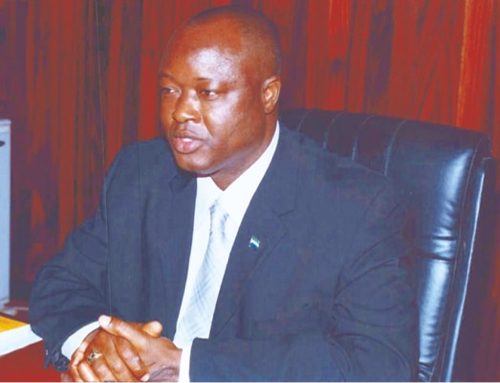 VP SAM SUMANA
Even the interview Mr Sumana granted to Radio Democracy FM 98.1's "Good Morning Salone" yesterday (Tuesday 10 March 2015) could be seen as the last kicks of a dying horse because everything about that interview had the trappings of a stage-managed affair. The persistent coaxing and repetition of the interviewer coupled with the deliberate stuttering and faked laughter of the interviewee told it all! In a nutshell, that interview was intended to whip up sympathy for the Vice President and present President Ernest Bai Koroma as a heartless person and the APC as an ungrateful party. Plain and simple!
But first things first. One doesn't need to darken the walls of a Political Science classroom to know that every member of the APC is subject to the party's principles and ethos. That, when translated into simple English, means that every member of the ruling party, including the Chairman and Leader, can be disciplined by the party if s/he either does something that will bring the party into disrepute or does something that threatens that party's unity.
What should be of note is the fact that even if someone is the one who dips his hands into his pockets and registers a party and single-handedly finances it; that doesn't mean s/he should be or is above party discipline. And in the case of the APC or even the Sierra Leone People's Party (SLPP), no one could claim to have single-handedly finances it when any of these parties, especially the APC, has many financiers and patrons in their thousands.
And a very important aspect of the relationship between members of a political party and the party itself is the existence of structures from or on which the party could discipline its members. And Vice President Sam Sumana was not just expelled from the APC but was given chances to appear before the nine-member Disciplinary Committee to defend himself against the allegations for which he stood accused of and for which he was eventually expelled.
And what should also be of note is the fact that the evidence against the Vice President were not manufactured at Abacha Street in Freetown. Some were issues that bordered, and still borders, on perjury and dishonesty. And besides, those who gave evidence against him were his own Konofolks. They were not adduced by President Koroma or his close friends and relatives but Mr Sumana's own kith (with the subtraction of the "kin") who shared the same language and culture. It was Diana Konomanyi, the Minister of Local Government, who informed the Disciplinary Committee that his own brother, Chief Sam Sumana, lied about him being a Muslim and a graduate with a Master's degree. And for those who are not knowledgeable, it was Diana who allegedly singlehandedly transformed the former SLPP-miner called Mr Sumana into a Muslim just to spite Ambassador John Yambasu who was the leading contender for the 2007 running mate slot. And because Ambassador Yambasu was, and still is, a Christian with a Master's degree from Russia; Diana reportedly manufactured a Master's degree for her then blue-eyed Kono brother. That's why, at the disciplinary hearings, she was dressed down for being an accomplice to forgery and dishonesty!
Apart from Diana it were people from Kono who reportedly informed the nine-member Disciplinary Committee that their own Kono brother had over 100 "hired and kept" thugs in their native Kono District. And when Karamoh Kabba, another Konoman who is the deputy Minister of Political Affairs, muddied the Vice President's waters further that he threatened to kill him; then one could safely deduce that the issue of the Vice President's expulsion was an over-ripped mango! For in a party where members still refer to themselves as "comrades"; for someone to be accused of trying to kill another "APC comrade" could be referred to as an attempted APC-cide (another One Dropian coinage, please).
So, the expulsion of Vice President Chief Alhaji Sam Sumana from the ruling All People's Congress could or should be seen as purely a Kono affair as the bulk of the evidence emanated from Kono District. And if crocodile comes out from the river and tells you that alligator is sick, who are you to deny? (noted Chinua Achebe in his novel "Anthills of the Savannah") Those who grew up with the Vice President know him better than us. And if they decide to spill the beans now; it is better late than never.
What, as I see it, was and still is the problem with the Vice President is the fact that he might still be stuck in the SI Koroma-ian (another One Dropian coinage) way of doing things that leadership is all about pulling muscles. But in actual fact, modern day leadership is all about getting along with people even those you despised! And I think Mr Sumana seems to be finding it very hard to get along with his "comrades" especially with those who matter most in the APC.
So blaming President Ernest Bai Koroma for the expulsion of Chief Alhaji Sam Sumana is a non-brainer. This is because President Koroma was neither the head of the Disciplinary Committee nor the one who singlehandedly expelled him from the APC which the Vice President joined in 2007 after his sojourn in the SLPP.
But my advice to President Koroma is that next time: "If you see a snake, just kill it. Don't appoint a committee on snakes" (I have forgotten where I saw that quote but please note that it is not mine!).