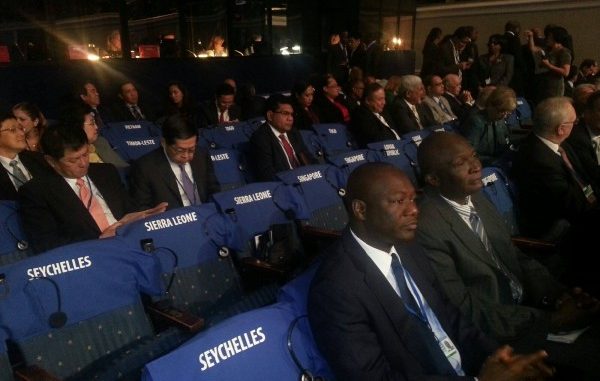 Kiyoshi Kodera Vice President of Japan International Co-ordination Agency (JICA) has on October 9th, 2014, called on the government of President Alassane Dramane Ouattara of Ivory Coast, to release the first batch of twenty thousand (20,000) set of Japanese specially made Personal Protective Equipment (PPE) bound for Liberia, and Sierra Leone, but held up at a Port in Ivory Coast.
The request was made during a conference chaired by Dr. Jim Yong Kim, World Bank group President, wherein the two Presidents Dr. Ernest Bai Koroma and Liberia's Dr. Ellen Johnson Sirleaf participated through live stream video and in the Presence of President Conde of Guinea.

The donation of PPE by JICA was a direct response to requests made by the two Governments of Sierra Leone and Liberia, for personal protective equipment and supplies for individuals of the two countries to help prevent the further spread of Ebola.

According to Kiyoshi Kodera, the Ebola emergency supplies arrived in Cote d'ivoire on 18th September 2014, and up to 9th October 2014, when the call was made at the Convention Center in Washington DC, the PPE were still languishing in Ivory Coast.

"We are pleading with the World Bank Group to help us get Cote D'ivoire release the PPE, because no sooner than they are delivered, the others will follow."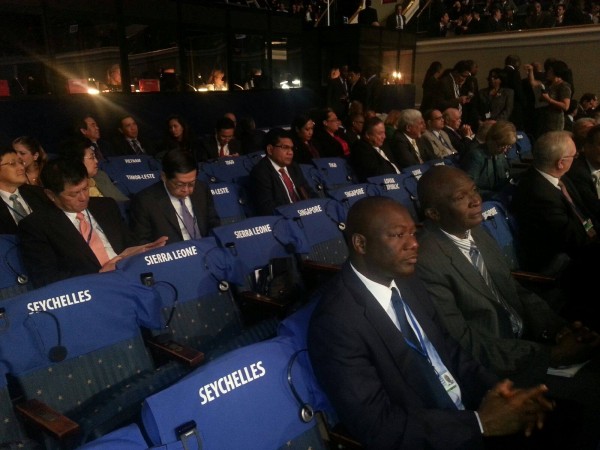 The request was made in the presence of His Excellency Daniel Kablan Duncan Cote D 'Ivoire's Prime Minister and Finance Minister by JICA, in response to leaders of the World Bank Group, United Nations, representatives of United States, United Kingdom, France, Canada, Germany, etc. when they collectively called for more and speedy response to the Ebola outbreak affected West African Countries.

On September 9 2014, JICA announced that it was going to provide Sierra Leone and Liberia, the two countries suffering from an Ebola outbreak, with 20,000 sets of personal protective equipment in a first round of efforts, out of a total of One Hundred Thousand (100,000) sets, which will be donated by the Tokyo Metropolitan Government.

In his closing remarks, Jim Yong Kim World Bank Group President appealed for the release of the PPE.