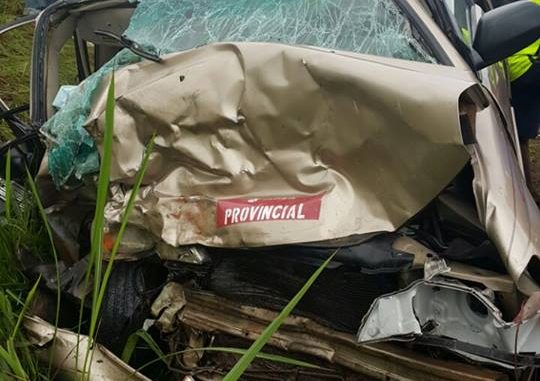 The Attorney General and Minister of Justice, Mr. Joseph Fitzgerald Kamara, is doing fine after being involved in a ghastly accident today on the Masiaka-Lunsar Highway.
According to Abdul Rahman Bedori Kamara on the Cocorioko Facebook Forum, "Around 15:00 hrs just about 5km from the Magbelay bridge towards Rogbere, a serious  accident happened which involved government vehicle possessed by the Attorney  General and Minister of Justice Mr.Joseph F.Kamara  who was heading for Makeni. The vehicle collided with a transport vehicle heading for Freetown ."
"Five people were wounded and some critically and they were rushed to Lunsar  for medical attention. The vehicle of the Attorney  general was seriously damaged in the front. " .
Our man, Idrissa Conteh , said :
"Reports trickling in from Gbere Junction, about 5/km from Magbele Bridge, say the Attorney General and APC flag bearer aspirant, Joseph F. Kamara was involved in a gruesome road accident this afternoon at 15:00 hrs when his official car collided headlong at breakneck speed with a commercial vehicle.
Though the impact on the car is serious, Mr. Kamara, his driver and bodyguard are said to have come out of the vehicle with only minor injuries. JFK and the two men have been rushed to Freetown for treatment after receiving emergency treatment at the Lunsar government hospital.
The 5 passengers and driver of the commercial vehicle were said to be critically injured and may not even survive. They were said to be in a state of coma while bleeding profusely up to the time they were being rushed to the Lunsar Government hospital.
JFK was reportedly coming from Makeni en route to Freetown when the commercial vehicle crashed into his car while trying to overtake another vehicle."
Cocorioko learnt that the minister was doing fine.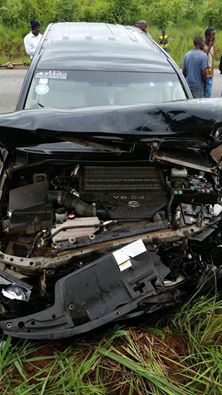 THE ATTORNEY GENERAL'S VEHICLE