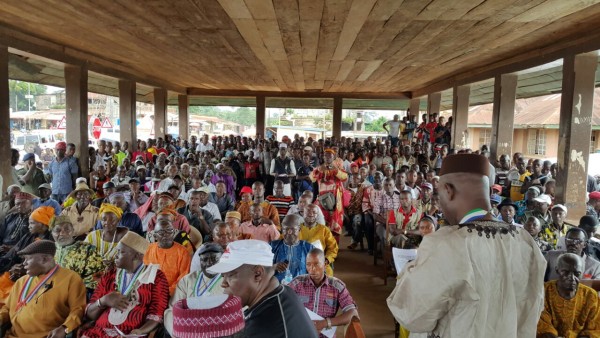 STATEMENT DELIVERED BY THE HON. PARAMOUNT CHIEF MSK. BANYA IV ON THE OCCASION OF THE VICE PRESIDENT'S VISIT TO KAILAHUN
Kailahun Court Barray//17-06-16
Mr. Chairman, Hon. Vice President….. It is a singular honor and privilege for a nobody like me in the political arena, though Head of this Chiefdom, to share this dais with specially blessed and important persons to welcome the Hon. VP and his entourage. Hon. VP and delegation I wish you a happy and successful stay here.
Let me, on behalf of the people of Kailahun seize this golden opportunity to thank HE the President of this beloved Republic and his Government of which you are a key player for the 55km modern road construction in the Kailahun Township, Headquarter of the Kailahun District.
Unfortunately I cannot find words suitable enough to say thanks again for the excellent construction of the Kenema-Pendembu Highway. You have truly made unbreakable record in your time. This road has been the major economic blockade to this agricultural District. We thank you very much.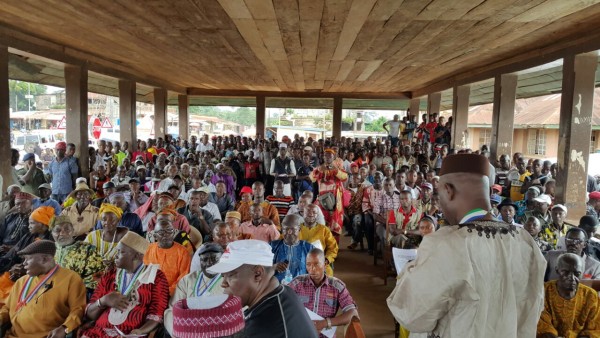 PARAMOUNT CHIEF BANYA PRAISING PRESIDENT KOROMA
The construction of the road in question, which we hope will soon extend to Kailahun and Koindu is a clear manifestation of the fact that the APC leadership cuts across Political, Regional and Tribal lines. This may be the reason why political support curves in many constant areas of this country have shaken.
May I also, on behalf of the people of Kailahun Town thank HE the President and his Government for the gravity water supply to the Kailahun Township. However there are some constraints, the SALWACO authorities here attribute this problem to lack of sufficient fuel to pump water into the overhead tank. I wish to appeal HE the President and Government through you, Hon. VP for a speedy resolution of this water supply problem to Kailahun Town. I would be found wanting in this statement if I let go the opportunity of thanking our beloved President, Dr. Ernest Bai Koroma through you Hon. Vice President for elevating our son of the soil, Maya Moiwo Kaikai to the position of Minister of Local Government and Rural Development. We are truly grateful.
In spite of political allegiance differences, the President and his Government have demonstrated true live for us by the above acts. Let the people of Kailahun now demonstrate the act of "hand go hand cam". We should do all that it takes to develop our District, so that our offsprings will laud our efforts to make them live in a modern developed society here in Kailahun. Politics should be about development and not mere affiliation. Let us do something that will urge and stimulate the President and his Government to speedily complete the construction of our road from Pendembu to Kailahun. We have suffered for far too long. The economic and bodily sufferings caused by the bad road is huge. Let us take the bold step to put it behind us now, not tomorrow.
I thank you for listening.
©Communications Unit
Office of the Vice President