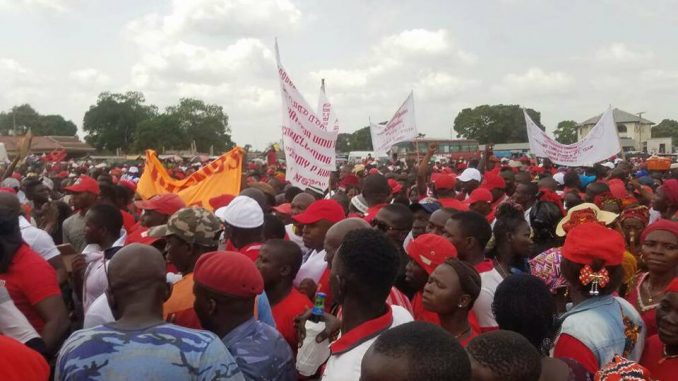 The much distorted reports about Kambia after the Convention in Makeni was today foiled by the visit of the son of the soil, *Hon Ambassador Alimamy Petito Koroma*. This move was backed by some of his fellow contenders for the flag bearer position in the persons of Hon Ibrahim Rassin Bundu, John Bonoh Sesay and Joseph Fitzgerald Kamara Esq among others.
Pictures indeed tell no lies. I can assert authoritatively and prove beyond reasonable doubt that *Kambia* is all out *RED*
*Ambassador Petito* appealed to his numerous supporters to remain calm and supportive of the *All People's Congress* party despite the outcome of the result in Makeni that he did not expect.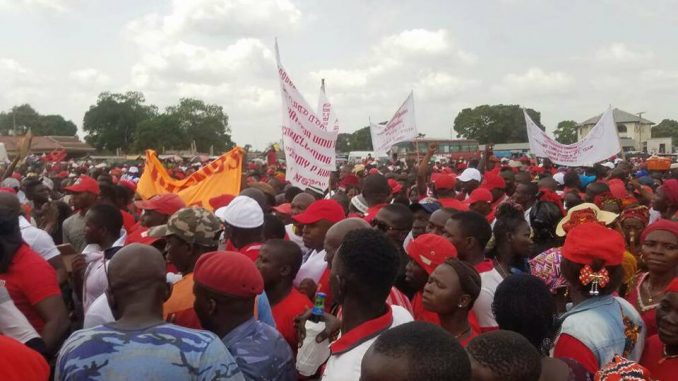 *"For me, I only know one association, one affiliation, one party, and that is the APC. I might not be altogether happy with the Makeni outcome, but for the love of our people, party and country, we have to drop everything and move on. The APC is a seed that was planted in Kambia and today it has blossom everywhere in this district and will continue to*"
Making a statement, the Hon. Minister of Justice Joseph Fitzgerald Kamara Esq. stressed on the firm belief that there will always be another man's turn. He went further to state that this is the turn of our presidential hopeful *Hon Samura Matthew Wilson Kamara*.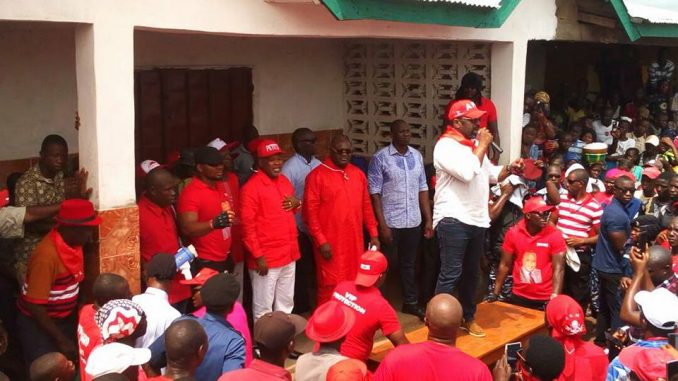 While making his statement, the former CEO of Sierra Rutile one of the former aspirants John Bonoh Sesay did not mince his words as he laid bare the fact that *Hon Alimamy Petito Koroma* is the life blood of Kambia and was the most favourite among them who were vying for the presidential flag bearer of the party. Similar sentiment was also shared by Hon Bundu who drew an allusion to the cotton tree and the casava leaf. The casava leaf finds itself to be this tiny because it scattered itself all about, thereby denying itself the desire of growth. Unlike the cotton tree, it consolidated its position and succeeded in making itself a giant tree. In like manner he went on *the people of Kambia should be like the cotton tree and make themselves mighty by voting overwhelmingly for the *APC*.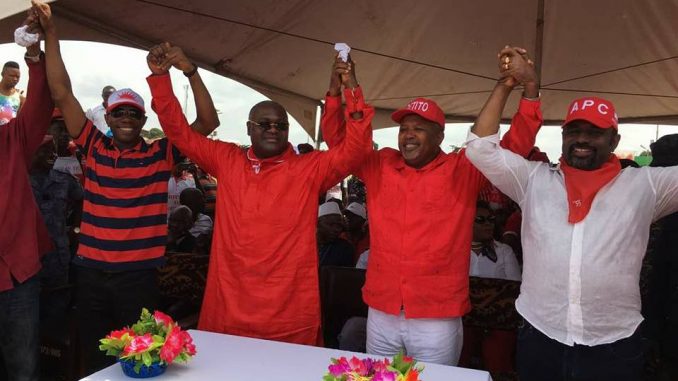 Other speakers include the APC National Secretary General, Hon Dr Osman Foday Yansaneh, the APC Northwest Regional Chairman Hon Alhaji Buya Kamara, the APC Northern Regional Chairman and a few others emphasized on reconciliation and
vote solidly for APC, *ALL-4-ALL* and that *Ambassador Alimamy Petito Koroma* is very key to delivering Kambia for APC
Earlier, the Minister of Youth Affairs Hon Bai Mahmoud Bangura introduced the dignitaries.
*© PAM MEDIA AND COMMUNICATIONS*