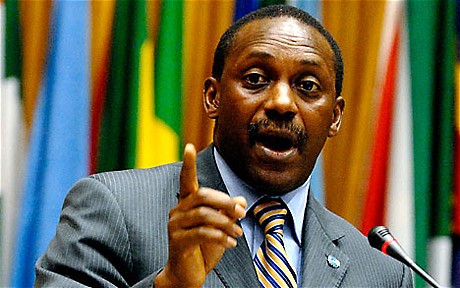 Written by: ALFRED KAMANDA
I have been a true fan of the development expert Kandeh Kolleh Yumkella as he battles with the retired brigadier and his henchmen for the flag bearer of the SLPP. I met this technocrat in 2006 as a freshman at FBC when he addressed us as UNIDO Director at the
Bintumani hotel! Like Professor PLO Lumumba, I was mesmerised by his
presentation and since then I saw a President in him. When he chose to
run for the presidency in our Republic, I was very excited and till
date I'm filled with that excitement. I knew a leader with the best of
ideas, with the best of connections, with the best of passion for his
people is here to serve at last! Yes! We even had to share drinks at a
pub with friends we share the same dream and agenda when he declared
he was running for the presidency of Sierra Leone. We saw a corruption crusader; we saw a man pregnant with dreams for kicking out
corruption, beefing up the education sector and making it job friendly.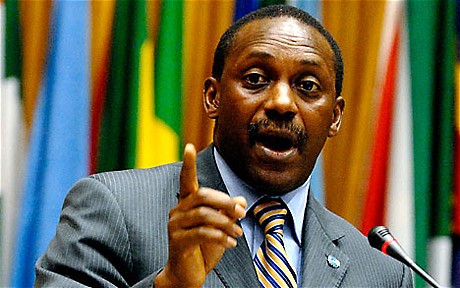 He then had to make a political decision whether to form his own party; which floating voters like us wanted because we trust not the
establishment, or becoming a member of the opposition SLPP – a party his father helped establish- or becoming a member of the ruling APC.
He had all these options and he chose the SLPP, where the retired
Brigadier has consolidated his grip, making it almost impossible for any other aspirant to take the top seat! But as brave and charismatic as he is, within months he was one of the two most loved and
celebrated candidates within the SLPP. I salute you for your bravery
Kandeh, I salute you for the inroads you have made in a party where
one man takes the lion's share and all others should bow! You had to
man up, as always, and became the main opposition in an opposition
party to the man who led the party in 2012.
I have listened to some of your diehard supporters urging you to leave
the SLPP and form a coalition at the very eleventh hour! I heard their cries and I can understand their concerns! We all feel the same pain; you and your family have been molested, abused, ridiculed and rejected by the party you all toiled to make potent. I feel your pain that your supporters have no safe haven in their own party office. I feel their pain as they are considered as either with JMB or enemies of the
party.
THE MARGAI SYNDROME: WHY YUMKELLA SHOULD STAY OR SINK
But, and the but part of it is that, we have seen breakaways in this
country and how they ended in political damnation. We have seen the popular politician, Charles Margai, given the best of support and told
to break away from the SLPP which he did and at the end of day the key
players left him in the lurch. Today some are part of this same party
they left in 2007! So be cautious when taking this crucial decision.
We all know you are a development gem! A gem that could be utilised to
take Salone out of the abyss our leaders have plunged it! We know with
you the youth problem will be addressed! With you the days of political and economic corruption will be no more! We shall crack down heavily on looters and help strengthen our education sector so that our learners will have the opportunity to learn skills in higher
education institutions that will transform them into job creators and not the usual job seekers.
It's frustrating that you have all these beautiful ideas but your own
people are crucifying you. It pains, but please take a look back as a Muslim on how Prophet Muhammad (SAW) was treated by his own people! He was molested, ridiculed, rejected, abused and sent into exile by his own people.
That did not discourage him or make him abandon his project on earth
but was emboldened to do his very best to ensure his people benefit
from the fruits of Islam. For us Christians, we all know Jesus Christ is remembered as Jesus of Nazareth when we all know he was born in
Bethlehem. Have we bothered to ask why? Simple: his own people
rejected him but he was accepted by strangers! Now going back memory
lane with these allusions, I must tell you that you need not abandon
your search for common ground, your search for internal and external
democracy. I admonish you to hold on and stay with the SLPP! Give
whoever wins the elections the support needed to win democratically. Let me also hasten to remind you that as a battle tested leader all is not lost until it is declared over.
SLPP WITHOUT YUMKELLA: HOW TO LOSE AN ELECTION THROUGH DIVISION
To the Retired Brigadier and supporters, I am admonishing you to
encourage internal democracy; encourage political tolerance within the party; encourage Kandeh Kolleh Yumkella whom you are seeing as
opposition today as he could be your biggest and strongest pillar tomorrow. Extend your hands for peace and unity within the party! You have led the party in 2012 which makes you a major stakeholder, but
you should be always willing and ready to keep all onboard. The idea
of not caring at all that people are leaving the party is not the best
of options for a political leader and party that seeks to run the
affairs of this country in 2018. Democracy is about numbers and the more we are together the victorious it shall be. When you wish to be in pocket or scattered camps be ready to be in political wilderness
for the next couple of years.
*KANDEH KOLLEH YUMKELLA's EXIT: A DOOMSDAY PROPHESY FOR HIM AND THE SLPP*
Back to Kandeh: If you decide to leave the party now all we will get
is divided and weakened factions as against a formidable APC, thus
making it easier for the latter to win the next elections. A blank
cheque will be presented to whoever is voted or selected by the APC in
2018. Our voting pattern in this country is very clear; geography is
what determines the votes gathered by one party over another. We have few who will vote devoid of party lines or tribal bigotry as the vast
majority of our electorate vote on these cards. So it will take ages to break into the strongholds of both the APC and the SLPP to get anything out of the political process.
I will tell you it will be of no help to you and us who see beyond the current political dispensation if you decide to give up on the SLPP to establish a new political party! Some will actually see you as lacking the leadership acumen to fully negotiate a win-win situation with your political opponents. Others will opine that you lack the vision to see
the outcome at home. We would have supported you outrightly if you had established your own political party the moment you chose to lead
this country. But at this stage all we will get out of the separation is defeat for the party and same for you and all the supporters whohave invested so much in this movement.
Donald Trump is 70 and was able to capture the votes of the Americans
when they voted him as President at that age! Our own General Buhari
was elected President of Africa's most populous nation at about 70.
Many people still believe in your dreams but are inhibited by the
internal dynamics within the SLPP. As a lover of democracy, I am
asking that you stay to help build up the opposition to make it a
potent force for the next elections. In my view, if you do otherwise,
the SLPP and you will crash politically come 2018. As an institution
builder we expect you to help build the democratic structures within
the party. Make it a better alternative to the ruling APC. Democracy
is consolidated when we have a formidable opposition party as opposed to the ailing and comatose SLPP.
As a leader we expect you to get the best out of the process at this stage. Negotiation is the best option for a win-win outcome for you
and party! I know your aim has not been to win the flag bearer race
*paopa* but to see free, fair and credible elections as the delegates
elect their next Presidential Aspirant. Some serious thinking is
needed by you and your diehard supporters as this Concerned Democrat
speaks peace, unity, a formidable opposition and a consolidated
democracy. Ubuntu!