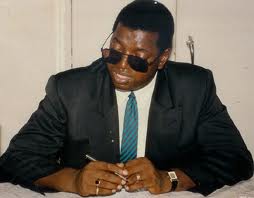 One thing that has always flabbergasted me about intellectuals in or from Africa, especially Sierra Leone, is their dishonesty, sycophancy and parasitism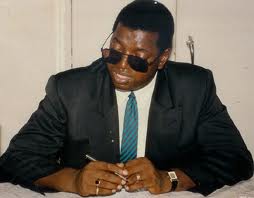 KANJI DARAMY
These are people born in Africa – Sierra Leone, grew up among their people and inculcated the culture of their people. The very essence of their education was to change that which has been bad for the betterment of their people. These are people given responsibilities by their people because of their supposed expertise to do things right to improve the lot of the people not to turn around and exploit their ignorance for personal aggrandizement.

Kanji Daramy is one intellectual who should have been well advised to shut his mouth rather than talk or write trash.

Wasn't it this very Kanji Daramy who was given the responsibility to manage Salpost? If he did it well, why was he not only arraigned before the Peter Kamaray Commission of Inquiry but was also found culpable then sacked? In other countries, there was no way Kanji Daramy would have darkened the doors of the president's office to be a presidential spokesman.

Let's look at it this way. Tejan Kabba faced the Beoku Betts Commission of Inquiry in 1967 that actually wounded him and exposed his character as Sierra Leoneans have, in the end, known him to be. Kanji Daramy also faced the Peter Kamarary Commission of Inquiry and was also wounded and his malpractices exposed. Similar situations, eh? But the one that sealed everything is the fact that they are both Madingos and the Madingo link had to be upheld at all costs for they know not when next, if ever, a Madingo will become president of Sierra Leone. I do not want to be tribalistic here but if Sir Albert lost popularity, among other things, for being accused of tribalism and President Momoh also accused of same because of Akutay, the element of tribalism has to be brought out in the open because Sierra Leone does not belong to one tribe, otherwise it should be then be considered a lack of integrity and a blatant disrespect for the honour of the people of Sierra Leone by their elected leader, who also doubles as the fountain of Honour.

Kanji is really lacks integrity for defending a rotten government like the one Kabbah has lead for eight years.

Let Kanji realize that by the time Kabbah came to power, there was a government in power, the NPRC. That NPRC, through the influence of John Benjamin, made Kabbah the Chairman of the Advisory Council that was advising the NPRC to abolish both the APC and the SLPP which Kabbah now heads and have messed up. There was a semblance of stability as the RUF rebels were in Kailahun then. Even when Kabbah knew that the rebels were advancing towards the interior he did nothing until Makeni was occupied. Didn't he Kabbah tell the Temnes in Makeni that it was their brother who wrecking havoc on the Mendes, something I feel led to his refusal to protect the people when the RUF actually appeared.

Kabbah's nonchalant attitude continued till May 25, 1997 when the coup d'etat took place and Kabbah was bold enough to admit in an interview with Robin White of the BBC African Servcice, that he knew about the coup three weeks earlier. Had Kabbah been an effective leader who swore to defend the people, he would have moved quickly to nip it in the bud not to run away leaving the defenseless people behind. This is the man Kanji Daramy is defending. This is real trash.

Kabbah was naïve and weak, so when the coup materialized, he fled to Conakry leaving his people behind to battle it out with the AFRC and the RUF. The population, especially in Freetown and its environs, was severely brutalized. Students were murdered in broad daylight as they challenged the AFRC in order to bring back democracy. What was Kabbah's gratitude towards the people especially the students? He turned against them, being continuously chastised by Berewa. Not even a monument in appreciation of the students sacrifice was erected. How ungrateful, OH, how ungrateful!!

Kabbah intended to disband the army had it not been for Brigadier General Maxwell Khobe. Instead he prosecuted soldiers in a mock show trial a la APC under Shaki during which time people became rich extremely rich collecting five thousand dollars each to let some of them off the hook. But, God nor dae sleep. Very recently, Berewa was heard, unguardedly, telling someone in a military parade that he, Berewa, would prefer doing business with the police rather than with the Army. How can someone intending to be head of state say such a thing about the soldiers who are our national defenders? The answer will come during the elections.

Kanji Daramy was insinuating by his writing that Kabbah brought peace and tranquility to Sierra Leone. I challenge Kanji to show or prove to us how Kabbah brought peace when Kabbah did not even know how things were planned and executed. This is a mockery of history especially when some of us are still alive and were witnesses to these events. But some of these guys around Kabbah just feel that their positions have suddenly made them cleverer than the rest. NO No no no. Get that Kanji.

Kanji tell us where Kabbah was that Sunday morning 6th May 2000, when Johnny Paul Koroma made that clarion call on soldiers to defend Freetown in whatever way they could, to thwart Foday Sankoh's effort to take over the government when Johnny Paul Koroma was not the President and Commander-in-Chief of the armed forces? Why was Kabbah president? Well, it was just for the glare and financial benefits he was deriving from the fact that he was president

Kanji Daramy says no huge capital infusion was done for Sierra Leone as was done for Europe especially Germany, under the Marshall Plan. Let Kanji Daramy be reminded again that there are people both within and without Sierra Leone who do remember their history or have been made to run quickly to their history books to find the truth. That truth is that the leaders at that time were never corrupt as Kabbah and his boys so they were able to get the people with them to build their countries and lift them from the rubbles of World War II. In Sierra Leone, Kabbah and his boys, the Kabbaists, squandered every bit of international financial aid that was sent to rebuild Sierra Leone. Where has Berewa been getting all the millions of leones he has been dishing out to Chiefs in Koinadugu and Kailahun and indeed everywhere he had gone within the country? Where has the fuel been coming from to move around in such long motorcades? What has been done with all that money from DFID to initially rebuild the destroyed houses of Chiefs? Where are all the six million bags of rice donated by Colonel Khaddafi for the people of Sierra Leone? What has Kabbah to say about that especially when his mentor and financier has openly told the people. People should now see why Kabbah wants immunity from prosecution for life because of all this embezzlement.

Where is the rice, while the people are starving? It was this very Kabbah in a feat of euphoria, who told the people of Sierra Leone that nobody would go to sleep hungry by the end of his last term. This is the greatest disappointment in a long time and Kabbah should be made to pay for it.
I will not be surprised if it comes out that Kanji Daramy has been a beneficiary of all these corrupt deeds of the Kabbah government. If he is not, then let him stop talking trash.

What more could Sierra Leoneans have done to demonstrate their trust and loyalty to Kabbah? The man just did not deserve it. He betrayed every bit of trust the people had in him. Kabbah had no respect for the people because he came to power feeling more superior to everybody else in the society. He was so intolerant of criticism that had it not been that world politics had changed, Paul Kamara would have languished in prisons. How did Kanji feel when Kabbah was being pleaded to like God Almighty to save the life of a fellow human being, Paul Kamara, for just reproducing a document that he, Paul Kamara, did not write? Kanji has been one of those making Kabbah feel he is god to Sierra Leoneans. Well, Kabbah is going in a few months like Sir Albert went, Siaka Stevens also went the way he went, S I Koroma the way he also went, C A Kamara-Taylor the way he also went, Johnny Paul Koroma the way he has disappeared, Strasser what has happened to him. Kabbah is going to face that loneliness that gripped Siaka Stevens and all others. Kabbah will have to reflect on all the bad things, the vindictiveness, the naiveté, the corruption, the way he has treated the soldiers with very low esteem, the way he let Hon Fatmata Hassan go scot-free for the killing of Harry Yansaneh, how he persistently interfered in the dispensing of justice. Kabbah, if the people don't get you, God the Almighty will teach you the lesson you will never forget.

Let Kabbah go. Good riddance to bad rubbish. But for people like Kanji Daramy, they will be faced with that unending task of defending their unpatriotic actions till doomsday. They will have to continuously convince Sierra Leoneans why Kabbah allowed the country to deteriorate under his watch.

The Kabbah government and all their defenders should be ashamed of themselves. Looking at Liberia, a country that was torn apart by civil war that it provoked a hopeless situation in the minds of observers, has been working wonders under a woman, Mrs. Ellen Johnson-Sirleaf, also in the same age bracket as Kabbah and Kanji Daramy is talking trash to us.
Sierra Leone is about to enter a new era of vibrant democracy where people like Kanji Daramy will no longer have any say. Their time is passed and gone. So let people like Kanji shut up and stop talking trash.