Kofi Atta Annan, the seventh Secretary-General of the United Nations (UN), began his term on January 1, 1997 after his recommendation by the UN Security Council on December 13, 1996, and was the first to be elected to that position from the ranks of UN staff.
---
He served a second consecutive term from January 1, 2002 to December 2006, having distinguished himself very creditably during his first term as the first UN Chief from Sub-Saharan Africa.
For his sterling performance, he was jointly awarded the Nobel Peace Prize with the UN in 2001 "for their work for a better organised and more peaceful world".
Mr Annan, who was born a twin (his sister Efua Atta died in 1991), was fluent in English, French and several African languages, a strength that became advantageous in his job.
He was born in Kumasi, Ghana on April 8, 1938 and died on August 18, 2018 in Bern, Switzerland at the age of 80.
He left behind a wife, whom he married in 1984, Nane Maria Lagergren, of Sweden, a lawyer who is now an artist, and three children – Ama Annan, Kojo Adeyemo Annan and Nina Cronstedt de Groot. He was earlier married to Nigerian Titi Alakija from 1965 to 1983.
He had his high school education at the Mfantsipim School in Cape Coast from 1954 to 1957, where he said he was taught "that suffering anywhere concerns people everywhere".
He continued his studies at the University of Science and Technology (now KNUST) in Kumasi and completed his undergraduate work in Economics at Macalester College in St Paul, Minnesota, United States of America (USA) in 1961.
From 1961 to 1962, he undertook graduate studies in Economics at the Institut Universitaire des Hautes études Internationales in Geneva.
As a 1971-1972 Sloan Fellow at the Massachusetts Institute of Technology (MIT), Mr Annan received a Master of Science degree in Management.
UN Career
Mr Annan joined the UN system in 1962 as an Administrative and Budget Officer with the World Health Organisation (WHO) in Geneva.
He later served with the Economic Commission for Africa in Addis Ababa, the UN Emergency Force (UNEF II) in Ismailia, the United Nations High Commissioner for Refugees (UNHCR) in Geneva, and in various senior posts in New York dealing with human resources, budget, finance and staff security.
These included his work at the UN Headquarters in New York as Assistant Secretary-General for Human Resources Management and Security Coordinator for the UN System (1987-1990) and Assistant Secretary-General for Programme Planning, Budget and Finance, and Controller (1990-1992).
In 1990, following the invasion of Kuwait by Iraq, Mr Annan was asked by the Secretary-General, as a special assignment, to facilitate the repatriation of more than 900 international staff and the release of Western hostages in Iraq.
He subsequently led the first UN team negotiating with Iraq on the sale of oil to fund purchases of humanitarian aid.
Before being appointed Secretary-General, Mr Annan served as Assistant Secretary-General for Peacekeeping Operations (March 1993 – February 1994) and then as Under-Secretary-General (February 1994 – October 1995; April 1996 – December 1996).
His tenure as Under Secretary-General coincided with unprecedented growth in the size and scope of UN peacekeeping operations, with a total deployment, at its peak in 1995, of almost 70,000 military and civilian personnel from 77 countries.
From November 1995 to March 1996, following the Dayton Peace Agreement that ended the war in Bosnia and Herzegovina, Mr Annan served as Special Representative of the Secretary-General to the former Yugoslavia, overseeing the transition in Bosnia and Herzegovina from the United Nations Protection Force (UNPROFOR) to the multinational Implementation Force (IFOR) led by the North Atlantic Treaty Organisation (NATO).
Secretary-General
Mr Annan's priorities as Secretary-General was to revitalise the UN through a comprehensive programme of reform; to strengthen the organisation's traditional work in the areas of development and the maintenance of international peace and security; to encourage and advocate human rights, the rule of law and the universal values of equality, tolerance and human dignity found in the UN Charter; and to restore public confidence in the organisation by reaching out to new partners and, in his words, by "bringing the UN closer to the people".
His first major initiative – his plan for reform, dubbed "Renewing the United Nations", was presented to member states in July 1997 and has been pursued ever since with an emphasis on improving coherence and coordination.
His April 1998 report to the Security Council on "The Causes of Conflict and the Promotion of Durable Peace and Sustainable Development in Africa" was among several efforts to maintain the international community's commitment to Africa, the most disadvantaged of the world's regions.
He used his good offices in several delicate political situations.
These included an attempt in 1998 to gain Iraq's compliance with Security Council resolutions; a mission in 1998 to help promote the transition to civilian rule in Nigeria; an agreement in 1999 to resolve a stalemate between Libya and the Security Council over the 1988 Lockerbie bombing; diplomacy in 1999 to forge an international response to violence in East Timor; and efforts in 2000 to certify Israel's withdrawal from Lebanon, and then to try and halt the violence between Israel and the Palestinians.
It was Mr Annan's initiative that strengthened UN peacekeeping in ways that enabled the UN to cope with a rapid rise in the number of operations and personnel.
It was also at his urging that in 2005 member states established two new intergovernmental bodies: The Peace-Building Commission and the Human Rights Council.
Mr Annan also played a central role in the creation of the Global Fund to fight AIDS, tuberculosis and malaria, the adoption of the UN's first-ever counter-terrorism strategy, and the acceptance by member states of the "responsibility to protect" people from genocide, war crimes, ethnic cleansing and crimes against humanity. His "Global Compact" initiative, launched in 1999, has become the world's largest effort to promote corporate social responsibility.
He also sought to improve the status of women in the secretariat and to build closer partnerships with civil society, the private sector and other non-state actors whose strengths complemented those of the UN; and in particular, called for a "Global Compact".
This involved leaders of the world business community, as well as labour and civil society organisations, and was aimed at enabling all the world's people to share the benefits of globalisation and embedding the global market in values and practices that are fundamental to meeting socio-economic needs.
In April 2000, Mr Annan issued a Millennium Report, entitled "We the Peoples: The Role of the United Nations in the 21st Century", which called on member states to commit themselves to an action plan for ending poverty and inequality, improving education, reducing HIV/AIDS, safeguarding the environment and protecting peoples from deadly conflict and violence.
The report formed the basis of the Millennium Declaration adopted by Heads of State and Government at the Millennium Summit, held at the UN headquarters in September 2000.
Back home
In between and after his work with the UN, Mr Annan served in various capacities such as the Managing Director of the Ghana Tourist Development Company in 1974, then becoming involved with a number of organisations with a global focus.
He led in the formation of the Alliance for a Green Revolution in Africa, became Chairman of the Global Elders, an international organisation founded by Nelson Mandela, and was appointed President of the Global Humanitarian Forum in Geneva. He was also the Founder and Chairman of the Kofi Annan Foundation.
By Belinda Ayamgha, GNA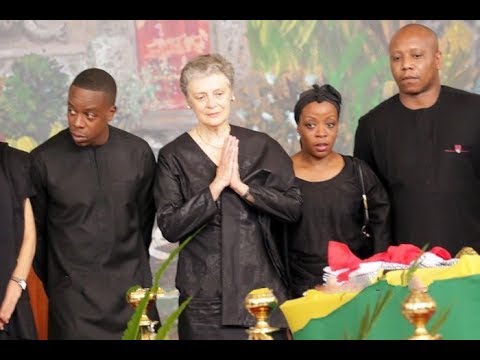 kofi-annan—wife-and-children
Accra, Sept. 13, GNA – The children of the late Kofi Annan have eulogized their father, recounting some of their fondest memories with him and the important values he taught them.
In a tribute read by Ama Annan Adedeji, daughter of Mr Kofi Annan, she noted that her dad taught her to appreciate everything that she had; good or bad, as someone somewhere always had it worse than she did.
Recounting an occasion where she went complaining to her dad about not being able to buy something, she noted the questions he asked her and the conclusion he drew, which reiterated the need for her to be content with what she had.
After answering to his questions of "Is someone shooting at you? Do you have a roof over your head? Do you eat three times a day?, he said to her; "then you have no problems, stop complaining."
Amidst reminiscent smiles from Nane Marie Laghergren, and her siblings: Nina and Kojo, Mrs Annan Adedeji recounted her father's 'casual' dressing of a suit, when he invited her to accompany him to a friend's concert where the dress code was casual.
When she asked why he was wearing a suit to the concert, when he was supposed to be casually dressed, he replied: "I am casually dressed, see, no tie."
Describing her father's down-to-earth nature and his ability to straddle different worlds, she said Mr Annan moved effortlessly from shanty to Paris, from impoverished streets to government enclaves, from a morning greeting with a member of the household or a moment shared with a loved one to negotiating for international peace.
"He understood only too well that like hamsters on a wheel, most of us spend our lives running around in circles, locked in our little bubbles, trying our utmost to insulate ourselves from the violence, poverty, crime or pollution. Each, if not all of these conditions, is a reality for the people that were in the forefront of his mind. Yet, somehow, the darkness of the human condition were balanced and lightened by the resolute hope, lodged firmly in his heart," she said.
She described her father as a believer in knowledge as power, information as liberating and education as the premise of progress in every society and family, and who tended to gravitate towards the youth, in whom he found 'hope and inspiration'.
Mrs Adedeji said she had grown to appreciate her father for what he was: a man with the generosity of spirit, who gave himself to others, put himself at their disposal and was one of the most loving people she knew.
"He may not have been the coolest dad, but to me, he always walked on water," she said.
To paraphrase Winnie the Pooh "How lucky am I to have such a father, that makes saying goodbye so hard. Rest in peace, daddy," she said.
Mr Kojo Annan, son, in his tribute, said it had been an honour and privilege to have Mr Annan as a father for the past 45 years.
"To the rest of the big world, he was Kofi Annan, noble statesman par excellence, but to me, he was simply daddy," he said.
He said his father's singular gift was his ferocious belief in humanity and its ability to see past superficial differences and embrace the need to create a more equal world.
He recounted how, at age seven, he lived alone with his father in Geneva, at a time when it was novel for a traditional African man to be raising a child solo, noting; "My daddy made it work and he made it great."
He noted that even with increased responsibilities at the UN, Mr Annan still dropped everything to be at his bedside when he fell ill and had to have immediate surgery, and also helped him to put his life back together, piece by piece.
"He loved me unconditionally, and I loved him, unconditionally, and most importantly, he taught me how to love unconditionally," he said.
Kojo said his father's lessons, inspiration and legacy would sustain him, as he went on in life without his father.
He thanked the world leaders and people who attended the funeral and urged them to emulate the values that his father represented, saying the greatest tribute they could pay to him was to follow his example of unity, equality, love, peace and respect.
Nina Cronstedt de Groot, his daughter, expressed gratitude for the years that he spent with them, saying it was the only thing that was able to trump the sorrow of not having him with them.
"Gratitude for feeling your love and support every day and for having Alexei and Ebba experience you almost as I have. You gave of yourself to everyone, big or small, and will live on in us and the thousands of those who felt your compassion," she said in remembrance published in the official brochure.
"You made a real difference and you will continue to inspire good. I love you endlessly. Rest in Peace," she said.