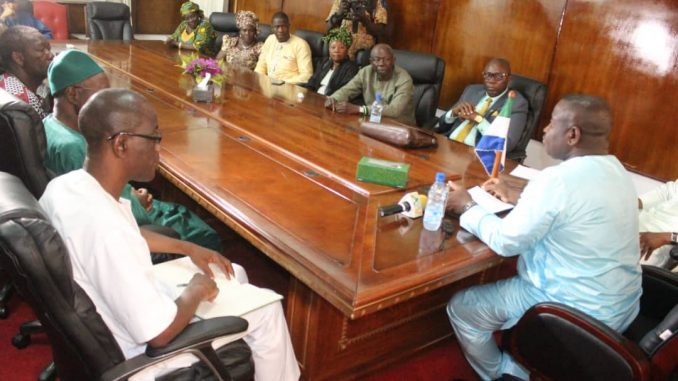 By State House Communication Unit 
Kono Resource Group on Friday April 13 congratulated His Excellency President Julius Maada Bio on his victory in the recently concluded presidential runoff elections. 
Receiving the delegation at State House, the president thanked the people of Kono district for the conscious efforts they made in actualizing his vision. He commended the leadership and general membership of the Coalition for Change (C4C) for supporting the Sierra Leone People's Party (SLPP) in the presidential run off polls.
President Bio assured that government will do something for the district as part of the urgent need to develop the country, and pointed out that Kono deserves higher and better educational facilities that would attract people from other districts and regions.
The president said he inherited a hopeless situation as there is nothing in the coffers but assured that government will find a way since it is not just about politicking but more about the plight of Sierra Leoneans.
On behalf of stakeholders, Kono Resource Group chairman Samuel Musa congratulated President Bio on his victory and thanked him for embracing the great people of Kono. While imploring the president not to forget Kono district, he highlighted areas of emphasis relating to the development of the district, and also pleaded with the new president to pay attention to land rehabilitation for agricultural productivity as well as upgrade of infrastructure to connect Kono to other districts and regions.