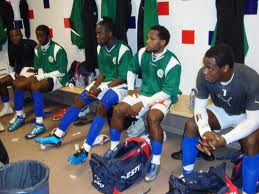 – Tuesday 16 October 2012.
By Mohamed Fajah Barrie, Monastir, Tunisia.
Leone Stars coach Lars Olof Mattsson has reacted to his team failure to qualify for the 2013 Africa Cup of Nations (AFCON) finals following their goalless draw with Tunisia last Saturday.
The match was an AFCON final round second leg encounter played at the 10,000 capacity Moustapha Ben Jannet Stadium in Monastir and it finished goalless in favour of Tunisia who qualified on the away goals rule as the first leg in Freetown ended 2-2 in September.
The 57-year old Swedish coach who was furious and disappointed said that the Mauritanian referee who was in charge of the match was wrong to send one of his key defenders Gibril 'Barel' Sankoh and also disallowed Sheriff Suma's goal.
Sankoh was sent off in the 25th minute of play reducing Leone Stars to ten men for the rest of the match. The decision appears to be a harsh one taken by referee Lemghaifry Ali.
"The referee never gave us chance in the game because we had to fight the Tunisian team away with ten men and that was very difficult," Coach Mattsson told SWASAL.
"The red card given to Gibril Sankoh was absolutely wrong and nonsense because he was attacked by a striker who stripped him and kicked him.
Sankoh tried to avoid him and the Assistant referee gave the signal to the referee and that was disaster" explained the Swedish coach.
He added: "It's is like it's impossible to win away in African football. We scored a genuine goal through Sheriff Suma but it was disallowed. I'm very disappointed at the referees".
"The match was very difficult as we played with ten men. I'm satisfied with the performances of my players. Tunisian created chances but we also had some chances towards the end of the game. I was just waiting for set pieces from free kicks or corner kicks to score but we didn't do it".
The former Sweden U-21 national team coach believes that the first leg result in Freetown did no good to his team to book a place in 2013 AFCON finals.
"The outcome of the second leg shows that we got knocked out because of the first leg result in Freetown. It has cost us a Nations Cup place.
But that is football and I think we have a promising team. I can see a bright future for this team and we'll have chance to revenge on Tunisia in the 2014 World Cup qualifiers next year."
This is the second time within a year Leone Stars under the guidance of Coach Mattsson have came very close of qualifying to the AFCON finals.
Last year they needed a win in Nelspruit against Bafana Bafana to qualify for the 2012 finals in Gabon and Equatorial Guinea but it ended goalless.
Coach Mattsson is disappointed that he has failed in his second attempt to reach the AFCON finals but is pleased with his boys.
"I'm very disappointed to miss out of the Nations Cup for the second time within a year but I'm very proud of the players and my staff and everyone involved with the national team. I think it's a promising team.
Tunisia who played the match without star player M'sakni Youssef dominated possession but were not able to make use of the numerical advantage. The determined Leone Stars defence were able to absorb pressure from all angles.
Goal Keeper Christian Caulker made three saves, one in the first half and two in the second period.
Leone Stars got three chances, all in the second half, one was scored by Azerbaijan based defender Sheriff Suma who poked in a cross from the right but was controversially disallowed by the referee to the annoyance of the players and officials.
USA based Kei Ansu Kamara tried to chip over the advancing Tunisian goalie Mathlouthi Aymen from the box but didn't succeed before his header was saved on the goal line after hitting the post.
It was the fifth ever meeting between the two sides with Tunisia winning two, Sierra Leone winning one and there were two draws. Leone Stars are yet to score on Tunisian soil.
The two teams are in the same group in the 2014 World Cup finals and will meet twice next year with Tunisia hosting Sierra Leone in March and the return leg in Freetown in June.
Also, Portsmouth defender Mustapha Dumbuya has been commended for putting up a good performance for Leone Stars against Tunisia's Carthage Eagles in a 2013 Nations Cup last round qualifying match last Saturday in Monastir.
It was Dumbuya's first appearance for Sierra Leone after he had watched Leone Stars playing twice from the bench against Sao Tome & Principe and Tunisia in Freetown respectively.
Leone Stars Coach Lars Olof Mattsson said Dumbuya played well and he was happy with his performance adding that "I'm proud of him and the other players who fought hard in Monastir."
Veteran star striker Mohamed Kallon who didn't play but was on the bench said: "Dumbuya surprised me because he worked very hard on the pitch and he played his role well.
I'm happy with his performance and it was a good debut for him. He has speed and is difficult to beat on the ball. He reminds me of Frances 'Zarpa' Koroma."
Dumbuya himself was pleased with his debut as he is looking forward to play more matches for Leone Stars.
"I was pleased with my performance on my debut despite I didn't play the best of my game. I was nervous at the begging but as the game went on I was growing stronger and stronger," the 25-year old told SWASAL.
He added: "I worked very hard as I tried to give everything I had. I always wanted to play for Sierra Leone and I'm looking forward to play more matches.
Hopefully we can do well in the next round of World Cup matches and we can revenge on Carthage Eagles because you always want to go to places where you were beaten wrongly as in the case Tunisia."
Dumbuya was born in Sierra Leone but grew up in the United Kingdom and carries dual nationality.
Leone Stars coach Lars Olof Mattson.