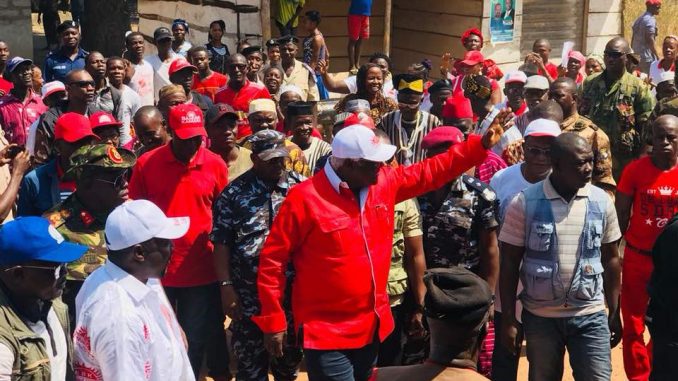 By Jara Mina Jara
With less than 10 days to the March 7th general elections, massive turn out rates among the people all across the country, from Kailahun to Kenema, Koinadugu to Kono, Bo to Bonthe, Moyamba to Makeni, Port Loko to Pujehun, Kerene to Kambia, Freetown to Falaba, already appear to have put the All People's Congress (APC) in a comfortable lead ahead of the polls. It also suggest that President Dr Ernest Bai Koroma is not only the most popular politician in Sierra Leone, but also the most powerful.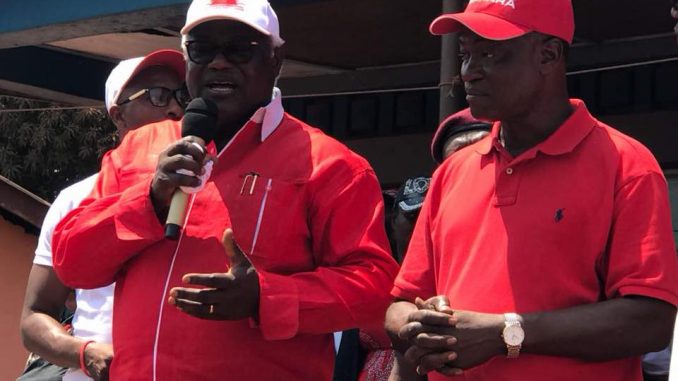 For every move the president makes, the chances of the opposition to make any impact seemingly reduces and it also gives Dr Samura Kamara serious leverage as a result of President Koroma's popularity. Devoid of all sentiments, Dr Samura Kamara is the best man for the job and will hit the ground running as President Koroma never stops saying. But he is not as popular as the president, so whenever they join forces to hit the campaign trail, the party's momentum relating to mobilization and general acceptance of the presidential candidate as well as all APC candidates, MPs and councilors, also gains traction among voters.
President Koroma arrives on Yeliboya island to thank them for giving him the opportunity to serve them as President for 10 successful years of massive development and economic growth. Please take a listen.

Posted by Jarrah Kawusu-Konte on Saturday, February 24, 2018
 PRESIDENT KOROMA ARRIVES AT YELIBOYA
Today, Sunday February 25th, from Kalangba in Gowahun chiefdom to Gbendembu, Kamaranka, Kamalo in Sanda Loko to Kamakwie, President Koroma told the people who came out in their thousands, that Dr Samura Kamara has the requisite experience and know how to get the job done and build on the gains made over the past ten years. He challenged opposition parties to produce any candidate or team that has the same experience as the Samura Kamara – Chericoco ticket to move the country forward.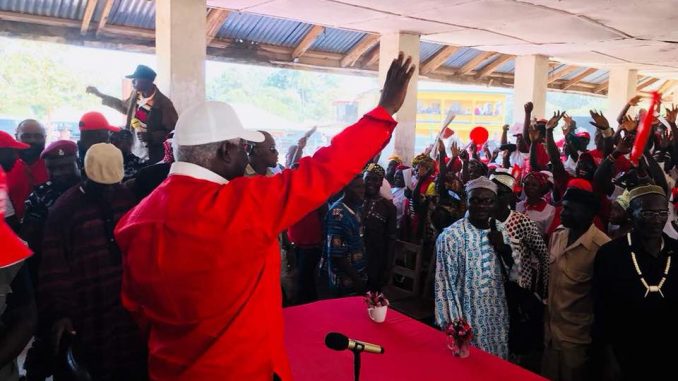 President Koroma used the opportunity to take a swipe or two against smooth-talking and pretending opposition flag bearers who do not have the right experience to take on the daunting and complex issues of governance especially in a democratic dispensation. He asked the people whether they will vote for someone who has never voted before in any elections in Sierra Leone to which they replied with a resounding NO!!!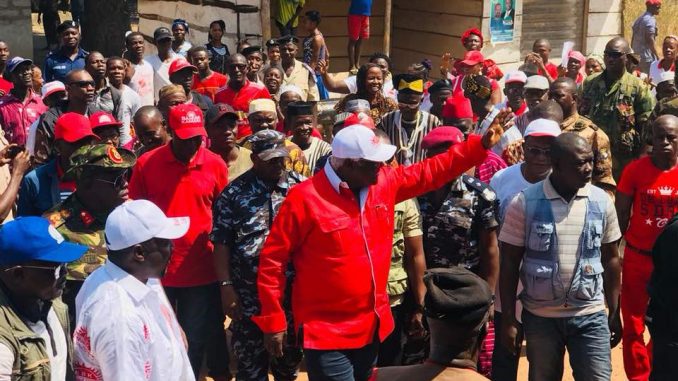 He argued that no other government or party has done as much as the APC government in promoting health care, energy generation and distribution, education, infrastructural development, agricultural production, protection of human rights, women's and youth empowerment, access to justice and access to water supply among several other remarkable achievements. He called on the people to be steadfast and protect the future of their children by voting solidly for Dr Samura Kamara as the next president come March 7th, 2018.
During several stopovers which I have mentioned above, speaker after speaker (including traditional leaders, women's and youth organizations) praised the president for his remarkable achievements over the past ten years particularly regarding projects that are changing lives and livelihoods in their communities such as the free health care initiative, the construction of peripheral health units (PHUs), hospitals, solar street lights, roads, and many other services.
Pundits have opined that the chances of the ruling party retaining State House come March 7th are highly likely and the incumbent president has a great role to play in this. "The honestly of Dr Samura Kamara as a politician also clearly gives them a huge edge over their smooth-talking and fake-promising opponents. The APC will retain the presidency and win big in parliament too. Mark my words," said a senior lecturer of Fourah Bay College.