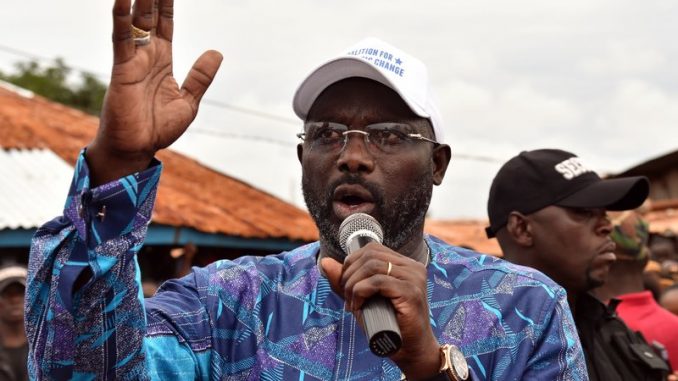 Former international soccer star George Weah has won Liberia's presidential runoff, the country's election commission announced Thursday.
Weah won 61.5 percent of the vote, with more than 98 percent of ballots counted. He defeated the current vice president, Joseph Boakai.
This marks the first time in 70 years that Liberia will transfer power from one elected president to another. President Ellen Johnson Sirleaf, a Nobel Peace Prize winner and the first female head of state elected in Africa, is stepping down after two terms in office. She did not publicly endorse either candidate.
Weah had run unsuccessfully for president twice before. NPR's Ofeibea Quist-Arcton reports that many Liberians identify with the 51-year-old footballer, who grew up poor and was not part of the social or political elite. Critics say Weah has limited experience and education.
The job won't be easy, as Ofeibea explained on NPR's Morning Edition:
"Liberians will tell you that Ellen Johnson Sirleaf, the outgoing president, has managed to cement peace, which is hugely important after back-to-back civil wars and then that Ebola outbreak three years ago in Liberia but that she has not done enough to make Liberians prosper, to pull them out of poverty and to give them jobs and deal with the economy. And also, there have been allegations of corruption. So whoever wins has huge challenges ahead of him."
Soccer's international governing body, FIFA, has described Weah as "a towering figure on the '90s football scene." He burst onto the world stage at Monaco under manager Arsene Wenger and went on to play at some of the sport's pre-eminent clubs: Paris Saint-Germain, AC Milan, Chelsea and Manchester City. He is the only African playerto have won FIFA's World Player of the Year. He announced his retirement in August 2003.
Weah's vice president will be Jewel Howard Taylor, ex-wife of former president Charles Taylor, who is serving a 50-year sentence for war crimes. Some are askingwhether the former president will try to influence the country's politics from prison.
"She's my colleague in the Senate," Weah told Deutsche Welle, explaining his choice of running mate. "She is a Liberian, capable, qualified, and Liberian people love her. I also believe in gender and equality, so I think having a woman as my vice president is a good thing."
NPR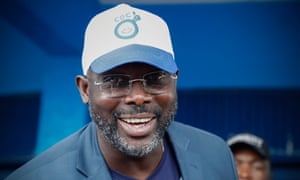 The former football star George Weah has won Liberia's presidential election, defeating the vice-president, Joseph Boakai, in a runoff with 61.5% of the vote.
Thursday's announcement by the country's election commission chair, Jerome Korkoyah, means Weah will succeed Ellen Johnson Sirleaf as Liberia's president next month, after an election fraught with accusations of fraud and irregularities. It will be the country's first democratic transition since 1944 and follows two devastating civil wars.
The commission said Weah had taken 61.5% of the vote, based on 98.1% of ballots cast.
Spontaneous celebrations erupted in the capital, Monrovia, a Weah stronghold. Supporters danced, clapped and sang "Olé, olé, olé" outside the electoral commission's offices as the results were read out.
Weah, a national sporting hero, topped the first round of voting in October with 38.4% but failed to win the 50% necessary to avoid a runoff. Boakai came second with 28.8%.
The runoff was delayed twice after several parties took their allegations of malpractice to the supreme court , but it finally took place with a low turnout on 26 December.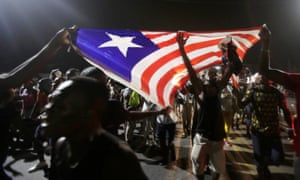 Weah, 51, is the only African to be Fifa's world player of the year or to have won the Ballon d'Or for Europe's best player. At the time, Nelson Mandela called him the "pride of Africa".
Weah played for Paris Saint-Germain and AC Milan in the 1990s before moving to England late in his career for spells at Chelsea and Manchester City.
His was already an inspirational story to a generation of Africans: he grew up in Clara Town, a poor suburb of Monrovia, and played football across the river in West Point, Liberia's biggest informal settlement, where he still has a large fanbase. Many see his becoming president as a fitting next chapter in the rags-to-riches fairytale and one that gives them hope.
"I know in him we can get a better Liberia," said Domah Johnson, a supporter of his party, the Congress for Democratic Change. "With George, he will empower the youth, the women, and will develop the country."
Sackie Benson, a shopkeeper in central Monrovia, agreed. "George Weah will do well when he takes power," he said. "Things will change: roads will be constructed and our schools will be better."
Weah's road to the presidency has been long. He lost to Sirleaf, the first female elected head of state in Africa, in 2005, and then, as running-mate to William Tubman, he lost again in 2011.
But even if it has taken him 12 years, winning the presidency is just the beginning of probably the toughest game of Weah's career.
An estimated 250,000 people died during two back-to-back civil wars between 1989-2003 and, more recently, Liberia suffered a devastating Ebola outbreak. The country is extremely poor: more than 80% of people live on less than $1.25 (93p) a day, and hundreds of thousands of children are out of school.
Not everyone is convinced Weah is the man for the job. Kawolo Suah, a Monrovia resident, said Weah would only look after his supporters and that would set him against the Liberian people.
"I foresee economic hardship, yet the country will not go to war," he said. "It will be a disappointment and his supporters' expectations will not be met."
Weah's running-mate is Jewel Howard-Taylor, the ex-wife of the former president and warlord Charles Taylor, who is serving a 50-year sentence for war crimes in a prison in Durham, in the UK.
Howard-Taylor is a respected and powerful senator, but her links to her former husband, including her promise this year to bring back the agenda of his party, has caused much criticism.
Boakai is Sirleaf's deputy, but some of the blame for his failure has been attributed to his boss's refusal to support his candidacy or campaign on his behalf. Sirleaf has stayed quiet on who she wanted to succeed her.
Speaking to a Liberian radio station, Boakai put their soured relationship down to his "guilt by association" with Varney Sherman, a top lawyer and politician who was arrested last year over an alleged bribery scandal.
The "grandmother president" has been credited with keeping the country together and peaceful after its bitter civil wars, but her presidency has also been marred by allegations of nepotism and corruption.
Sirleaf's office said it had set up a team "for the proper management and orderly transfer of executive power from one democratically elected president to another", adding that it included several ministers.
The UN secretary-general, António Guterres, hailed the "peaceful conduct" of the vote, praising "the government, political parties and the people of Liberia for the orderly poll".
 THE GUARDIAN NEWSPAPER, LONDON