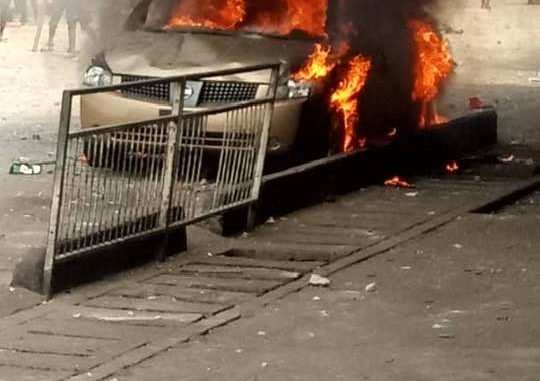 President Maada Bio's Ministry  of Information and Communications yesterday issued a press statement on Sunday's disturbances in  Freetown, one day after the Sierra Leone Police issued its own statement.
Like the Police statement, there is absolutely no mention of the opposition All People's Congress ( APC ) in the government statement issued by the Information Ministry. Once again, it begs the question why the ruling Sierra Leone People's Party ( SLPP )  scribe, Napoleon Koroma issued a statement accusing the opposition APC  of attacking the office of the ruling SLPP. Many Sierra Leoneans on social media believe that Napoleon Koroma's press release manifests the pattern of deceit and lies that the SLPP  has been practising since they came to power in 2018.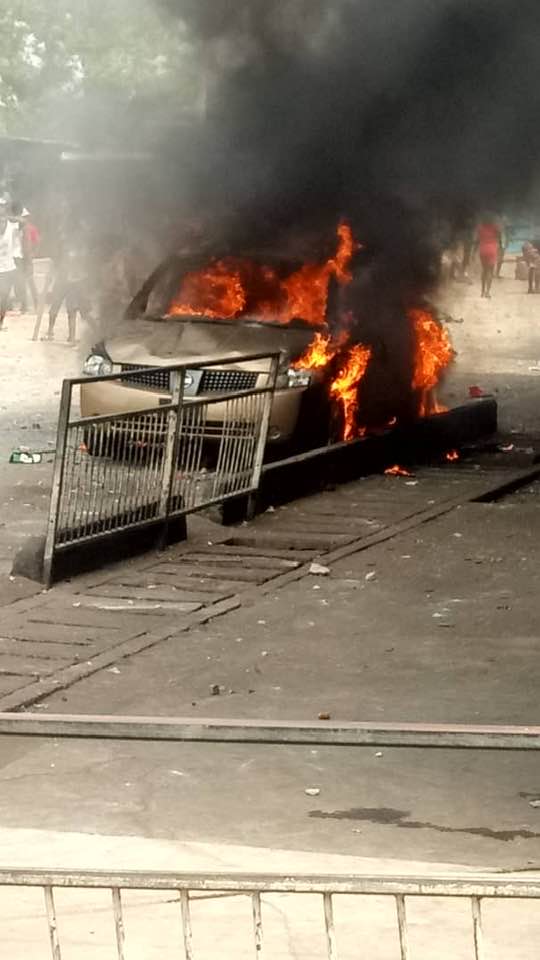 If the APC  really attacked the office of the SLPP,  why is it not mentioned in the Police and government statements ? Many Sierra Leoneans believe it is a shame that the SLPP  are building their misgovernance around lies and deceit.
An elder statesman, Mr. Israel Ojekeh Parpar Sr said on Social media that Sierra Leone has a long way to go "As  long as Sierra Leoneans are not truthful, courageous and sincere enough to call out on the SLPP and denounce this their violent tribalistic,  greedy , venomous and reckless governing style but rather are content to drag the APC into every default perpetrated by these SLPP THUGS, be the illiterate or learned, PhDs or "FONTOBAS"……."
"  It is sad and painful, but that is the truth. Violent Gang Rapes, chopping people in Broad daylight with 'CUTLAS' (Machets), widely throwing stones at innocent people in the City in broad day light and against each other, burning people'cars, shooting Tear Gas into populated Opposition Party Office, putting the City Mayor under seige., killings, WRONGLY AND LAWLESSLY RE-NAMING EXISTING TOWN, Aarson, smashing ballot boxes to enable execution cancellation, and draw including in the gangs, MINISTERS, DEPUTY MINISTERS, POLICE OFFICERS, RATION OFFICIAL:You name it, its all LAWLESS. FROM ELECTION OF SPEAKER CORRUPT ND THIEVING SHAMELES NAKED SPEAKER, TO TIFF (CHIEF) 1% PLUS $1.5 MILLION DOLLARS COWBOY, TO ROUGE, PARLIAMENT CLERK, UNSURE BANK THEORY BANK Governor, WORTHLESS AND WORSED CHIEF JUSTICE, SHOUTING ATTORNEY GENERAL AND JUDICIARY EVER IN OUR HISTORY, AND RECKLESS FINANCE MINISTER PLUS BIG HEADED INFORMATION MINISTER TO RECKLESS/LAWLESS LANDS MINISTER AND MORE SO TO ALL THE RICE THIEVES, RICE MEANT FOR THE CHILDREN,. SIERRA SLEONE IS DOOMED",  he added 
READ THE FULL GOVERNMENT STATEMENT BELOW :
_____________________________________________________
MINISTRY OF INFORMATION AND COMMUNICATIONS
PRESS RELEASE
The attention of Government has been drawn to a public disorder incident that occurred on Sunday 26th January, 2020 along Ecowas and Wallace Johnson Streets in Freetown. The incident resulted in several injuries and malicious damage to vehicles and buildings in the vicinity.
These acts undermine the efforts of Government to rebrand the country as a favourable destination for foreign direct investment, tourism and business. Government will therefore spare no effort in ensuring that Sierra Leoneans and all other nationals resident in this country enjoy a peaceful and serene atmosphere in our journey to rebuild the economy and continue to create a society that will cater for the needs of the present and future generations.
Whilst noting that Peace and Security are essential for stability in governance and provides a nurturing ecosystem for development, Government hereby encourages all citizens to remain calm, exercise restraint whilst the Sierra Leone Police continues its investigations.
Government assures all that it will fully investigate this act of violence and lawlessness and bring to book all perpetrators and their sponsors as the incident constitutes a clear threat to peace and stability in the country.
Government encourages members of the public who have relevant information regarding this incident to direct such information to the Media and Public Relations Unit of the Sierra Leone Police at its headquarters on George Street, Freetown.