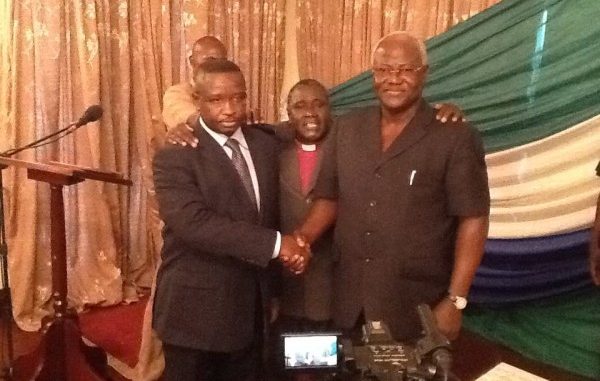 —–YOU CAN READ THE STORY ALSO AT WWW.COCORIOKO. NET—–
SLPP Presidential candidate , Julius Maada Bio,  has finally conceded. The defeated former Brigadier went to State House with his running mate , Dr. Khadi Sesay , Party Chairman John Benjamin and Secretary General Suliman Banja Tejan-Sie to have an audience with President Ernest Bai Koroma. At the end of close door discussions, the ruling All People's Congress ( APC)  and the opposition Sierra Leone People's Party ( SLPP )  released the following joint statement :
Joint Press Statement
Freetown Monday 3rd December 2012
The Leadership of the SLPP met at State House today to discuss issues of national interest including the conduct of future elections.
The meeting which was chaired by President, Dr Ernest Bai Koroma, also had in attendance the flagbearer of the SLPP Brig Julius Maada Bio, his running mate Dr Kadi Sesay, the Chairman and Leader Mr John Oponjo Benjamin and the National Secretary-General, Mr Sulaiman Banja Tejan-Sie.
The meeting was facilitated by the "Body of Christ", a committee of Christian religious leaders led by Reverend D.M. Speck.
There were frank discussions in which Brigadier Julius Maada Bio reiterated his commitment to peace and security in the only country he knows and can call home, Sierra Leone.  Brigadier Bio further noted that "Sierra Leone can only develop when we have effective lines of communications between the leadership of the two parties".  He concluded that the position of President Koroma as President of Sierra Leone is not in contention.
President Koroma on his part, emphasized that "we should continue to have dialogue of this nature in the interest of peace and the promotion of democracy", as he reiterated the need to put in place a mechanism that will considerably reduce the influence of regionalism and tribalism in the nation's body politic.
His Excellency directed that further meetings be held between the two parties with a view to concluding the several issues raised in the course of the meeting.
______________________                                 ______________________
Victor Bockarie Foh                                            Sulaiman Banja Tejan-Sie
National Secretary General                               National Secretary General  SLPP                                                                  APC
© 2012, COCORIOKO. All rights reserved. – Discuss this and other related articles on the Salone Forum