By Septimus Kanu.
It could be recalled that Julius Maada Bio and other soldiers (Sobels) undemocratically hijacked the then APC government of late Major General Joseph Saidu Momoh (may his soul rest in perfect peace) and with impunity murdered at least 29 innocent Sierra Leoneans including Salamatu Kamara, Mr. Salami Coker who was said to be a SLBS Radio Commentator, O/C Sieh Bangura, an SSD Officer from the war front, and a palm wine tapper. Not too long after that, Maada Bio launched afresh murderous attack on those they assumed were opposed to their military control. It was the most ruthless and uncalled for assassination in which Maj. Aruna Jalloh, Col. Kahota Dumbuya, Commander Yayah Kanu, Capt. Hancils Bangura and many others were mutilated by his NPRC military thugs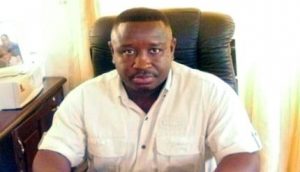 The coup that ushered in the NPRC Junta brought severe social, economic and political turmoil. The economy was rampage and hundreds of innocent lives destroyed coupled with corruption, crime, disease, illiteracy, hunger, poverty and misery engulfed Sierra Leone.(SEPTIMUS KANU  takes a look at what Julius Maada says the people of Sierra Leone should not consider. In part one of his analysis he delved into so many things including his Bank Account in the Canary Island, where according to him monies from the state of Sierra Leone was deposited—now read on)
I listened attentively to the man who strangely, undeservedly and irregularly became a Brigadier in less than nine years of joining the Sierra Leone Army, Julius Madder Bio on 98.1. The spelling of "Madder" is deliberate for the sake of emphasis as I fervently believe there is something seriously wrong with Julius Madder Bio, the SLPP presidential aspirant. At their manifesto development meeting held in Freetown, the SLPP presidential aspirant, Julius Madder Bio made a number of assertions bordering on youth unemployment, poverty and corruption, which he claimed are more important than attacking his personality. I totally agree with Mr. Bio for the simple reason that youth employment, reducing poverty and mitigating corruption are very much crucial for the continued development and transformation of Sierra Leone.
But I'm left totally at bay when Madder said that politicians should forget about him and concentrate on the burning issues facing this country. What are these issues? Poverty? Youth unemployment? Corruption? Does Madder Bio have what it takes to address these issues? Does he have the character and honesty to tackle corruption in this country? A nice place to start in unraveling these questions would be his record when in power fifteen years ago. What is Bio's record when he had the unique opportunity to rule this country at the tender age of 28 or less?
Bio supporters would jump at the opportunity to defend their man by saying that he handed over power to a democratically elected civilian government led by the SLPP under former President Ahmad Tejan Kabbah. But the former President has said that the NPRC under Julius Madder Bio handed over power very reluctantly and grudgingly. "It is common knowledge that the NPRC regime handed over power very reluctantly and grudgingly as a result of the irresistible and overwhelming desire and determination of the population for an elected civilian Government," said the former President. But Madder Bio and his SLPP caboodle insist that he is the right man for the job with his so-called new direction. This country is already on a good direction, and I find it difficult to understand what Madder and his goons mean by this new direction. If Madder Bio wants the people of this country to take him seriously he should forget about all this secrecy surrounding his role whilst he served as NPRC Chairman and Head of State, fifteen years ago.
The question on the lips of many Sierra Leoneans is what is Madder Bio hiding? Why is he so anxious and desperate to discourage the people of this country from delving into his past? The truth is the more voters find out about Madder Bio's past and how he milked this country of much needed resources, the more questions they have with respect to his capacity to rule this country. Maybe that is why he is hiding as much as he thinks he can get away with.
Former President Ahmad Tejan Kabbah, who was also adviser to Strasser and Madder Bio, had revealed that Madder Bio forced his nascent government to pay into his (Madder's) account the sum of 235 million Leones for the fictitious supply of spare parts for helicopter engines that didn't belong to the government of Sierra Leone. His elder brother, Steven Bio, was the sole agent for the Government of Sierra Leone to enter into any and all military contracts in and out of Sierra Leone.
According to former President Tejan Kabbah, "Another instance of the reckless and irresponsible manner in which the affairs of the State were conducted by the NPRC regime was the granting of a Power of Attorney to Steven Bio, the brother of the erstwhile Head of State and government, to conclude all and every defence and military contracts anywhere in the world and at his sole discretion, as the accredited agent of the Government of Sierra Leone. By virtue of such unusual authority, Steven Bio concluded a number of contracts running into tens of millions of dollars. There is no evidence that most of those contracts have been performed but Steven Bio had already been paid millions of dollars on them and he is claiming further amount as arrears of payments."The former Chief Executive also revealed that "In his capacity as Chairman of the NPRC, Brigadier J.M. Bio himself on the 1st February 1996, few days before he left office, caused the Government to pay into the account of his private firm, P Banga Investment Limited the sum of Le235,000,000 in respect of contracts that the firm had purportedly entered into with Government for the supply of spare parts for the replacement of helicopter engines which did not belong to Government. Incidentally, it was into the account of this same firm in the Channel Islands that Brigadier Bio paid his own share of US$400,000 from the passport deal which was disclosed recently.
Today, Madder Bio has the audacity to admonish politicians as well as the people of this country to forget about him and concentrate on the issues all in an attempt to hide the truth from the people of this country. What is more important than knowing the true character of someone who wants to govern this country? What is more essential than knowing how prepared is Madder Bio in tackling the issues of youth unemployment, poverty and corruption? But this is a pattern of secrecy that Madder Bio and his SLPP caboodle are well versed in, and the latest proof of this is his call on politicians to stop focusing on his past as NPRC Chairman and Head of State. Interestingly, everything about Madder Julius Bio's past directly contradicts his New Direction slogan. Voters deserve answers, especially when you take into consideration the number of issues in play at the moment.
1) Julius Madder Bio refuses to comment on claims made by no less a person than his former adviser and the man he handed over power to, Ahmad Tejan Kabbah.
2) Madder Bio won't talk about his role as a sobel and his relationship with Foday Saybanah Sankoh, who married his elder sister, Agnes Deen Jalloh/Sankoh.
3) He won't talk about how his numerous businesses crumbled in Ghana and how he was chased out of the United States of America.
4) The SLPP flag bearer refuses to throw light on his P Banga account in the Channel Islands and the passport racket.
5) According to impeccable sources, Madder Julius Bio is honest about his role in the extra-judicial killing of 29 persons, including a former Inspector General of Police (Bambay Kamara), a Military Commander (Colonel Yayah Kanu), a renowned actor (Salami Coker) and his pregnant girlfriend during his days in the NPRC.
I want to call on voters to please share this article with everyone you know who cares about the outcome of the November polls and the future of this country.
Everyone deserves the right to judge for themselves whether Madder Bio's inspirations, experience, and standpoint are what they want in a president. But Bio and his SLPP caboodle do not want voters to have the information they need to make those judgments.
I have chosen to highlight these burning issues about Madder's past record as examples of the kind of questions we will be expecting as the campaign trail reaches crescendo. There is no way the SLPP and its presidential aspirant would escape providing answers to these issues. Running a campaign for the highest seat in the land should not be shrouded in secrecy at all. More to come.