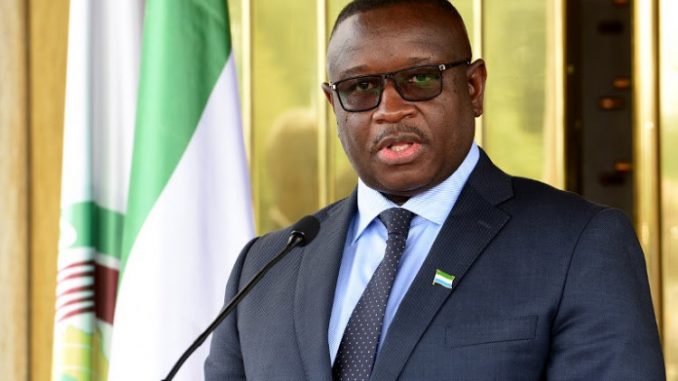 The fear of reprisals, political intimidation, public humiliation & bullying are few reasons why some leaders in Africa tend to cling onto power & one of the reasons why the continent is lagging far behind years after most gained independence. It's no secret that corruption is embedded & has been institutionalized in Sierra Leone for decades, but going after your political opponents when your hands are soiled lends credence to the term 'disingenuous'. We as a people must fight tooth & nail to reduce the level of corruption that has eaten deep into every fabric of our country starting with ourselves. As Confusius puts it, "Before you Embark on a Journey of Revenge, Dig Two Graves".
Ishmail Kulason K Bassiru
Mr Umaru sorry but you are bias partial to the people of this country cos you know about of the corrupt issues in Sierra Leone and you are now pleading on their behalf
Moses Ben Kanu
Corruption is dangerous for any society so the past 50 years our nation was under such serious menance. But the facts remains that, these government began a sad direction by messing with our constitution which is corruption, swept most investigation of human rights violation under the carpet which is corruption n others. We ve seen their recommendations n now left with the justice system to more investigation n reports properly since they could not established proper findings from their reports
SLPP 90 DAYS IN OFFICE.
In the last 3 months under the SLPP rule in Sierra Leone, we have witnessed a dramatic retrogression from the scrupulous adherence to the Rule of Law to outright disregard for the National Constitution, a classic example of monumental failure by the SLPP Leadership.
THIS IS A TOUGH FIGHT
THE COUNTRY WILL BE UNSTABLE AND SCARE FOREIGN INVESTORS AWAY.
NO MATTER WHAT SLPP DO, APC HAS MORE GRASS ROOT SUPPORTERS THAN SLPP.
I TEND TO FEEL THAT EBK WAS RIGHT NOT TO GO AFTER THEM FOR PROSECUTION SO THE COUNTRY WILL STABILE.
TRULY, THE COUNTRY WAS STABLE BESIDES EBOLA AND NATURAL DISASTERS PLUS OTHER CORRUPTION
I DO ADMIT THAT THERE WAS INCREASE OF LOOTING AND CORRUPTION BUT THE QUESTION IS:
WHERE WAS THE OPPOSITION SLPP PARTY WHEN APC WAS COMMITTING ALL THESE ATROCITIES OF LOOTING & KILLING?
None of The SLPP PARLIAMENTARIANS HAD GUTS TO GO OUT SHOUTING FOUL PLAY BECAUSE THEY WERE SHARING FROM THE PROCEEDS TOO.
AFTER MOST OF THE SLPP STALWARTS NEVER WORKED OVER AGES INCLUDING THE CHIEF PROSECUTOR MURDERER MAADA BIO.
HE IS JUST LOOKING FORWARD TO TAKE HIS POLITICAL ENEMIES TO THE GALLOWS.
IS THE PRESIDENT CLEAN TO CAST THE FIRST STONE?
IF SO, WHAT HAPPENED TO OVER $18,000,000 HE SMUGGLED TO GHANA AND INVESTED IN THE RUNNING OF HOTELS?
WHY MURDERER MAADA BIO NEVER WORKED OVER 20 YEARS?
MURDERER MAADA BIO PHILOSOPHY OF LEADERSHIP IS THE RULE BY DIVIDE AND CONQUER
HE HAD NOTHING TO SHOW FOR 100 DAYS IN POWER BUT CONFUSION AND DISTRACTION.
THIS REPORT HE DENIED EBK OF NORMAL PROCEDURES AND PROCESS DURING THE INAUGURATION.
IS BIO REALLY SERIOUS OR TRYING TO PULL THE WOOL FROM OUR EYES?
BIO WE SIERRA LEONEANS HAVE HEARD OF THE INFAMOUS REPORT NOW
SHOW US WHAT YOU HAVE DONE IN 100 DAYS
This New Direction of President Bio is slowly becoming a laughing Administration.
Imagine in few hours after The Bogus Transitional Report was out, there Rebuttals and Counter Reports like manners from Haven. Before Noon tomorrow, the Transitional Report will be nothing left there-in but an empty carcass.
The Transitional Report has further exposes Chief Minister, a Professor who has supervised Theses, Students and as well President Bio's PhD wrecks himself in utter mess with a Report of so many irregularities.
The fact remains, President Bio likes to be entertained, so he chooses Professor David Francis, Chief Minister and Foreign Affairs Minister, his Stand-up Comedian during his turbulent hours.
This Chief Minister of President Bio must first explain himself in his Bogus Transitional Report that was part of President Bio's delegation to the CommonWealth Heads of States in UK. As if that was not enough, Chief Minister Professor David Francis took his wife even without his appointment.
Chief Minister has done us a huge academic favor by helping us with something to read.
Bring up evidence to all those fake allegations because Sierra Leone will be happy to end corruption.
——————————————————–
*An Eye-opener on the GTT Report by Platinum Medium*
*GTT Report Staged to Blatantly Target Former President Ernest Bai Koroma Backfires*
The Sierra Leone People's Party are so good in spreading negative news about the then APC led government under Dr. Ernest Bai Koroma. There latest scam is the political witch hunt dressed in a form of a Transition Report with the sole aim of silencing APC supporters who were previously in leadership positions.
Sierra Leone under the SLPP Paopa regime that have chosen to go after past officials in order to silence them for political reasons continue to embrace President Bio in every step of the way.
One would ask if these bunch of Educated fools are really up to the task to govern Sierra Leone.
Since assuming office on 4th April 2018, they have been trying so hard to destroy or wipe out all the good things of the former President Ernest Bai Koroma's Government.
Disappointingly for the Paopa rouges, the APC has visible and tangible Development pointers in all corners of Sierra Leone.
After our team of experts have critically examined the "Witch Hunt report, one could easily smell the political deception of the Papoa Misdirection outfit.
Let's just digest the issue of Sierra Rutile which is most interesting amongst the list.
If Sahr Jusu and others are sincere to God they would have advised the Transition Team members and President Bio to do the needful and save the government from further embarrassment in the international scene.
The transition team should note the following;
👍 Sierra Leone never had any shares at Sierra Rutile
👍 Rutile was 100% private
👍 Government decided not to collect PAYE from the company for some certain amount of time and after they resumed operations and that was after the war.
They decided to save the PAYE with the Sierra Rutile subsidiary company which is called Sierra Rutile S.L. because Sierra Rutile itself was a British company.
👍 In 2012 they decided to take in cash all the monies that the company has to pay the government in taxation (PAYE).
It was calculated at around 7% and the money was paid with interest.
Wonders shall never end 
😃
😃
😃 how did the SLPP arrived at 30% and to an extent accusing Dr. Ernest Bai Koroma and John Sisay on selling out
😏
😏
Now few questions for the transition team that needs to be answered 
💁‍♂
👍 Where are the documents to show that government of Sierra Leone owned 30% of Rutile?
👍 Can the central bank show from its records where the money came from as it was paid to them?
👍 Through the help of Sahr Jusu and Co, can the Ministry of Finance show all the documents pertaining to such transaction?
The political witch hunt are now clear as they want to set up a judiciary enquiry, find them wanting on trump up charges and ban them from holding public offices.
*_Stay tuned to your trusted medium of communication as we expose the shortfalls of the Governance Transition Team Report_*
©️ *Platinum Media*
Sylvester Edwin
There is economic crisis in the country presently more than before instead of addressing it,they are talking about baseless and unfounded GTT just to make d people forget about their failed three months in governance.YA GO DU
Momoh Roy Kargbo
Dis na just dirty politics n e nor to tek we go no we're becoz come back APC in power they will surely run after this SLPP to do more then what they are planning trust me
President Julius Mada Bio's newly elected administration, if not caution retrospectively will go down as one of the worst in our recent history. Pikin wai kaam for better, nah from en small one. Since assuming office, a lot of his decision making so far, are disastrous for our thriving democracy. The fourth estate, civil rights movement, the youths and all opposition members alongside progressive SLPP supporters that love and mean well for our civilization as a nation should condemn him and his paopa BIOCRAT supporter's actions, in the strongest possible terms. We can not replace the APC authoritarian democracy as they claimed with their junta democracy! Those days are gone. The new direction to me, is a misdirection so far. The misdirection can still be redirected accordingly Mr President. In as much I despised you on policies and politics , I will hate to see you fail as President.
Hammadi Baba 

The former government and the APC party do not understand the meaning and essence of the word 'Corruption' and the act of being'Corrupt. The apcers have all rights to be arrogant and pompuss. The country and its people also have the right to stand and ask for what belongs to them. The courts will accept our request for an immediate inquiry into the activities of the past Tolongbo Koffment.
They say 'the truth is like a Lion, you don't have to defend it. Let it loose and it will defend itself.' Why do you think they nicknamed the giant mighty beast 'King of the jungle'!
This organized warlock transition team report as expeditious as lack of documentation attaching evidence as it is, looks very much to me like the work of primitive population census as we know it. The poorly trained and ill-equipped count clerk could only travel so far. Poor road network as withsome village community residents resorting to using handcrafted wooden boats for water or river crossing, the census clerk for those remote rural part of the country will say to himself does it worth the risk of me putting my safety in danger. What he will then do is finding a quiet spot for him to sit and write all the non-existing names and information that comes to mind, filling up the registration pages for him to return to the official tally head office in the capital.
Principal accused, former President, Ernest Koroma has already issued a robust denial of the accusations levelled against which he said was nothing but a deliberate attempt to undermine his reputation. He issued the statement from his overseas vacation destination saying he has already contacted his legal team in Freetown asking them to study the report till he returns home from his holiday vacation to come and address the matter at first hand.
Don't get me wrong, I put the interest of Sierra Leone first before any other include self. However, what I'm not prepared to countenance, is a false pretence oversold patriotism one with hidden political agenda on. If true, former President, Ernest Koroma and others more especially his former Ministers are guilty or found to be guilty of those serious corruption allegations against them, I will be the last person standing behind them let alone offering my sympathy to any one caught with the penalty of their action. But as it is at the moment, is/was only a well written essay document being handed over to the President by the head of the report Professor. Wild accusations or no wild accusations by various bodies as well as individual commentators, require us to restrain our emotions for now till we hear from the other party involved, ie, the accused persons themselves.
Before long we will come to know the whole true story itself. We are talking of a 24hrs news era here. Nothing is hidden under the sun, not forever. The submission of the report itself could not have been more well timed, waiting for the Principal accused former President to travel out of the country. Is ok, let's be patient and wait.