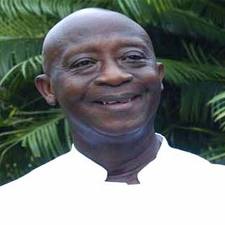 By Chernor Ojuku Sesay
Cocorioko Correpondent in Freetown
Thursday December 8 , 2005
The Interim leader of the unregistered Peoples Movement for Democratic Change (PMDC), Charles Francis Margai and eleven of his supporters were this morning granted bail of Le500m each with three sureties in like sum at the Bo town magistrate court.
Speaking to this correspondent on phone on his way back to Freetown, Margai said he had been anticipating his arrest and laughed over what he termed as the ridiculous bail condition. "As a lawyer of 32 years practice, even if we were found guilty of the 11 count charges against us, the fine will not exceed Le300,000. I really wonder whether some of these magistrates do think at all", he said on phone.
Maigai said he was whisked to Bo yesternight via the Makeni/Yele road. "They were afraid to pass through the main highway. They only know why they are afraid", he added.
A correspondent in Bo working for KISS 104FM told this correapondent that Bo town was virtually on public holiday this morning as neither banks nor shops were opened. Schools remained closed as armed OSD personnel were stationed at strategic positions around the township.
 He disclosed that after Margai was released on bail, thousands of his supporters thronged the streets of Bo in jubilation and chased his motor convoy to his residence where he addressed them and told them to remain calm, maintain the peace and be steadfast.
He was given a timultous welcome by his supporters when he arrived in Freetown in the evening hours.
Opposition leader in Parliament and leader of the APC, Hon Ernest Bai Koroma outrightly condemned the arrest of Charles Margai an act he described as politically motivated. He warned the police to remain neutral in their execution of duties and cited instances when the APC supporters were prevented from holding a meeting in Segbewema and the police could not effect any arrest despite the official report simply because it involved SLPP supporters.
Hon. Koroma added that Margai was charged under the 1965 Public Order Act which he described as obnoxious and said most of the charges are duplicated. He added the APC will come out with a position statement on the Margai arrest. He said such a practice must not be encouraged at this present time when both the peace and democracy in the country are still fragile and the UNAMSIL forces will be leaving the shores of this country on 31st December this year.
In Freetown on Wednesday evening, police had running battles with Margai supporters at the CID HQ were Margai was detained before whisked to Bo. Some of the vehicles parked within the CID had their windscreens damaged(pictures) and the police had to release teargas cannisters to disperse the rioters. The rioters used stones and metals to create road blocks along Siaka Stevens street.
The matter has been adjourned to December 19th in Bo.
__________________________________________________