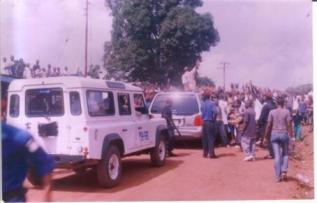 CHARLES MARGAI SUPPORTERS SAY THEIR MAN WILL BE ARRESTED BY POLICE ON SUNDAY
Friday December 2, 2005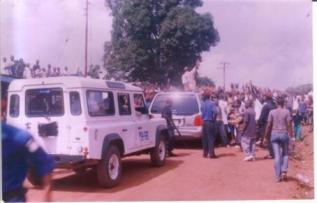 The Charles Margai/Berewa confusion in Bo
BREAKING NEWS
CHARLES MARGAI TO BE ARRESTED AND CHARGED WITH TREASON
ON SUNDAY 3RD DECEMBER 2005 ON THE ORDERS OF PRESIDENT TEJAN
KABBA. WE, THE PMDC MEMBERS IN THE DIASPORA, VIEW THIS AS A
BLATANTABUSE OF POWER AS CHARLES MARGAI HAS NOT DONE
ANYTHING TO WARRANT BEING ARRESTED AND CHARGED WITH
TREASON, EXCEPT TO KEEP OUT OF CIRCULATION TO MAKE WAY FOR
SOLOMON BEREWA.
THIS IS AN ABUSE OF DEMOCRACY A REAWAKENING OF ALL THOSE
FACTORS THAT LED TO THE REBEL WAR.
WE ASKING ALL PEACELOVING SIERRALEONEANS AND PEACELOVING
PEOPLE OF THE WORLD, THE BRITISH GOVERNMENT, THE AMERICAN
GOVERNMENT, THE EUROPEAN UNION AND THE AFRICAN UNION TO
INTERVENE IN ORDER TO AVERT SERIOUS TROUBLE IN SIERRA LEONE
LETTER BY DENIS SAIDU ABOUT PLANS TO ARREST CHARLES MARGAI
Friday December 2, 2005
First_Name:  Denis
Last_Name:  Saidu
Email_Address:  ngombu2000@yahoo.com
City:  Milwaukee
State:  Wisconsin
Comments:  I just want to inform your widely read online news paper that we the supporters of Mr.C.F.Margai and Mr.Margai himself has reliably learnt that an order has been given by the Sierra Leonean authorities to arrest Mr.Margai on Sunday Dec 4th, 2005, for reasons yet unknown. The diabolical plan was disclosed to us by one of the police men (name withheld) assigned to carry out the arrest on Sunday.
We are therefore advising the govenment of Sierra Leone to withdraw such orders immediately because it will be counter productive. It will certainly boomerang. Such an action will certainly lay a very concret foundation for an unabated unrest in that country. We don't want to see even a semblance of our recent past.
The blood of our compatriots were shed in defending democracy in that country. We will not under any circumstance allow their bloods to go in vain. That democracy must be maintained as a honor to their sacrifices. Any attempt to stifle opposition/democracy in that country will be bravely challenged in honor of our lost heroes.