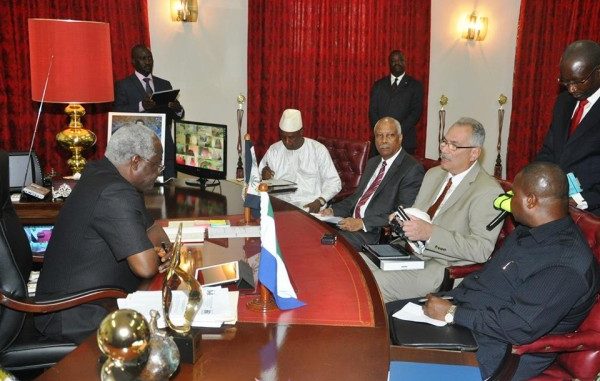 President Dr Ernest Bai Koroma yesterday received at State House a delegation from Merit Global Enterprises Africa from New Jersey in the United States.Welcoming the team, President Koroma said that the company is coming in at a time when government is keen to help build capacities in the energy, ICT, road and other general infrastructure in the country. He noted that people are finding it hard to access certain jobs in the market because of the lack of capacity in some industries. "We have to equip them with the knowledge to develop themselves", President Koroma said.
The president further urged MERIT Global Enterprises to modify some of their concepts to fit into the Sierra Leone experience as well as find ways to factor local content applications in the courses that will be established through networking with the University of New Jersey. He promised to support the project through the Ministries of Education, Science and Technology (MEST) and Trade and Industry.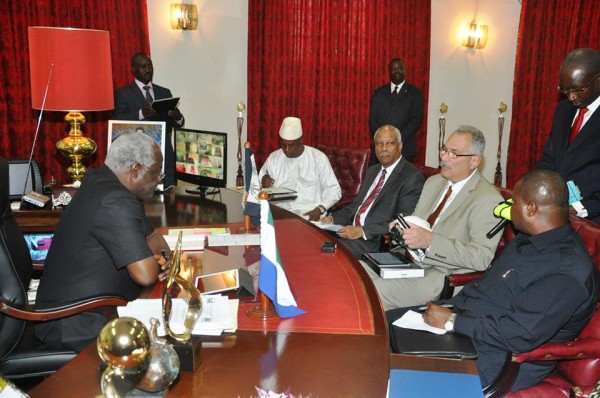 The company whose motto is Innovation through Inspiration is an affiliate of M.E.R.I.T., INC., which offers innovative, cost effective and proven results to corporations, private individuals and government entities.
According to its Chief Executive Officer, Jose L. Rodriguez, Merit Global Enterprises Africa is a full service Security, Information Technology and Construction firm. "With MERIT Global Enterprises Africa (MGE-A), we bring the full force and credibility of M.E.R.I.T. INC. to the African Continent, starting with the ECOWAS Member States", he said.
Mr. Rodriguez also stated that their plan is to establish a business incubator in Sierra Leone whereby Small and Medium Enterprises (SMEs) will be trained, saying that asset management is among a number of products they have to offer in Sierra Leone. He further maintained that their system on Asset Management was purchased and adopted by the US department of Defence which has turned out to be very successful. "I believe it will be successful in Sierra Leone", he stressed.
The Chief Executive of Merit Global Enterprises revealed that their company also offers products such as street lights/lamps that are powered by solar and decked with cameras to monitor the area as well as wifi to provide internet connection for those dwelling in the area. "The incubator will also house a copy center, mail room, conference center, training facility and wifi connection", he said.
Please visit this link (website) http://www.mge-a.com/ for more on this company: "Our Mission: To provide the highest quality of service to our customers through State of the Art technology, systems integration and experience. Our clientele expect and deserve only the best of service and MGE-A delivers it by responding diligently and effectively to all requests for services."
By State House Communications Unit