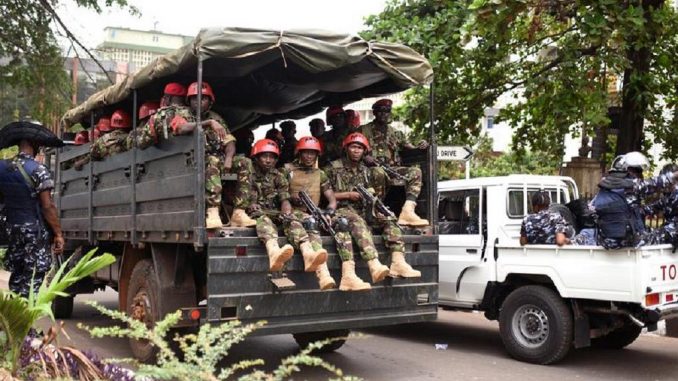 KEY MESSAGE ON THE ARMS AND AMMUNITION
INVESTIGATIONS 12 JULY 2018, ISSUE NO.1
1. There are THREE major arms and ammunition investigations currently being conducted: one (1) is a Board of Inquiry (BOI) being conducted by MoD/RSLAF and the other two (2) are criminal investigations also being conducted by CID.
2. As MoD/RSLAF stated in its Media Advisory dated 9 July 2018, in adherence to Section 8 of the Right to Access Information Act No.2 of 2013, which restricts the disclosure of information on matters under investigations, MoD/RSLAF cannot provide any details about the ongoing investigations until they are completed. However, MoD/RSLAF is obliged to clarify all the INACCURATE and MISLEADING versions that have been making rounds in the mass media in relation to these investigations.
SHORTAGE OF ARMS AND AMMUNITION STOCK HELD BY THE FORMER JOINT PRESIDENTIAL GUARD FORCE
3. This investigation is wholly and solely being
conducted by MoD/RSLAF.
4. Currently, a BOI headed by Brigadier General Usman Turay has been set up to investigate the shortage of the arms and ammunition stock previously held by the former Joint Presidential Guard Force (JPGF).
5. After the retirement of former President Ernest Bai Koroma in April this year, the Senior Management
Team of MoD/RSLAF directed that all the arms and ammunition holdings of the former JPGF be backloaded to the Joint Logistics Unit (JLU).
6. During the stock checking, the current Commander of JLU, Colonel Albert Bockarie uncovered SERIOUS SHORTAGE of the arms and ammunition.
7. For SECURITY REASONS, MoD/RSLAF will NOT disclose the quantity of arms and ammunitions, which the
former JPGF could NOT account for.
8. Meanwhile, the two (2) officers who were heading the former JPGF are currently being interrogated by the BOI. The officers include Brigadier General Albert
Kargbo, who was the Commander and Captain Patrick Kamara, who was the Officer Commanding (OC).
9. In accordance with the MoD/RSLAF Investigations Policy, Brigadier General Kargbo has now been
suspended from office while Captain Kamara has been confined.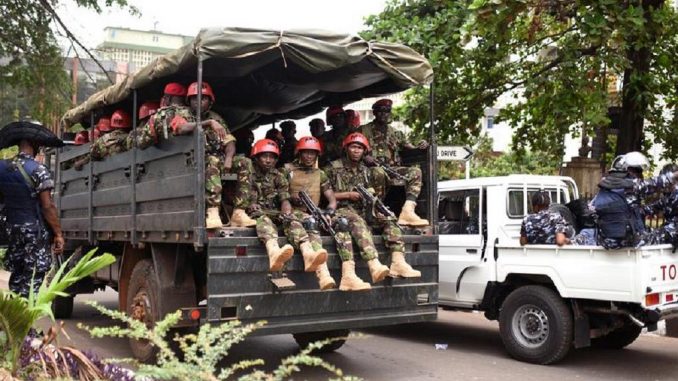 DISCOVERY OF AMMUNITION AT PRESIDENTIAL LODGE AT
HILL STATION
10. This investigation is currently being conducted by CID.
11. On Monday, 18 June 2018 a large cache of
ammunition, which appeared to have been dumped in a cesspit sucker-way was discovered at the
Presidential Lodge at Hill Station. The quantity and type of the ammunition included 178 rounds of 12.7mm Chinese and 1,606 rounds of 14.5mm Chinese. These ammunition were retrieved in the presence of the various security agencies.
12. With regards these discovered ammunition, on Friday 29 June 2018, FOUR senior military officers were released to report to CID to help the police in the investigation. The senior officers are Brigadier
General Albert Kargbo (Assistant Chief of Defence Staff for Gender and Equal Opportunities); Brigadier
General Ronnie Harleston (Brigade Commander of 5 Infantry Brigade); Colonel George Bangura
(Commandant of Peace Mission Training Centre or PMTC); and Lieutenant Colonel Sheku Tejan Sesay (Military Plans and Operations Officer at AU
Headquarters in Ethiopia). However, Lieutenant Colonel
Sesay is yet to report.
13. It is important to note that the four senior
officers are being interrogated ONLY because of their previous roles and responsibilities, which could have connections with the discovered ammunition. For clarity Brigadier General Ronnie Harleston served as Commander of the former JPGF from 2014 – 2016; Brigadier General Albert Kargbo took over from Brigadier General Harleston and served until May this
year; Colonel George Bangura served as Commander of JLU from 2017 until May this year; and Lieutenant Colonel Sheku Tejan Sesay served, at first, as Officer Commanding (OC) former JPGF and, later, as Aide-de-camp (ADC) to former President Ernest Bai Koroma.
14. The CID believes that the four senior officers could be VERY HELPFUL in giving information regarding the discovered ammunition.
15. For the sake of clarifications about the inaccurate and misleading reports about their arrests, suspension
and political intimidation, MoD/RSLAF will want the public to know that these officers have NEVER been ARRESTED or SUSPENDED with regards the discovered ammunition. In addition, they have NEVER been subjected to any form of intimidation for their tribal or supposed political pedigree.
ARREST OF MILITARY ITEMS AT THE RESIDENCE OF THE
FORMER MINISTER OF DEFENCE, MAJOR (RETIRED) ALFRED PAOLO CONTEH
16. This investigation is also handled by CID.
17. According to MoD/RSLAF sources, on Saturday 7 July 2018, acting on a tip-off, a team of CID investigators executed a search at the residence of the former Minister of Defence, Major (Retired) Alfred Paolo Conteh at Wilberforce.
18. During the search, the following military items were discovered and arrested: two (2) bundles of combat tents and twelve (12) empty suspected ammunition boxes.
19. Meanwhile, MoD/RSLAF cannot provide details beyond this as the CID investigation is ongoing.
For further inquiry, please contact the following:
1. Brigadier General Tamba Rodnic Allieu,
Defence Spokesman
Phone/WhatsApp: +23276 602 442
2. Colonel Musa Bangura
Director of Defense Public Relations and Information
Phone/WhatsApp: +23277 261 046
3. Lieutenant Colonel Alex Elogima Massaquoi
Staff Officer Grade 1
Phone/WhatsApp: +23276 956 323
4. Captain Yayah Brima
Acting Staff Officer Grade 2
Phone/WhatsApp: +23278452 876