MAFFS COMMUNICATIONS UNIT
Fresh from a meeting with potential investors in agriculture at Abuja in Nigeria, Minister of Agriculture, Forestry and Food Security Prof. Patrick Monty Jones met with Press and Media personnel at his Youyi building offices. In a self-assured but frank interview with certain members of the press, Minister Monty Jones pointed to his long career in international organizations where he had to work with a diverse group of people to reach the lofty pinnacle of his career, winning the World Food Prize, the most valuable prize in the field of agriculture. He reiterated that it was because of his sterling work that he was able to assist countries like Mali and Rwanda to double their production of rice and other agricultural crops year on year and that the opportunity to come to Sierra Leone was taken measuredly. He contends that he sees his position as Minister of Agriculture, Forestry and Food Security as a call to service under the able and dynamic leadership of His Excellency the President Dr Ernest Bai Koroma and in that vein, his name and hard earned reputation is not up for negotiation nor would he be interested in trading insults between personalities.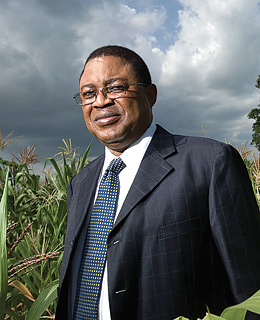 Minister Monty Jones intimated the press that he remains focussed on his objective and that he is very much guided by the President's post Ebola recovery initiative to create 10,000 jobs for young people along key value chains and to achieve this, he is seeking to enhance commercialization of agriculture and increase production and productivity in the country. He raised the issue of the launching of the planting season by the distribution of seeds and fertilizer, an event that was roundly applauded by farmers across the country as being done in a timely manner this year for the very first time. He also detailed that on his instructions, District Agricultural Officers will be ploughing a minimum of 20 hectares of Inland Valley Swamps so that local farmers and communities can plant on those ploughed fields with relative ease.
In the area of foreign travel, the Minister explained that the trips he had taken abroad after three months since he came to office has been either statutory meetings on which Sierra Leone has to be represented or trips to further the interests of agriculture in Sierra Leone at which occasions he had had opportunity to engage with Private investors and Governments for bilateral support. He recounted his recent trip to a conference on the personal invitation of the German Minister of Food and Agriculture and as a result of which, the Federal Government of Germany has promised direct assistance to agriculture in Sierra Leone. He has also met with private investors and in the short time in office, has secured three MOUs signed for expansive investments in agriculture between the Government of Sierra Leone and private investment firms and on that note, a further six such MOUs are in various stages of negotiation. In terms of value for money, the Minister pointed out that the full costs of almost all of his trips so far have not been borne by the Government of Sierra Leone but by the institutions and Governments that have invited him to attend at their behest.
Minister Monty Jones recalled that all his achievements in just under six months in office must not be confused with the rampant corruption and misfeasance that is reported in the press, events that happened before his time. He however conceded that Government is about continuity and to ensure that the people get the best value services that they deserve., On this account, he will remain focussed on his determination to change the paradigms for agriculture in Sierra Leone, send a strong signal that he would not want things to be business as usual because frankly, that has not worked for this country and it is lamentable that Sierra Leone is still producing a mere 1 tonne per hectare of rice cultivated when other countries are hitting over 4 tonnes per hectare.
In conclusion, Minister Monty Jones admonished staff of the Ministry to be more vigilant and to concentrate on the objectives and vision that he is setting for the Ministry, primarily focussing on the President's initiative to increase production and productivity and to create jobs for young people in agriculture whilst enhancing farmers' income and the welfare of farm families.