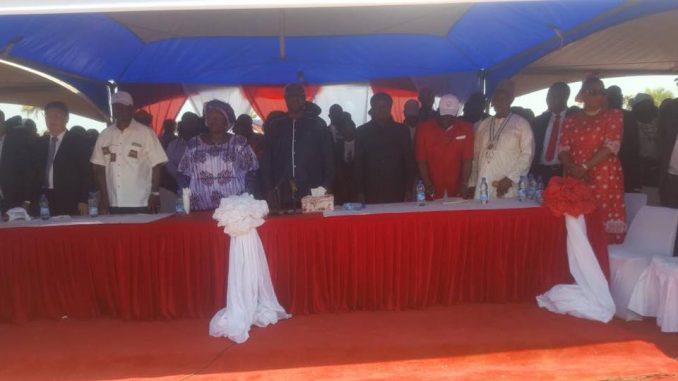 SPEECH DELIVERED BY THE MINISTER OF TRANSPORT AND AVIATION LEONARD BALOGUN KOROMA ON THE OCASSION OF THE COMMISSIONING OF THE MAMAMAH INTERNATIONAL AIRPORT CONSTRUCTION PROJECT BY HIS EXCELLENCY THE PRESIDENT, DR. ERNEST BAI KOROMA ON THURSDAY 1ST MARCH, 2018
Your Excellency Dr. Thank you Allah for making it possible to celebrate another birthday and thanks to all my freinds and family for being a part of my life's journey. Bai Koroma, President of the Republic of Sierra Leone;
First Lady Mrs. Sia Nyama Koroma;
Hon. Vice President, Ambassador Victor Bockarie Foh,
Our Presidential Candidate, Dr. Samura Kamara;
Running Mate, Hon. Chernor Maju Bah;
Leaders of all Political Parties Present
Ministers of Government;
Permanent Secretaries;
Heads of Departments and Parastatals;
The Director and staff of the Mamamah International Airport project office;
The Permanent Secretary and staff of the Ministry of Transport and Aviation;
Members of the Diplomatic and Consular Corps with special recognition for His Excellency the Chinese Ambassador to Sierra Leone and his team;
The Chairman China Railway International Group and team
Our revered Paramount Chiefs and Traditional Rulers from all over Sierra Leone;
Youth Groups and Women's Organizations here present;
The National Secretary General of the All Peoples Congress Party;
APC Party Regional, District and Constituency Chairmen;
Party Officials and Stalwarts, Party Candidates for all categories of Elections;
Representatives of other Political Parties here present;
Members of the 4th Estate;
Distinguished Ladies and Gentlemen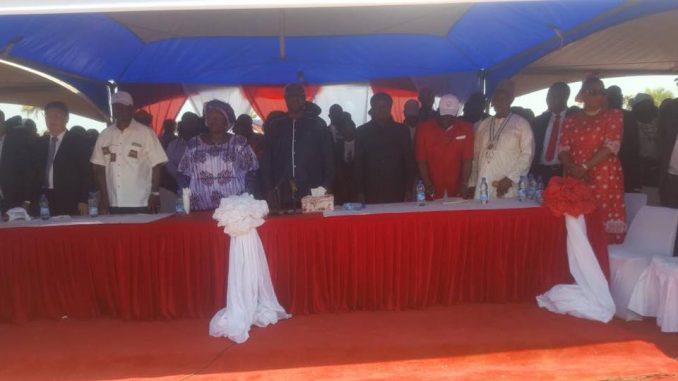 History is being made in Sierra Leone today and for me, the only appropriate comparison is 27th April 1961 when, as a proud and determined nation, we attained independence from British Colonial rule. Today, for the first time in our history under the transformational leadership of President Ernest Bai Koroma and the APC government, we are building an international airport in the mainland, putting us firmly on the road to our economic independence and transformation. This airport is going to be a game changer for our future as an economically independent nation owing to the vision of transforming the new airport to a regional aviation hub for passengers and cargo which will fetch Sierra Leone tremendous ancillary economic activities.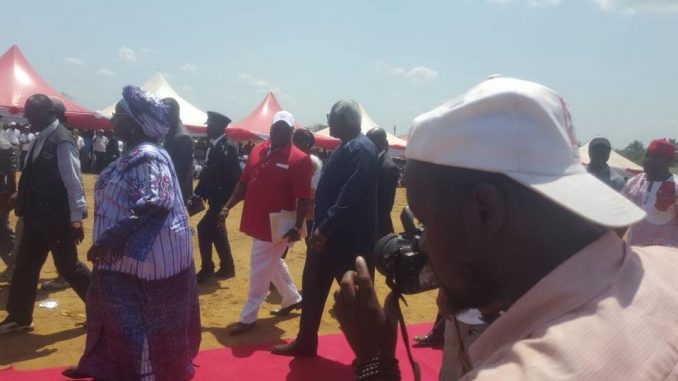 On 29th January, 2018 President Ernest Bai Koroma turned the sod for the upgrading and development of the Queen Elizabeth II Port with a 4 berth extension being undertaken by Tidfore/National Port Development. Another berth extension is being simultaneously undertaken by NECTAR group, in addition to an existing berth container terminal extension by BOLLORE Logistics. Literally, like we have done all around the country, with a total of 6 berths simultaneous construction, the APC is turning the Queen Elizabeth II Ports into a works yard, and it's biggest extension funding project since 1961.
Exactly 5 weeks after such a great achievement, President Ernest Bai Koroma is again turning the sod for the construction of the first mainland international airport in Sierra Leone's history. The Freetown International Airport at Mamamah to be constructed by the China Railway International Group at a total cost of $318 million US dollars for phases 1 and 2, is a project funded by the Government and People of the Peoples Republic of China through a concessional loan facility provided by the China Exim Bank.
True to his pledge in 2007, the President is turning the whole Mamamah area, on to Masiaka and beyond into another works yard, encompassing both the new airport and new Koya City Projects.
Your Excellency, distinguished ladies and gentlemen, by all accounts, this project is the most important project in our nation since independence in terms of its social, political and economic impact. At the same time, this visionary, flagship project of yours is a fitting symbol and recognition of 47 years of special and excellent bilateral relations between Sierra Leone and China, Spanning the rule of President Siaka Stevens of Sierra Leone and Chairman Mao ZEDONG in the 70's and continuing to this day with President Ernest Bai Koroma and President XI JI Ping. Sierra Leone and our good friend China have shared a very worthy relationship at bilateral level and at the level the of United Nations.
We are proud of our partnership with the Peoples Republic of China. In particular, we are proud of this transformative national project. We are very pleased that the construction of Phase One of Sierra Leone's first ever mainland Airport will be completed in just four (4) years. We are also satisfied that when completed, this airport will more than double the Lungi International Airport; it will be a truly state-of-the-art facility, more convenient, with all the components of a modern international airport inclusive of a 3500 meters runway, a fire station, duty free shops, a modern and well-equipped control tower, jet bridges, Presidential lounge, VIP lounge, extensive parking, underground fueling, departure and arrival terminals and four carousels among many other features.
THE NEED FOR A NEW AIRPORT ON THE MAINLAND
Distinguished ladies and gentlemen, the new Mamamah International Airport is important for Sierra Leone's next stage of transformation for many reasons. First, for safety and emergency, Sierra Leone needs an alternative international airport and a second runway. Since independence, we have suffered the embarrassing status of a country with only one airport and one runway. We have been lucky and thankful to God that we have not experienced any major air disaster as a result of such under development but it is time for us to adopt a more positive attitude towards our country's development and conform to international best practice in having second airport.
This new city international airport is also critical to attracting investment; it is good for business, good for tourism and good for development. It will serve as an impetus for the massive expansion of the city of Freetown which by itself will help to decongest our old city. By decongesting Freetown, it's vulnerability as demonstrated by the recent mudslide disaster will also be minimized.
Lungi International Airport, located in the coastal town of Lungi is presently the only airport in the sub-region, it is the only airport that is across an estuary and takes longer to get to your final destination more than any other airport in the sub-region. In comparison, travel time from airport to hotel or home for Monrovia is 45 minutes to an hour, Conakry, 30 minutes, Lagos 50 minutes, Accra 30 minutes, Abidjan, Niamey, Bamako etc are all in the same category of between 30 and 45 minutes, Lungi by the unnecessary combination of car, boat, ferry and sometimes on foot, travel time from the airport to one's final destination is anybody's guess.
This situation is untenable, and we cannot continue this way; it is a disincentive for investment, a disincentive for tourism, a disincentive for air travel and this is why the President Koroma led APC has insisted on moving forward with Mamamah and maintaining Lungi as an additional international airport.
This is more so, given the fact that under my administration over the last 4½ years we are having a steady and impressive aviation growth, more than at anytime in our country's history. We have gone from two (2) airlines under my administration at the height of the Ebola in 2014 to Twelve (12) airlines at the present time as follows;
Royal Air Maroc, Air Cote D'iVOIRE, Air Mauritania, Medview Airlines, ASKY, Fly Mid Africa Airlines, Kenya Airways, KLM Royal Dutch Airlines, Air France, Brussels Airlines, Air Peace, Turkish Airlines. We are expecting also the likes of world renowned Emirates and Qatar Airways and Africa World Airlines (AWA) among many more we are in discussions with us.
Without doubt, it is evident that Lungi is getting congested and we need to build a new airport. As a nation, we need to have at least (two) international airports as a matter of necessity. Beyond this fact, our strategic location, being equidistant to South America and beyond strategically positions us as a valuable aviation hub not just for our region but the world over.
As I stated earlier, the vulnerability of the coastal areas, hills and valleys of Freetown as evidenced by the recent mudslide disaster forcefully underscore the need for us to extend the capital or build a new city. It is in this respect therefore, that the most transformative leader of our time, President Koroma will also symbolically today launch his vision for a NEW KOYA CITY AEROTROPOLIS feasibility study.
His dream is to extend the city of Freetown to a 50 mile radius beyond Masiaka, encompassing the New Koya City Aerotropolis with an economic and manufacturing zone. The long term vision is as clear as it is ambitious-it is to build, through the private sector and bilateral cooperation, a new modern presidential complex, complete with offices and residencies for the head of state, a new ministerial complex complete with offices and residences for ministers, a new modern parliamentary complex, complete with a new and bigger parliament, possibly with offices and residences for members of parliament, a new judiciary complex, with courts and residences for judges, a new diplomatic enclave for all diplomatic missions, all levels of housing estates (affordable, high end and middle end), business and shopping centres.
For this purpose, approval has been given and a Memorandum of Understanding has been signed with GUOJI INDUSTRIES OF CHINA for feasibility studies leading to the development of a model and construction of the new Koya City Aerotropolis by the private sector with GUOJI as the lead developer on Twenty One Thousand (21,000) acres of land at the Airport Development Zone (ADZ).
THE NEED TO MAINTAIN LUNGI AIRPORT
Distinguished ladies and gentlemen, His Excellency President Ernest Bai Koroma has taught us to think big and plan big and this is our big thinking at the Ministry of Transport and Aviation in the Dr. Ernest Bai Koroma way; to build a new airport on the mainland and to also build a new city in line with international trends.
I will be remiss if I don't give credit and thanks to all those who worked with me over the last 4 and half years to make this remarkable event today possible; my Deputy Minister, my Permanent Secretary and staff, the Director and Professional Wing of my Ministry, the Project Director, Deputy Project Director and staff of the Mamamah International Airport Project office , the Minister and staff of the Ministry of Finance and Economic Development (MOFED), particularly Minister Samura Kamara, Kaifala Marah and Momodu Kargbo, the Secretary to the President, Chief of Staff and State House officials too numerous to mention; the former and present Chinese Ambassadors and Economic Counsellors and staff, Mr. Wang No 1, Mr. Wang No 2 and Mr. Wang No 3 all of China Railway International and staff, for their consistency and hard work; my predecessor Ministers Kemoh Sesay, Pat-Sowe and Vandi Chidi Minah. At the highest level, my profound thanks and appreciation to President Ernest Bai Koroma for his vision, compassion and steadfastness in maintaining and seeing through his belief in this transformational project, without the President today's groundbreaking event would not have been possible. Thank you Mr. President for making history and for giving me the opportunity to be part of this once in life time historical event.
As we gather here today to launch a project which is one significant aspect of President Koroma's Vision for the development of Sierra Leone, the Ministry of Local Government and Rural Development is one other Ministry that has reflected greatly the impact of His Excellency's transformational leadership.
As a sign of appreciation, the Council of Paramount Chiefs and the Council of Tribal Heads of the Western Area would like to honour His Excellency and his able lieutenants for many beneficial reforms undertaken over the past decade.
I will later call on the Director of Local Government to present the Tribal Headman of the Western Area to be adorned with emblems of office
Finally, in recognition of the vision of His Excellency President Ernest Bai Koroma to construct a much needed new international airport on the main land of Sierra Leone for the first time in our history, in recognition of President Koroma's commitment, dedication, resolve and steadfastness over the last 9 years to actualize this dream; in recognition of Presidents Koroma's transformative infrastructural achievements and for his astute leadership; the MTA Mamamah International Airport Project Inter Ministerial Committee met under my chairmanship — and have unanimously resolved to name the Freetown International Airport at Mamamah as the DR. ERNEST BAI KOROMA INTERNATIONAL AIRPORT AT MAMAMAH; a fitting legacy for our retiring President.
I THANK YOU ALL FOR YOUR ATTENTION.