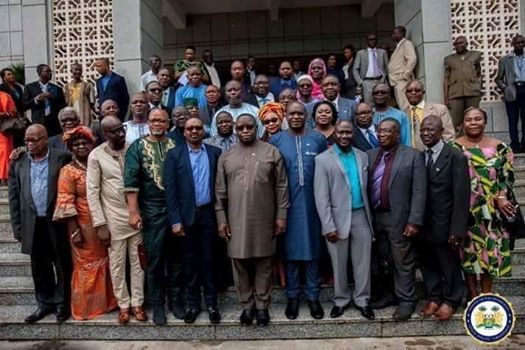 By Saidu Nbompa Leaf
Recent information making the rounds indicate that salaries for Ministers have been exponentially increased from le12,000,000 to le20,000,000 per month. It is also stated that yearly housing allowance for Ministers have been increased to $40,000. The Deputy Minister of Information during a TV discussion never denied that claim when it was made to his face by the opposition party panelist.Sierra Leoneans are therefore made to confirm that such stated emoluments for Ministers are but a fact which is now public knowledge.
Meanwhile, if we are to calculate what 68 Government Ministers only receive as emoluments per year, it is no secret that politicians who are expected to be servants of the people have hastily defined collosal amount of money as their pay over mere crums which the ordinary man receives.
A Minister's $40,000 USD Housing Allowance per year is le326,000,000
A Minister's Monthly salary @ le20,000,000 in 12 (twelve) months is le240,000,000
Therefore, a Minister's Yearly Housing allowance and Salary is le566,000,000; which is over half a billion Leones per minister for each year.
Multiply le566,000,000 by 68 Ministers.
The answer is that the sudden increase in salaries and allowances for Ministers is but a clever and official way to scoop the people's money for a few chosen politicians even though the new economic anthem of the new direction is MONEY NOR DAE.
It is apparent that there are serious financial challenges facing the running of the Free Education to an extent that the Government will go begging for funds.
It is also apparent that over 4,500 University Students will forgo their usual le7milliion or more yearly subsidy. Threats are also twitted that a whole University of modern ICT is underway to close down due to supposed lack of funds for upkeep of Grant-in-Aid
If the above Ministers' increase in salaries and allowances alone is anything to go by, one can safely say that these guys are in haste not to make Sierra Leone better but PAOPA ALL MINISTER FOR BETTEH, Money or no money.
From the above calculations on the increase in salaries for just 68 Ministers, it is clear that the same amount is capable of paying the sum of le7,000,000 each for 4,500 students in universities across the country every year.
No money for University fees subsidies but PAOPA there is more money on the accounts of new MINISTERS, Money dae money nor dae!
It is therefore no more a secret that the Ministers in the new government have hastily made themselves comfortable before they could even think about bettering the lives of the ordinary people.
This in my view is the true definition of NEW DIRECTION.
Did I force you to read? No! But thanks for reading and please share