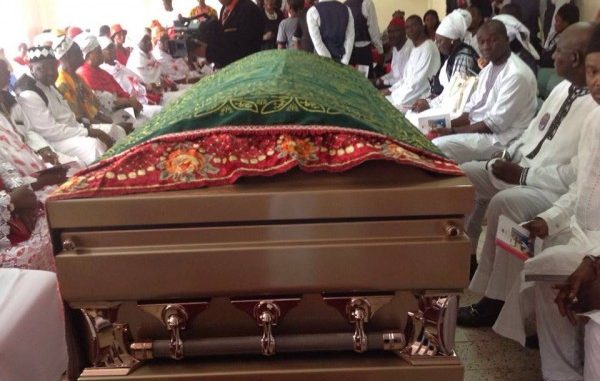 By KABS KANU :
Grief and sorrow continue to lay thick across Freetown this weekend after Friday's funeral for the the late Sierra Leonean humanitarian, philanthropist , former mining executive and prospective presidential aspirant, Ambassador Gibril Santigi Moseray Fadika , who went to his final resting place like the beloved hero he was in life.
The word on every mouth was that he was a good man who made a difference in the lives of his people. Mourners, especially the youths and the under-priviledged  told stories about how Mr.Fadika's kindness helped them go to school, get jobs and also made many pots boil. Whatever God blessed him with, he shared it with other people, they said. He was a blessing to all, including  his political associates , friends and well-wishers within the APC and even the other parties , whose members courted his friendship.
Political analysts stated that with the kind of support he had with the youths and the grassroots, he could have helped the ruling All People's Congress ( APC )  claim a convincing victory in the 2018 Presidential Elections , if he had been the flagbearer.
His death is a monumental loss and tragedy to the nation.
Mr. Fadika, also known as Moseray Super, died in the United Kingdom three weeks ago.
May his soul rest in peace.
HERE ARE SOME PHOTOS OF THE FUNERAL : CREDIT -IDRISSA CONTEH