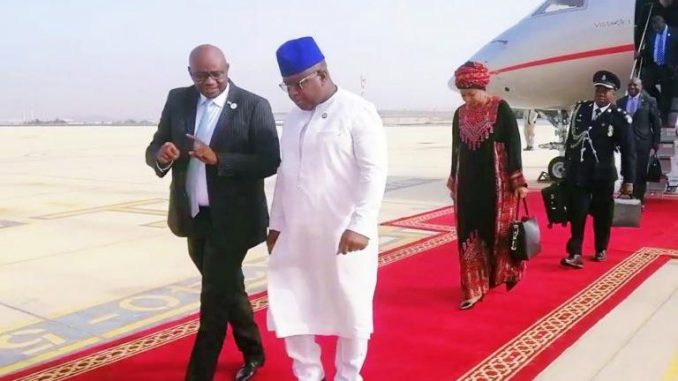 AS JULIUS MAADA BIO GOES ON TRAVELLING SPREE,  INFLATION RISES TO 17.19% IN SIERRA LEONE.
This Inflation will remain very high through 2019 and beyond.
The inflation rate in Sierra Leone was recorded at 17.19 percent in this March of 2019. This inflation rate measures a broad rise in prices that consumers pay for a standard basket of goods.
In the recently released African Pulse report, the World Bank has predicted that this 2019 under this SLPP government Sierra Leone's headline inflation would remain a double digit. Headline inflation is the raw inflation figure reported through the Consumer Price Index (CPI). The CPI calculates the cost to purchase a fixed basket of goods, as a way of determining how much inflation is occurring in the broad economy. Cambridge Business English Dictionary defines double digits' inflation as an increase in prices at a rate of between 10% and 99%.
In layman terms Sierra Leone must brace itself for a hike in prices of almost everything. "Headline inflation would remain in double digits in Liberia, Sierra Leone, and Sudan," the report states.
This Inflation is expected to pick up across the region and beyond 2020, due to an increase in price pressures among metal exporters and non-resource-rich countries. Since SLPP took over, Sierra Leone has been ranked amongst the worst places to live and do business in the world overtaking India…
In the second ever Commitment to Reducing Inequality (CRI) index compiled by Development Finance International (DFI) and Oxfam, Sierra Leone placed bottom in a ranking of 157 nations. The CRI Index ranks the commitment of the SLPP governments in reducing the gap between rich and poor citizens by measuring three factors considered "critical" to reducing the gap: social spending, tax policies and labor rights.
Sierra Leone has been ranked bottom of the index for the first time after 11 years. The longer-term dire outlook of these reports reflect the poor planning and mismanagement by this new SLPP government. It's sad that our people has to go through this kind of ordeal, poverty written all over their faces, and the government is not even up to the task of addressing these issues (the bread and butter issues).
©️Alkay
———————————————
By Abdul Karim Bah
While poverty intensifies and basic services like water and health care crumbles, the President "Goes on Traveling Spree" clocking up hundreds of thousands of dollars in per diems and travel cost.
We demand that the government disclose how much this unprecedented travel spree is costing us. It used to be one week in and one week out. Now it's one week in two weeks out. A country struggling to pay a anything close to decent wage, provide basic services and a country unable to provide basic diagnostic machines in its referral hospital, the president is expected to be more responsible in the use of public resources. S
ome of these trips are really useless. In the last few weeks the president has been to US, Morocco, Dubai and we have even lost count how many times he has been out in the past one year since coming to power.
Mr President, How Much Is Your Travel Costing The People? We expect you to use the nations resources responsibly. Not because it's not your money, you should just be spending public money fiti fata like that.