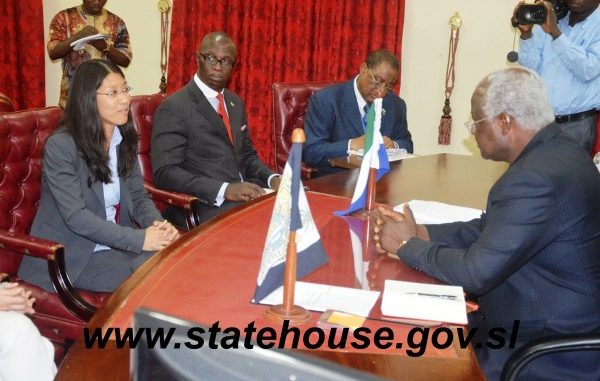 By State House Communications Unit
President Ernest Bai Koroma on Wednesday 26th November received the international President of Medicines San Frontiers (MSF) Dr Joanne Liu and delegation at State House Freetown. The delegation is in the country to do a tour of the three most affected countries to find out how things are evolving, the deployment of other actors and how MSF is adjusting its current response to the evolution of the epidemic.
In welcoming the delegation, President Koroma said that the country has come a long way in putting the required structures both at national and district levels, and explained that government has provided the required coordination along with increase in international participation in ongoing efforts to stop and eradicate Ebola. He pointed out that the benefits can only be maximized when there is an appropriate coordination as government is trying to ensure coordination is scaled up.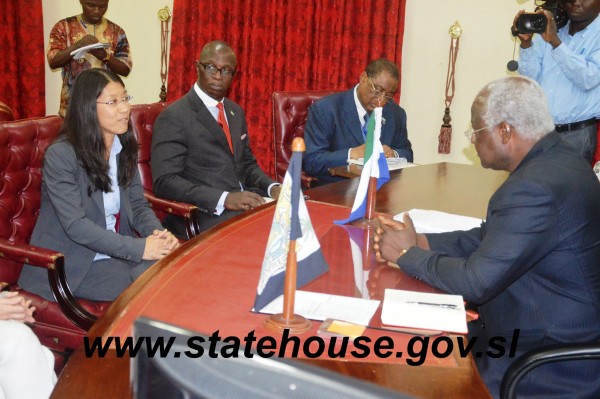 The president also mentioned the challenges in coordination especially in working with international organizations with the same focus and acknowledged the progress made so far. He also noted that the required impact has not been felt on the ground. "We still have challenges in our response in surveillance, contact tracing and even putting in temporary structures in terms of providing bed and isolation…We still have challenges," he stressed.
President Koroma further stated that the country has positioned itself in a way by improvising means to getting the people out of the communities and noted that government has enhanced the issue of social mobilization with reference to his ongoing engagement with traditional and religious leaders across the country to quickly improve on the means to putting an end to the outbreak. He underscored the need to practicalize all aspects of the response to break the chain of transmission.
Dr Joanne Liu commended President Koroma for his leadership and stern response to the outbreak, adding that she was astonished how the president has succeeded putting in place the National Ebola Response Centre (NERC) that is cascaded at district and chiefdom levels across the country and furthered that there is concrete response in the field. She also informed that MSF is in the process of establishing within two weeks two treatment centers at Kingtom and Magburaka respectively.