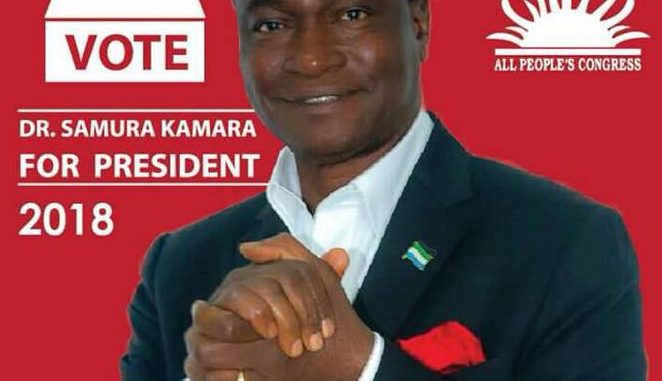 I'm astonished by the fact that people are awed by mere semantics and rhetoric of some debaters. Samura Kamara  is a very wise and honest man who has put a lot of ideas and hard work in the governance of the country, he has been here for a long time and he is well acquainted with the challenges that hinder or deter some policies from being implemented appropriately in order to achieve desired outcomes.
No sane person can emphatically say the APC hasn't scored important points in some key sectors, they have. But in as much as we must acknowledge their good points, we must also be sincere about the problems that the citizenry still face. Samura did exactly that, when he was asked who is to be blamed for the problems we still face. He blames the government, one which he is a key member of. Many expected him to dodge that crafty and important question, but No. He said the truth ; whatever challenges we face now, those at the helm of affairs must be blamed. It is important to take responsibility for the mishaps. That is leadership.
The other debaters spoke well in theory. Kky and others spoke like it is that easy to solve the problems, but Samura cautioned them that it is not as simple as they perceive.. His- Kky articulation was good, but will his implementation be strong and swift? I definitely don't think so.
They keep lambasting the economy, but there has been progress from the unfortunate and grave setback Ebola imposed onthe country's economy. Prior to that, we were one of the fastest growing economies in the sub region because of the economic policies implemented by Samura when he was the finance minister. If a man can work well under supervision like Maada said, then I believe he will lead well if he becomes the man who gives orders and supervises. For me i see his statement as a compliment to a hardworking man who worked excellently in governing the state.
Samura defended well, especially when he acknowledged the problems we still face but also proffered the good points his party has scored. His plans to alleviate the problems in key sectors are not complex or wrapped with ambiguity. The debate, was all against one man, in as much as he wanted to convey his plans to the electorates, he didn't sit back and allowed others to speak lies about his party… He managed his time well… Defending and attacking at the same time. I believe he has the experience and expertise, one thing we should know is, there is an orator, and there is a technocrat. The prior speaks well, but he never lit his hometown when he was at the helm of the world energy projects, an indirect caution to those who fancy sugarcoated vibes ; the latter did that when he was just a minister, and in fact it was a private venture. Samura retorted, "I have been at the sharp end of policies and challenges we have faced as a nation… " he implied that he knows how difficult the task to transform Sierra Leone 
🇸🇱 is, and he assured the electorate that he is "well prepared to lead our Nation on a short journey to development". I couldn't agree more, taking into cognisance the experience he has about challenges that hinder development, throughout his time in serving the nation. In governance there are certain things that cannot be easily done, as they are easily said. It will take a while to achieve your policies as a leader or in some cases you may never achieve your desired goals.
You could build castles in the air when u want power just so u can lure myriads on your side, but when u are in power, the game takes a new dimension which becomes a phenomenon.. I believe the APC will emerge victorious in the polls. It is just a matter of time before the others succumb to this. 
🤓
🤓
The debate was nice. It should continue. Kudos to the organizers,. They made history last night.
©Mamoud Bah.