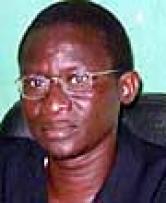 Photo: Paul Kamara
MOHAMED YAHYA SILLAH
LEADER AND NATIONAL CHAIRMAN
His Excellency Alhaji Ahmad Tejan Kabbah
President of the Republic of Sierra Leone
State House
Freetown, Sierra Leone
November 4, 2005
Dear Mr. President:
Almost a year ago, I issued a statement concerning the case between you as National Leader of the Republic of Sierra Leone and Paul Kamara, Journalist and Human rights activist in Sierra Leone. The statement I issued was an appeal to you to use your good offices to have Paul Kamara released from prison where he has languished for over a year now for ?libeling' you.
Mr. President, I know you personally to being a leader with the capacity of executing righteous judgment. I do understand, however, that as a national leader, sometimes it becomes necessary to surround yourself with "advisers" who may claim to be your eyes and ears. In the case with Paul Kamara, Mr. President, I strongly believe that who ever advised you to take Kamara to court, created for you one of the most politically compromising positions of your leadership.
Here is my reason:  As a sitting president of this Republic, you should have had a second thought at your decision or the advice of any of your advisers to take  your own citizen to court for libel, as long as the action of that citizen was not treasonable. Today, you are the father of this nation; the big brother we all should run to for protection. You have become an elderly Statesman.
In Africa, it is said often that the big ones in a family are considered the dumpsters in which every one throws his trash. All that means in Africa, Mr. President, is that once one obtains the status of elderliness, the attribute of tolerance comes to play.
Imagine, Mr. President, if all of us five million Sierra Leoneans levied the same accusation on you as Kamara did. Would you sue every one of us?
You see, Mr. President, some us in politics today have had to learn from elders like you that some of the greatest attributes of national leadership are, tolerance, patience, forgiveness and forbearance.
An American clergy named William Swan Plumer (1802-1880) once said, "A leader that defies temptation to act impulsively may live to bear the everyday trials and annoyances of life quietly and calmly, and then, when calamity comes, his strength will not forsake him."
Mr. President, you might have been hurt by what Paul Kamara wrote about you in his newspaper.
Nevertheless, you are already The President, and you are Paul Kamara's President. No matter what rights you have Mr. President, it may not go down well in history for you, as a sitting president, to take your own citizen to court for writing something about you that may not be true.
You worked hard to bring peace to our nation. You lobbied the international community to come to the aid of Sierra Leone after the war.  These are legacies you must guard with passion, Mr. President. Do not allow these so-called advisers to be misguiding you to take actions against your own people – the people that you took the oath to protect and defend. You may have many of these advisers around you. However, Mr. President, remember that it is not the quantity of advisers around you that matter. It is the quality of their advice that makes the difference.
Once again, Mr. president, I take this public position to beg that you consider the significance of your office and invoke the leadership qualities of tolerance, patience, forgiveness and forbearance and have Paul Kamara unconditionally released from prison before Christmas this year. You will make his day, and the day of all those that have lobbied you for his release.
Until then, Mr. President, Ramadan Mubarak.
Sincerely,
Mohamed Yahya Sillah
Leader and National Chairman
National Alliance Democratic Party (NADP)