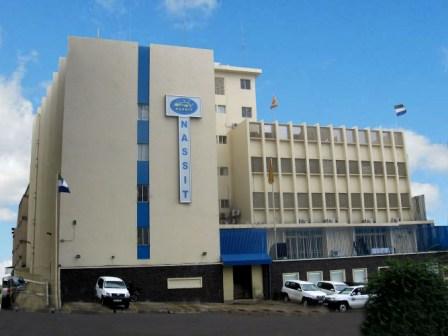 By Fadda Bakish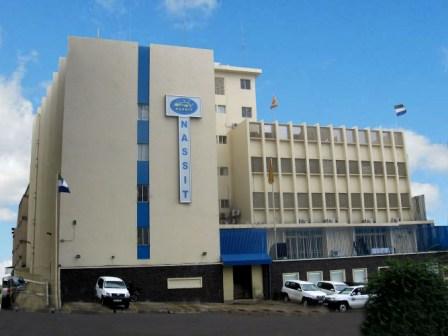 NASSIT Headquarters in Freetown
One of NASSIT's Shopping Plazas contributing to development
Economists' simplest definition of social security is that it is a social and economic necessity for development and progress of every nation.
A Nigerian author described social security as largely a collective care arrangement to meet contingencies and other conditions of insecurity due to either deprivations or contingencies or both. Simply put, social security arrangements are collective remedies against adversity and deficiency.
The problem of deficiency is directly addressed through the provision of a basic social security. The two dimensions (deficiency and adversity) are complementary and are closely related to the problem of poverty reduction and development. However, the problem of human deprivation for the majority of the population addressed by the basic social security needs urgent attention. In developing countries, a large percentage of the population is absolutely poor so the greatest challenge is how to introduce the basic social security.
A functional social security system is, therefore, a veritable tool for engendering the bond between government and her citizens, thus promoting political stability and patriotism. Hence, security of life, shelter, food, a guarantee of minimum living wage, care of dependants' citizen and Senior citizens (aged), unemployment benefits and welfare for the disadvantaged should form a core course of government. This is why Sierra Leone is lucky to have the National Social Security and Insurance Trust (NASSIT), whose presence is felt across the country.
The late President Dr. Ahmad Tejan Kabbah (of blessed memories) pushed for the formation of NASSIT having realized that social insurance encompasses broad-based systems that help workers and their families pool risks to avoid loss of income due to retirement, death, disability, or unemployment, and to ensure access to health care. It covers workers for the risks that go hand-in-hand with getting older but are out of one's control, affect all, and are difficult to plan for.
NASSIT is one of the youngest social security institutions in Africa, but its performance over the years in terms of coverage, fund development, and application of international standards of practice, has been impressive in so much that today it has become one of the clear paths for economic development.
Social Security provides a social protection floor containing basic social security guarantees that will ensure that over the life cycle all citizens of Sierra Leone in need can afford and have access to essential income security at least at a nationally defined minimum level.
What NASSIT wants is that all persons ordinarily resident in the country will have the financial protection to access a nationally defined set of essential services, enjoy income security at least at a nationally defined minimum level through family/child benefits in cash or in kind aimed at facilitating access to education and care; all persons in old age ordinarily resident in the country enjoy income security at a nationally defined minimum level through benefit in cash and/or kind; and all persons in active age groups ordinarily resident in the country who are unable to earn sufficient income enjoy minimum income security through social assistance other social transfer in cash.
After giving a deep thought, reflect and consider the prevailing economic realities that we find ourselves in the country at present and have to come to the incontrovertible conclusion that NASSIT is one of the solutions to our current predicaments in the country, and there is therefore as a matter of urgency to strengthen the social security sector in order to achieve great feats at alleviating and reducing social ills in the nation.
Many Sierra Leonean youths have taken to crime and other vices such as organized crimes in the society, the result of which we are all living witnesses. This is more particularly so because employment opportunities into the public and or private sector of the economy has turned out to be a mirage to many educated yet the unemployed youth, thereby putting many in a state of dejection and frustration. Hence, NASSIT continuous investments in the various sector will help greatly in tackling the problems of youth unemployment.
The NASSIT Social Healthcare scheme, therefore, needs to be accelerated for the benefit of contributors. A comprehensive health insurance scheme will enable contributors or citizens to have access to basic or essential health care benefits through pluralistic delivery mechanisms where the state accepts the general responsibility for ensuring adequacy of the delivery system and its financing. NASSIT should also try as best as possible to enable children to enjoy income security at least at the poverty level through various family/child benefits aimed at facilitating access to nutrition, education, and care.
It should also ensure that some targeted income support is provided to the poor and the unemployed in the active group age and residents in old age or with disabilities enjoy income security at least at the poverty level.
NASSIT should go beyond old age benefits, survivors' benefits, death benefits, invalidity benefits, disability benefits and such other benefit as may be approved from time to time, unto a broader scope of bringing into effect more investments to boost economic and social benefits.
No doubt that NASSIT provides a foundation of income on which workers can build to plan for their retirement. It also provides valuable social insurance protection to workers who become disabled and to families whose breadwinner dies.
There is the general consensus that the above initiatives are significant steps in the right direction. This should be complemented by sustained public enlightenment and public awareness especially those in the informal sector. In the same vein, there is need to extend the scope of coverage of social security to citizens in that sector. Furthermore, cases of malfeasance in pension fund management should attract the full rigor of the law in terms of prosecution and punishment. Above all, the relevant regulatory authorities should continue to demonstrate a strong degree of commitment to ensure sustained efficiency in the system bearing in mind that once confidence is lacking, people will find ways to avoid contributing, even though their need for social protection may be very high.
Social security in Sierra Leone should be seen as a shared care arrangement designed to meet contingencies and other conditions of insecurity due to either deprivations or contingencies.
Social Security is essentially important for women because they tend to earn less than men, take more time out of the paid workforce, live longer, accumulate savings, and receive smaller pensions.  This is why more women, especially those in the informal sector should be brought on board. They should be well engaged and sensitized on the importance of the social security scheme.
NASSIT officials will agree with me that women make up a major percentage of Social Security survivor beneficiaries.
Some school of thought says women benefit disproportionately from the program's inflation-protected benefits (because they tend to live longer than men), its progressive formula for computing benefits (because they tend to have lower earnings), and its benefits for spouses and survivors.
Social Security is a particularly important source of income for groups with low earnings and less opportunity to save and earn pensions.
Once someone starts receiving Social Security, his or her benefits increase to keep pace with inflation, helping to ensure that people do not fall into poverty as they age.
In conclusion, social security is a three-pronged insurance program: it insures against loss of income due to retirement, death, or disability. So far in Sierra Leone, the scheme is making every effort to bring a turn-around to the country's economy. Sierra Leoneans should, therefore, embrace NASSIT because it is a continuous rewarding scheme that makes life simple for all even at old age.