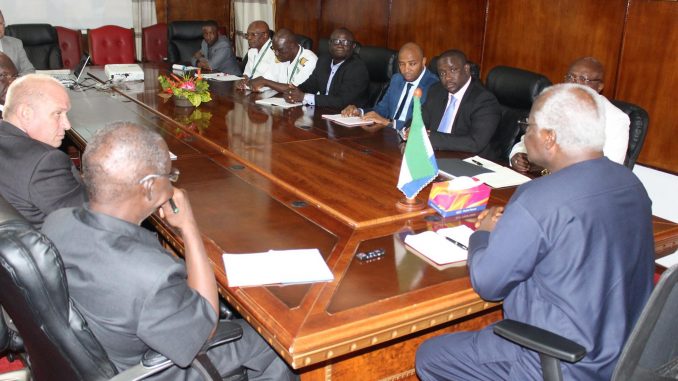 By State House Communication Unit
A delegation from Nectar Sierra Leone Bulk Terminal (NSBT) on Wednesday 13 September presented a project proposal on the expansion of the Sierra Leone port to President Dr Ernest Bai Koroma at State House.
During a PowerPoint presentation, Director of Nectar Group Guy Wilkes said NSBT has been operating in Sierra Leone since mid September 2015 and has invested in new port handling equipment including 45 metre reach-stacker/crane, new grabs/additional bagging equipment, road sweeping environment cleaning equipment, terex backhoe and 2 x bobcats for mechanical trimming, new slings and spreaders, 4 X weigh bridges, additional administration building, rehabilitation of existing buildings and warehousing, investment in IT equipment and terminal management system, provided support for the local community and Sierra Leone Ports Authority. And quite recently he mentioned, Nectar Group leased the Sierra Leone Producing Marketing Company (SLPMC) compound and has started rehabilitation to provide extra warehousing and storage space to the bulk terminal with expected development expense of USD$1.5 million.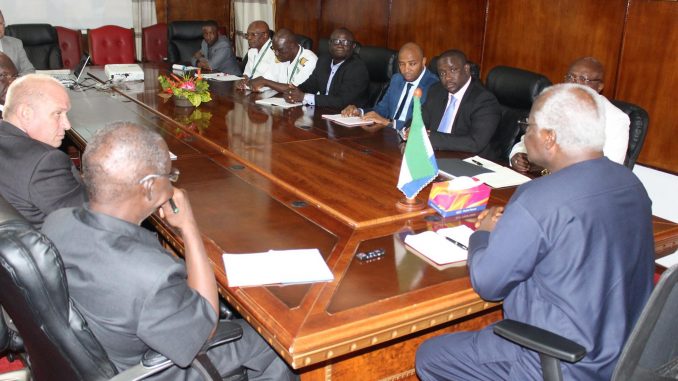 Cleaning of the SLPMC site and preparation of the ground for new drainage system, he maintained, is in progress and that 95% of the employees are Sierra Leoneans. He also stated that the project would provide new training centre, adult literacy classes and progression planning. Technical survey, he pointed out, was carried out at the end of April 2017 and was concluded on 5th May 2017 for the purpose of assessing the current quay wall on berth 1 & 2 and that NSBT/Nectar has already contracted Beckett Rankine Marine Engineers (UK) and Fugro Marine Specialists (South Africa) to carry out the feasibility and assist with design of proposed extension.
Mr. Wilkes went on to note that they had carried out a High Resolution Multi Beam Echo Survey (HRMBES) of the site and the survey produced a scan of the quay wall to determine depth of the wall and condition of the wall for the purpose of dredging activities. For this purpose, he said, NSBT/Nectar committed over USD$275,000 so far on evaluation and survey studies.
Explaining the NSBT's future vision for the port, the Director maintains that the vision is to increase visibility of the port, ease of shipment, competitiveness, viability and profitability of the port facilities and attract greater international traffic. He tagged the capital expenditure of the project budget from approximately USD$18 million to USD$22 million.
President Koroma thanked Nectar Group for the presentation and emphasized the need for Sierra Leone to realise the full potentials of the port. He referred to the expansion of the port as a transformation programme which government is fully supportive of and ensure it is well implemented in the interest of the country. "We have a great and huge potential in transhipment but we need to have the right partnership and right programmes in place," he said.
Director Guy Wilkes was accompanied by Mr Jim Page, NSBT General Manager, Guy Warrington, British High Commissioner and senior staffers of the High Commission.
NSBT is a British company recently licensed to operate the bulk and breakbulk terminal occupying berths 1 and 2 at Queen Elizabeth II Quay in Freetown.