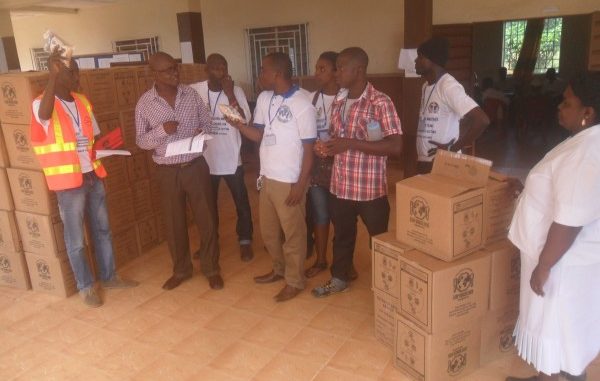 By Hassan Bruz
Northern Bureau Chief
The New Harvest Global Ministry which is an indigenous Evangelical Christian Ministry that is based in the Southern District of Bo, has donated a consignment of Food to the Port Loko District Ebola Taskforce for onward distribution to the affected Persons in both Holding and Treatment Centres. It is a consignment of over 250 Cartoons of 'Rice Soyer Blend meal' that contains 36 Packets each. The Presentation of this donation was done at a brief ceremony held at the Kamaranka Primary Health Complex Headquarters in Port Loko, which is also serving as the Ebola Emergency Response Centre for the Northern District of Port Loko.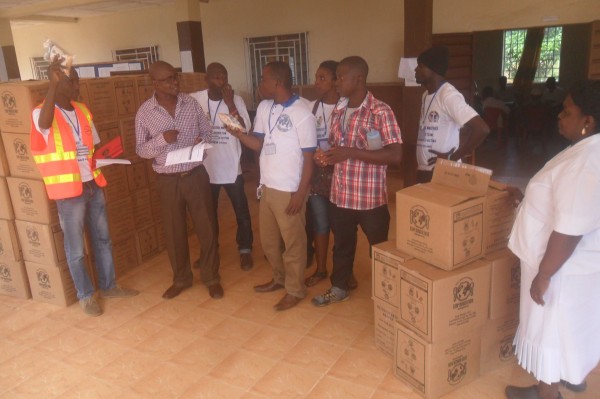 Pastor Sama Sandy is the Director of Programmes for the New Harvest Global Ministry. He made the Presentation on behalf of the Mission to the Port Loko District Medical Officer- Dr. Adikali Alpha Kamara. Pastor Sandy used the opportunity to brief the gathering about the New Harvest Global Ministry which he said , has been effectively operating in over 16 Countries in Africa and well over 300 Churches Worldwide. He said they extended to Kaffu Bullom and Lokomasama Chiefdoms in the Port Loko District a few years ago with the same mandate of propagating the Word of God as well as serving the social aspect of Humanity.

The Director of Programmes said they have resolved to intervene in the fight against Ebola because of their spiritual mandate as prescribed in Mathew 25; 40 which says- 'whatever you do to your brother you do onto the Lord'. He said it was also a response to the clarion call of President Dr. Ernest Bai Koroma who requested for every well meaning Groups and Individuals, to help in the fight against the dreadful Ebola Disease. While commending President Koroma for the untiring efforts in seeking ways, through which the disease could be combated, Pastor Sandy said the Package has the capability to reinvigorate Patients by reactivating their resistance and even improve the ability to cope with Ebola infection. He therefore urged for it to be availed to the targeted Beneficiaries.
The Port Loko District Medical Officer- Dr. Adilkali Alpha Kamara in his response praised the role of the Mission and assured that the consignment will certainly be utilised for the targeted purpose by making sure that those in either Holding or Treatment Centre do benefit appropriately
According to Rev. Dr. Shodankeh Johnson, the Package is being provided with support from 'Stop Hunger Now 'and 'Final Command Partners'. These are two Non Government Organisations based in the United States of America. He said his Ministry had earlier presented a purse of 10 Million Leones to the Port Loko District Emergency Response Taskforce as a humble contribution to the Ebola Fight in the District. Below are Photos of how it all went including that of the District Medical Officer and the District Health Sister –Mariama Momoh……