The New Haven City of Connecticut is sending four New Ambulances and Sixteen Thousand United States Dollars' ($16,000) worth of medical supplies to Ebola ravaged Sierra Leone.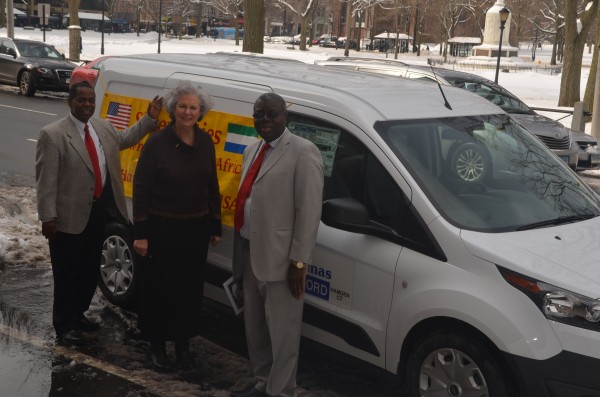 A view of one of the Ambulances
This disclosure was made by Hon. Toni N. Harp, Mayor of New Haven on Monday March 2nd, 2015 during a News Conference which saw several distinguished personalities including United States Congress Woman Rose DeLauro, Sierra Leone's Ambassador Bockarie Kortu Stevens, Mr. Alfred Marder, Chairman New Haven Amistad Committee, Alithea Norcott head of New Haven's Freetown Sister Connecticut, Dr. Alan Friedman MD Pediatric Cardiology and past President Yale New Haven Medical State Hospital, Alhaji Mohamed Barrie, Sierra Leone's Consul to Boston and a cross section of representatives of the New Haven Municipality in attendance.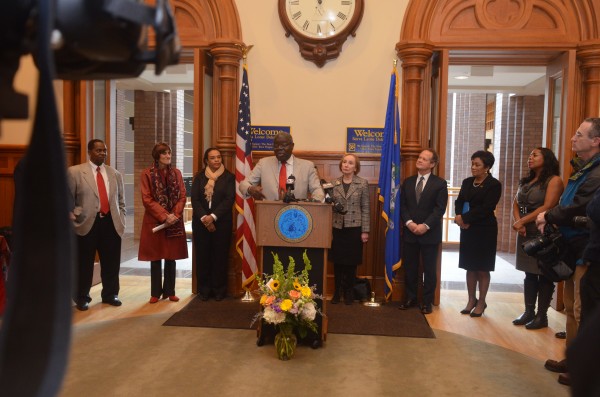 Amb. Bockari Stevens doing the thing at the podium
According to Mayor Toni N Harp, members of the Committee set themselves a target to raise One Hundred Thousand United States Dollars, (US$100,000) for Freetown the Sister City of New Haven, to enable her cope with the outbreak of the deadly Ebola Virus: but "we ended up collecting One Hundred and Fourteen Thousand United States Dollars ($114,000) as donation in addition to Twenty Five thousand United States Dollars of Emergency supplies from the New Haven Hospital.
According to her, "all of us are gathered here to share grave concerns about ongoing public Health crisis in Sierra Leone, and more specifically in Freetown.
"Our presence demonstrates wide-spread concern. Said Mayor Toni N Harp.
Like the virus itself which ignores political boundaries and even physical barriers as gigantic as the Atlantic Ocean, so we have been intent on generating a proactive response here in New Haven.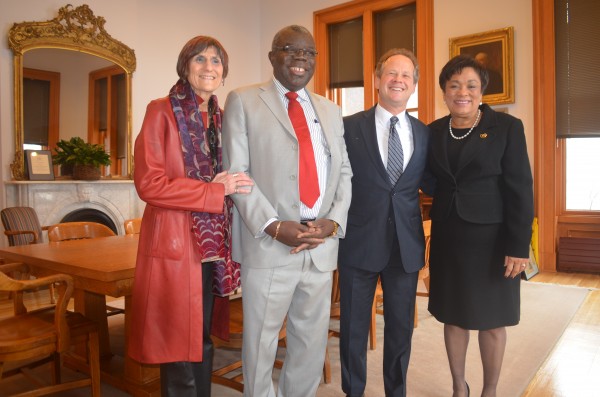 From Left- Congress Woman Rose DeLauro, Amb. Bockari Stevens,Dr. Alan Friedman, Mayor Toni N. Harp
According to her, much of the money came from public School teachers, Administrators, Students, Sororities and Fraternities coupled with local non-profit Organizations including Churches, Yale New Haven's Medical Staff.
According to Alithea Norcott head of New Haven's Freetown Sister Committee, "Yale New Haven's hospital staff contributed Twenty Five Thousand Dollars (US25, 000).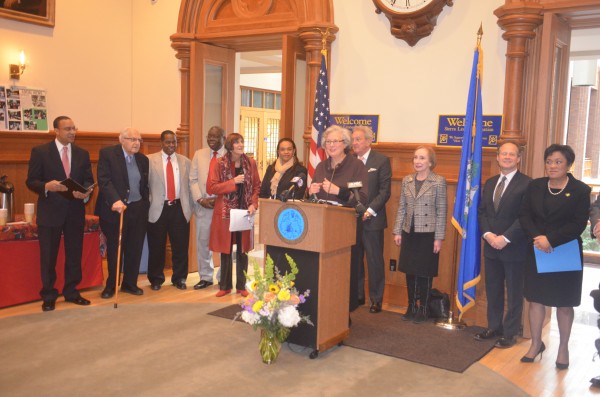 L- Hon. Mayor Toni N Harp,Dr. Alan Friedman,Alithea Norcott head – New Haven's -Freetown sister committee @ the podium. from Left -A senior member of Community, Alfred Marder, Mohamed Barrie, Amb. Stevens Congress W
United States Congress Woman Rose DeLauro said Freetown's resilience in the face of such adversity is "awe inspiring.  I am proud of New Haven for stepping up to support our brothers and sisters 4,200 miles away.
"We want the people of Freetown to know that their brothers and sisters in New Haven Connecticut care about their plights and want to help them however that we can."  Said Congress Woman DeLauro.
Responding, Ambassador Bockari Kortu Stevens thanked the donors and said the Ambulances will certainly help change the game in Sierra Leone, even though Ebola continues to ravage the country.
"Ebola is not yet gone, but we are determined to beat Ebola. Said Ambassador Stevens.
"Of course there are pockets of our people who cannot forget their old practices; you only need one person to forget to wash his/her hands: you only need one person to be physical with an Ebola affected deceased body and it can spread to a whole community.  "That is why President Ernest Bai Koroma has recently brought back some stern measures to make sure that people have to follow the protocol that has been set.
"We are fighting very hard to get people to know that if we don't stop Ebola, our nation is finished.  "It is very challenging to tell a mother not to touch her sickly child."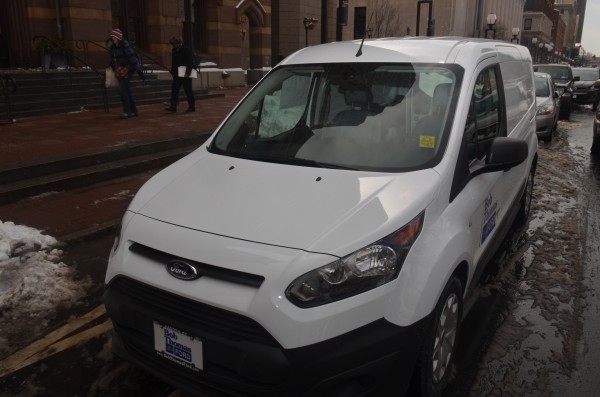 Economic activity is dead. Children are not going to schools, industries are closing, Tourism is zero – so we have to fight Ebola."
Ambassador Stevens said Freetown is linked to New Haven through a very dynamic history and "I think this action will reawake and rejuvenate the relationship of the two communities.
Mr. Alfred Marder chairman of the New Haven Amistad committee said, it was an extra ordinary effort, and all of us are proud of our City and, particularly want to thank the Mayor for providing that moral leadership for this effort.
Mr. Marder who traced New Haven's relationship with Freetown some 174 years ago, said Sengbeh Pier and other Amistad Captives (originally from Freetown)  arrived in New Haven after a successful mutiny aboard a slave ship – eventually won their freedom in a landmark case which  Alfred Marder said, helped Launched the US abolitionists movement.
At the heat of the outbreak the Sierra Leone, the Embassy sent out a number of solicitation letters for assistance in the fight against Ebola. This is certainly one of the results.
Pasco Gerald Temple
Information Attache
Embassy of Sierra Leone to the United States
1701 19th St. NW
Washington, DC
20009
Tel:+202 4466958
pasco_temple@outlook.com
www.embassyofsierraleone.net