Freetown, Sept. 2, 014 (MOHS) – The newly appointed Minister of Health and Sanitation, Dr. Abu Bakarr Fofanah has said that one of the biggest challenge in the fight against the Ebola outbreak is infection prevention control, and called on nurses, doctors and other staff in health facilities to step up action on compliance.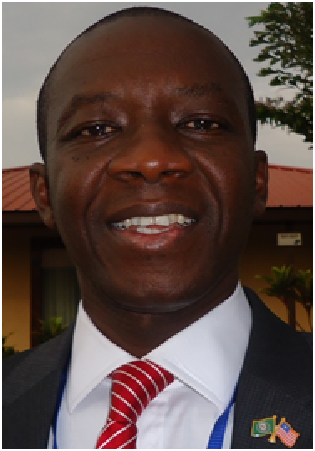 Addressing Senior Nurses in the Western Area at a meeting organized by the Directorate of Nursing Services in the Ministry's conference hall at Youyi Building in Freetown, Dr. Fofanah encouraged the nurses to redouble their efforts noting their key role in the execution of their duties to contain the outbreak.
He said lot of things went wrong over the years, and now a challenge to all of them including himself and other health professionals to make the difference.
Dr. Fofanah told his audience that in the process to build a sound system, every single staff including the Porter and the Cleaner is an important catalyst.
He said he would try to explore avenues for sustainable development but with the cooperation and support of the entire staff of the Ministry.
Dr. Fofanah underscored the importance of delegating the responsibility of staff welfare and logistics to his two Deputy Ministers with a view to improving the welfare of staff, and to articulate actions for uninterrupted and regular flow of logistics and materials that would make the ministry a more viable institution.
Deputy Minister II (two), Madam Madina Rahman reiterated the need for the effective and rational use of the protective gears in line with infection prevention control compliance measures, hoping that they would give them the desired support and cooperation to achieve the ministry's goal.
The Chief Nursing Officer, Matron Hossinatu Kanu disclosed that the meeting was designed to provide orientation to senior nurses in the Western Area and the districts to be deployed in hospitals and other health facilities to give supportive supervision to their junior colleagues.
She said the structures should be maintained even at the end of the Ebola outbreak, stressing the need for an on-the-job training and daily orientation for every shift on duty.
Matron Kanu encouraged the nurses to be punctual, and to instill punctuality in their various deployed facilities to enhance positive change in the system.
The Chief Nursing Officer expressed optimism that with the newly appointed ministers, and his deputies, she is sure of a winning the battle against the Ebola outbreak.   JAK/PRO/KK/MO