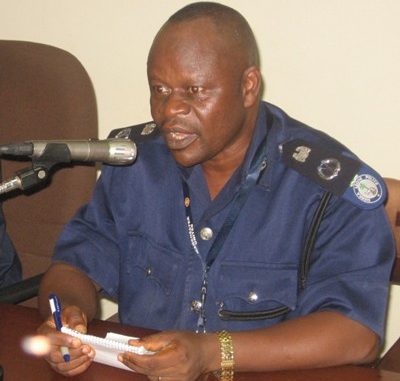 SLP Communications Unit
The Inspector General of Police Francis Alieu Munu on Saturday 29th August 2015, officially accepted the keys to a newly built Police Station at Tankoro Division, Kono District. The station was refurbished by OCTEA Mining and Koidu Holdings, the main Diamond mining concerns in Kono District.  Handing over the building to the Sierra Leone Police, Chris Swanepoel General Manager of Octea Mining informed the Inspector General that his company were trying to live up to their corporate social responsibility and their guiding principle in doing business which requires them to know their people, grow their community in order to grow their business.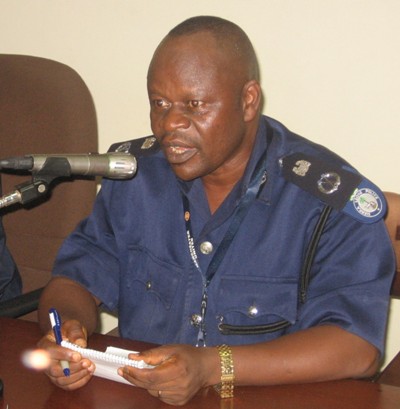 FRANCIS MUNU
The building of the police station at Tankoro is a mark of appreciation by the company to support the police by providing first rate facilities within which they can work. Chairman for the occasion, PC Aiah Bindi Ngongor II reiterated the point that the investment in security for Kono District is necessary to provide investors with the confidence that good policing can bring. He confirmed that the present site was offered to the Sierra Leone Police by the people of Tankoro Chiefdom under the leadership of PC Paul N. Sacquee V. Chief Sacquee who gave the welcome address indicated his pleasure at the completion of such a beautiful police station in Kono District, complimenting OCTEA Mining for their work in getting the building completed to such a high standard.
In accepting the keys to the new station, Inspector General of Police, Francis Alieu Munu  admonished the officers in Kono District that the move to such a new building should be followed by a change of attitude. He intimated that all the negative thoughts and activities of old should be left in the old building as they strive to provide the people of Kono District with modern, efficient and professional policing. He stressed that the role of the Police is to maintain  law and order and to protect life and property. These should be the guiding principles of their work and they should be proud to serve the community from such beautiful and modern facilities.
The Keynote address for the event was provided by the Minister of Internal Affairs, Hon. J B Dauda who reminded the gathering that the provision of modern facilities resonates with Government's vision for a rebranded, modern and professional police force. He commended the leadership of the force, the Executive Management Board and the Inspector General for their vision to drive through such beneficial change for the welfare of their personnel. Hon Minister Dauda intoned that President Ernest Bai Koroma has always been supportive of such private public partnerships that result in lasting infrastructure for state institutions. This new station, he commented, is clearly a partnership between the Police, the Tankoro community and OCTEA Mining.