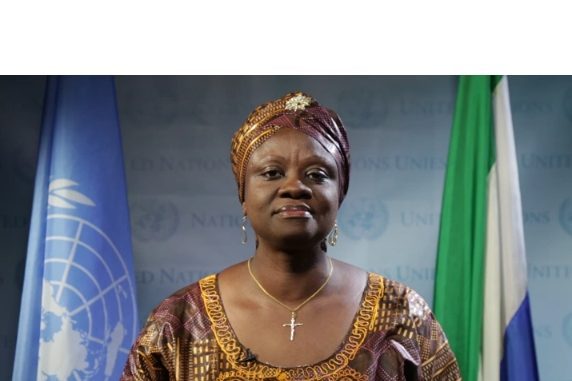 The unending political psychdrama in Sierra Leone since this President Maada Bio-led SierCockle ra Leone People's Party ( SLPP ) government came to power two years ago continued this morning as troops stormed the Cockle Bay home of popular journalist and politician, Sylvia Blyden and arrested her.
Dr. Sylvia Blyden, the publisher of the popular AWARENESS TIMES  newspaper, has been the target of the SLPP Government since  she start tutoring the government how to handle the coronavirus pandemic and  exposing  the flaws in the government's case against former Defence Minister Palo Conteh, whom the government has charged with treason for allegedly taking a pistol to State House where he was to have a meeting with President Bio on the coronavirus.
Only few days ago, Dr. Blyden herself stated on her Facebook page that the notorious Internal Affairs  Deputy Minister Lahai Lawrence Leema , who is leading the government's efforts to harass o[position politicians , had threatened to arrest her . She wrote :  "I have received many calls that Hon. Leema has sent Police to arrest me for "incitement on social media". I don't believe it is true that this Govt will arrest me on flimsy grounds so kindly put your minds at rest. If anything happens otherwise, I will surely post of my arrest on this my Facebook Wall. " On April 23, she had said :
"I respect Hon. Lawrence Leema's right to say his OPINION. I trust he respects my right to express outrage that in this day & age, our country detains someone (Palo Conteh) in a cell where he is forced to urinate & defecate in a bucket; then forced to sleep for days inside the cell with the bucket full of his excreta, inhaling stench of his excreta flowing out from bucket in a cell where the windows are placed so high that fresh air cannot easily remove the stench from the cell. I have the moral authority to express my outrage."
Yesterday, to show that this arrest was premeditated and a blatant attempt to victimize and crack down on the opposition, the SLPP Women's leader released an audio on social media threatening Dr. Blyden.  The former minister herself wrote on her Facebook page : "SLPP Women's Leader Fatmata Sawaneh is a Sister but she's unhappy with me. She today recorded an audio saying they (I guess SLPP & not Govt) will 'hunt me down' because of views I write. Well Fatmata dear, this is a Democratic State & no longer an NPRC Junta. Get used to criticisms Sis! "
Social media has been abuzz with the Sylvia Blyden issue and what may be the possible outcome of all these threats. This morning, troops entered her yard and arrested her.
As the troops banged on her gate, the former Social Welfare Minister tweeted the following :