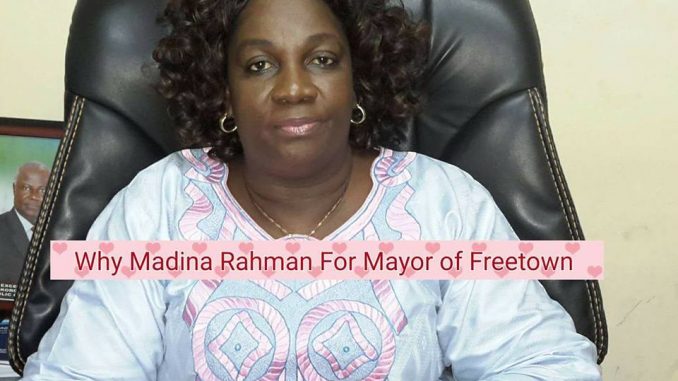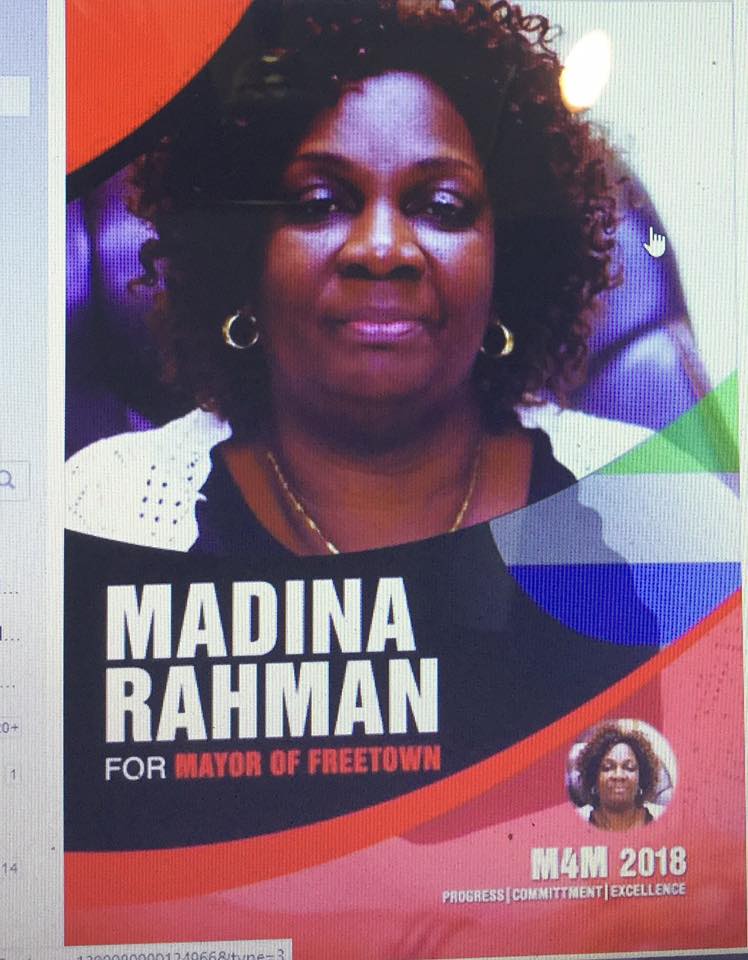 *Next City Mayor…*
*_Freetown Overwhelmingly Endorse Madina Rahman_*
*_By Ranger_*
The charismatic Deputy Minister of Health 1, Madam Madina Rahman, during an exclusive interview disclosed to this medium that on a daily basis she is receiving calls from residents in the Freetown metropolis, especially market women, to contest for the Freetown City Council Mayorship position.
"I am inundated with series of appeals from all parts of the city to come forward and stand out, all assuring me of their overwhelming support. As a matter of fact I don't even know some of these individuals or groups but I am thrilled and elated," she eloquently and succinctly explained adding that it is now high time that we have a City Mother rather than a City Father.
Asked to give a synopsis of her profile, she revealed that she attended the Fourah Bay College Primary School and later proceeded to the Annie Walsh Memorial Secondary School. Upon completion of her secondary school education she worked briefly at the Sierra Leone External Telecommunications (SLET) before leaving for the United States of America.
"I got my 1st Degree in the U.S., Bachelor in Business Management," she furthered, going ahead to intimate that she then decided to study nursing. "I went through the rungs of the nursing academic course and ended up with a Masters Degree in Nursing," she made known with a smile, further disclosing how she later on, taught nursing at a tertiary institution in the United States of America and went on to attain the position of Director of Nursing.
"I was holding that position when His Excellency Dr. Ernest Bai Koroma called me to come home to contribute to the development of the nation by appointing me as Deputy Minister 2 of Health," the cool and calculated Madina Rahman informed.
She said she hails from the Fourah Bay Community in the East End of Freetown and one of her grandfathers was once a Mayor of the Freetown City Council, maintaining how her parents are notable personalities within the Metropolis and the country as a whole.
When a question was posed to her as to how she views the present Freetown Metropolis, the FCC Mayor-hopeful intimated that there is much to be done in terms of uplifting the status of the City. "There is a great deal of work to be done to restore the lost glory of the City and through concerted effort we can do great things," she affirmed with all amount of seriousness.
The Deputy Minister asserted that she has always been a go-getter adding, "Many people in the city are calling upon me to aspire for the position of Mayor of Freetown because of the trust they have in me and the work that I have done."
Traders in the city see in her someone they could identify with. One Sani Abacha Trader told this writer that Madam Rahman has an open door policy and is not tired to see people whenever they call on her, be it at home or at the office. They say she is a real mother and someone fit to head FCC as she understands their plights and knows how to talk to people.
It was understood that though she has not openly declared any intent to run for that office ,however, requests are coming from residents in Freetown and even overseas for to do so. Many have expressed the firm belief that she is very competent, having the requisite qualities and the natural born knack to mobilize people from all walks of life. Besides, according to what many have said about her is that she is a result oriented person who does not like to see things done haphazardly.