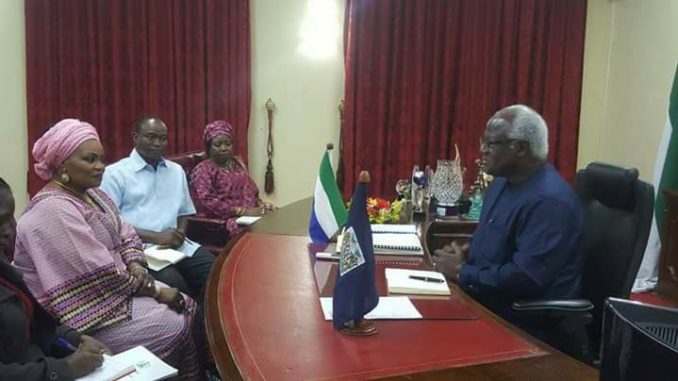 By State House Communication Unit
The outgoing Nigerian High Commissioner to Sierra Leone Her Excellency Mrs. Gladys Modupe Quist-Adebiyi Friday, 28 April 2017, paid a farewell courtesy call on President Dr Ernest Bai Koroma at State House in Freetown. The outgoing High Commissioner presented her letters of credence to President Koroma on 13th February, 2014, marking the commencement of her diplomatic mission in Sierra Leone.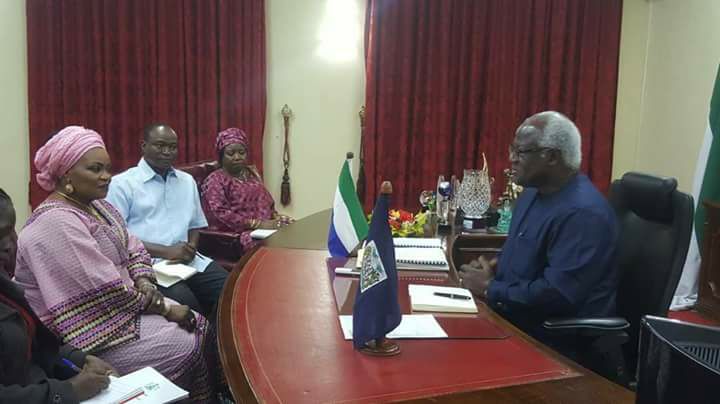 In her farewell statement, Mrs. Quist-Adebiyi congratulated Sierra Leone on her 56th Independence anniversary and prayed for continued peace and security in the country. She recounted significant gains that had been made on her promise to raising the level of bilateral relations between Nigeria and Sierra Leone for the mutual benefits of the two nations. She stated that the Ebola outbreak brought in several challenges as well as opened windows of opportunity in strengthening the country's health system.
The outgoing High Commissioner commended President Koroma's indefatigable statesmanship in leading the country to the path of development and transformation. "Your dream of a prosperous nation is on course," she said. She expressed hope for a peaceful and successful 2018 elections and registered Nigeria's commitment to standing by Sierra Leone adding, that the relationship between the countries is legendary.
Bidding Farewell, President Koroma commended the excellent relationship the outgoing High Commissioner has built and profusely thanked her for the role she played in the fight against the unprecedented Ebola outbreak in country. "You facilitated support and personally involved in the social mobilization across the country, we appreciate you very much," he said.
President Koroma noted government's commitment to the ongoing electoral process and emphasized that the elections will take place on time and with no delay. She also appreciated the support provided to the Office of the First Lady in supporting women's and girls' issues across the country. The President wished her the very best in her next assignment while assuring her that Sierra Leone will always be home.