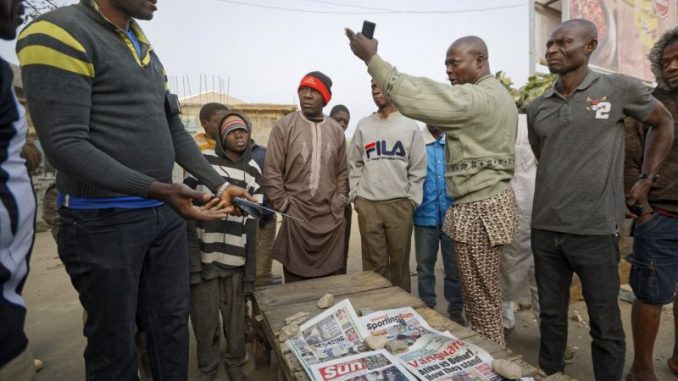 The Independent National Electoral Commission (INEC) issued a statement in the early hours of Saturday morning, saying it had come the conclusion that proceeding with the elections as scheduled is no longer feasible.
INEC cited logistical constraints that could come in the way of conducting free, fair and credible elections.
Social media reactions
Reactions on social media were laced with anger, frustration and disappointment with the country's electoral commission.
INEC was blasted for at least three main reasons;
Election was postponed in 2011, 2015 and now 2019

INEC

 repeatedly said they were ready, and not considering a postponement

INEC

 announced postponement on Saturday morning after most people had already travelled and committed the day to vote
Frustrated Nigerians

PHOTO CREDIT -YAHOO

In the northeastern city of Maiduguri, people gathered for morning prayers after which they had planned to vote.

"We are disappointed and deeply pained by the postponement of the election. We spent our all night without sleeping hoping to vote today and just hearing the news that the election was been postponed," said one worshipper, Auwolu Usman.

Kabiru Sale, 27, who sells oil in the northern city of Kano, said the move took him by surprise.

"I am not happy with the suspension. I had already gone out to cast my vote only to be told on the way about the suspension. I do not really understand why they suspended the election," he said.

Reactions from main political parties

The chairman of the main opposition People's Democratic Party (PDP), Uche Secondu, said the move was "dangerous to our democracy and unacceptable".

He said it was part of an attempt by Buhari to "cling on to power even when it's obvious to him that Nigerians want him out".

Buhari's ruling All Progressives Congress (APC) party also criticised the electoral commission for the delay. The president had cooperated fully with the commission to ensure it had everything it had demanded to conduct free and fair elections, it said in a statement.

Disappointed Buhari warns against civic disorder

President Muhammadu Buhari on Saturday expressed disappointment and dismay over the postponement of the polls, saying INEC repeatedly assured the political stakeholders of its readiness to conduct polls.

''This administration has ensured that we do not interfere in any way with the work of INEC except to ensure that all funds were released to the commission,'' Buhari said in a statement.