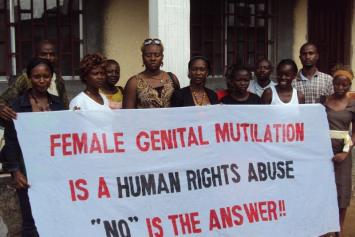 FREETOWN/LONDON/NEW YORK, 22 July 2014 – The UK Government and UNICEF are hosting today a first-ever Girl Summit to rally support for much faster progress to end female genital mutilation /cutting (FGM/C) and child marriage – two practices that affect millions of girls across the globe.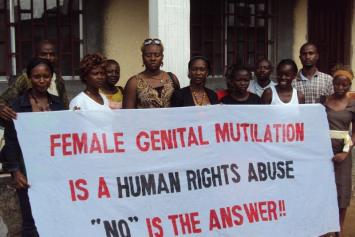 UNICEF data released today show that while prevalence has decreased slightly over the past three decades, rates of progress need to be scaled up dramatically, simply to offset population growth in the countries where the practices are most common.
"FGM/C and child marriage profoundly and permanently harm girls, denying them their right to make their own decisions and to reach their full potential. They are detriments to the girls themselves, their families, and their societies," said UNICEF Executive Director Anthony Lake. "Girls are not property; they have the right to determine their destiny. When they do so, everyone benefits."
In Sierra Leone, the prevalence of FGM/C and child marriage is one of the highest in the world. More than 90% of girls and women between the ages of 15-49 have undergone some form of circumcision. FGM/C is directly linked to child marriage and teenage pregnancy with one in two girls (50%) married before the age of 18 and one in three girls (38%) becoming mothers by this age.
The Government, with strategic support from UNICEF, UNFPA, UN Women, UK Aid, Irish Aid and NGO partners, is working together to decrease the incidence of FGM/C, child marriage and teenage pregnancy through changes in social and cultural practices and advocating for change.
"This is a time for action! FGM/C and child marriage are inextricably connected and linked to the high prevalence of teenage pregnancy in Sierra Leone. These practices stand on the path of girls towards achieving their social, economic and developmental empowerment which will see them adequately responding to the challenges of modern society", said Roeland Monasch, UNICEF Representative in Sierra Leone.
According to the newly-released data:
More than 130 million girls and women have experienced some form of FGM/C in the 29 countries in Africa and the Middle East where the harmful practice is most common. Beyond extreme physical and psychological pain, girls who undergo FGM/C are at risk of prolonged bleeding, infection, infertility and death.
Child marriage is even more widespread and can lead to a lifetime of disadvantage and deprivation.  Worldwide, more than 700 million women alive today were married as children. More than 1 in 3 – or some 250 million – were married before 15. Girls who marry before they turn 18 are less likely to remain in school and more likely to experience domestic violence. Young teenage girls are more likely to die due to complications in pregnancy and childbirth than women in their 20s; their infants are more likely to be stillborn or die in the first month of life.
Overall, an adolescent girl today is about a third less likely to be cut than 30 years ago. Kenya and Tanzania, two high prevalence countries, have seen rates drop to a third of their levels three decades ago through a combination of community activism and legislation. In the Central African Republic, Iraq, Liberia and Nigeria, prevalence has dropped by as much as half. Attitudes are also changing: recent data show that the majority of people in the countries where FGM/C is practiced believe it should end, but continue to permit their daughters to undergo the procedure because of strong social pressure.
Without far more intensive and sustained action now from all parts of society, hundreds of millions more girls will suffer profound, permanent, and utterly un-necessary harm.
–          If rates of decline seen in the past three decades are sustained, the number of women married as children (more than 700 million) will remain flat through 2050; and up to 63 million more girls could be cut by 2050.
–          Doubling the rate of decline would bring the number of women married as children down to 570 million by 2030 and 450 million by 2050. The number of girls and woman affected by FGM/C (more than 130 million) would remain roughly at today's levels.
"Let's not forget that these numbers represent real lives. And while these are problems of global scale, the solutions must be local, driven by communities, families and girls themselves to change mindsets and break the cycles that perpetuate FGM/C and child marriage," Lake said. "We can't let the staggering numbers numb us – they must compel us to act."
Broll and photos are available for download from: http://uni.cf/1mSwTvk
###
About UNICEF
UNICEF promotes the rights and wellbeing of every child, in everything we do. Together with our partners, we work in 190 countries and territories to translate that commitment into practical action, focusing special effort on reaching the most vulnerable and excluded children, to the benefit of all children, everywhere. For more information about UNICEF and its work, visit www.unicef.org
Follow us on Twitter and Facebook
Download multimedia content at: http://weshare.unicef.org/mediaresources
For more information, or to arrange an interview, please contact:
Rose Foley, UK National Committee for UNICEF; Tel: +44 7584 229 343; rosef@unicef.org.uk
Claire Blackburn, UK National Committee for UNICEF; Tel: +44 7838 555 618; claireb@unicef.org.uk
Najwa Mekki, UNICEF New York, +1917 209 1804; nmekki@unicef.org
Marixie Mercado, UNICEF New York, Tel: +1917 213 5188; mmercado@unicef.org
Issa Davies, Communication Officer, UNICEF Sierra Leone, Tel : + 232 76 601 310; idavies@unicef.org