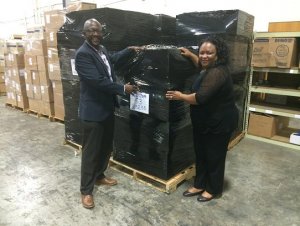 PRESS RELEASE
National Organization of Sierra Leoneans in North America (NOSLINA) Contributions to EBOLA Relief Efforts in Sierra Leone
FOR IMMEDIATE RELEASE                                         
AUGUST 28, 2014
Contact: Suna Nallo
Phone: (+1-410) 412-4311    Email: noslina2011@aol.com                               Website: www.noslina.net
The Board of Directors and Directorate of the National Organization of Sierra Leoneans in North America (NOSLINA) is pleased to inform the public that approximately 4,750 pounds (a total of 9 skids, weighing between 425 and 785 pounds each) of urgently needed materials to combat the deadly EBOLA virus are scheduled to arrive on Saturday, August 30, 2014, at Freetown's Lungi International Airport.
The items are being transported to Sierra Leone from the United States through the coordination of Airlink, a 24/7 disaster response organization that links pre-vetted NGO's with airlines for air and cargo transportation, Brussels Airlines, UPS (for trucking) and ALAN (truck coordination and pallet preparation).
In a letter addressed to Hon. Miatta Kargbo, Sierra Leone's Minister of Health and Sanitation, NOSLINA requested that the items, upon receipt, "be expeditiously distributed to parts of the nation thatcurrently are in most dire need and have been most severely impacted by the virus and its lingering effects".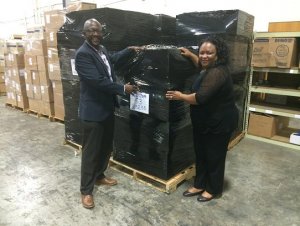 NOSLINA MAN ALPHA JABBIE ( LEFT ) WITH MEDSHARE REP.
Donated items were received through the kindness of many, including but not limited to: the Southeastern Region of Medshare in Decatur, Georgia; Standard Textile of Cincinnati, Ohio; the Hawthorne/Los Angeles International Airport (LAX)/ Lennox Rotary Club; Dr. Harry Heiman and Ms Lerissa Smith, both with the Satcher Health Leadership Institute at the Morehouse School of Medicine in Atlanta, Georgia; and the Lutheran Church of St. Andrew in Silver Spring, Maryland. They include exam gloves, surgical gloves, obstetric gloves, gauze bandage rolls, disposable thermometers, cannula, safety glasses/goggles, face masks, disposable protective clothing, feeding tubes, shoe covers, blankets, bed sheets, pillow cases, and much more.
Efforts – from start to finish – to accomplish this monumental task have been supported by many, including His Excellency Ambassador Bockari Stevens, Sierra Leone's Ambassador to the United States, without whom this project could not have been accomplished.
In a brief message of acknowledgement, Dr. Brima Kargbo, Chief Medical Officer of Sierra Leone, thanked Ambassador Stevens for his "selfless efforts to ensure we control the spread of the Ebola virus".  Dr. Kargbo also went on to share his appreciation of NOSLINA by stating that "On behalf of the Ministry of Health and Sanitation, I would like to express my sincere thanks and appreciation to NOSLINA for this wonderful gesture. The items are coming at a time when we needed them most. I would also want to assure all that they will be adequately distributed."
ABOUT AIRLINK
Airlink is a 24/7 disaster response organization that links pre-vetted NGO's with airlines for air and cargo transportation. Through the Airlink program, disaster response teams can be mobilized to affected areas in a timely manner; disaster victims can receive delivery of necessary relief, supplies and the support that ultimately will help them rebuild their lives.  Airlink's reach is global, with an air transportation network that is constantly expanding as crisis, natural disasters, etc. are on the rise around the world. Airlink has supported humanitarian initiatives on every continent.  Since its inception in 2010, Airlink's airline partners have flown approximately 3,300 passengers and transported 800,000 lbs. of cargo.
ABOUT NOSLINA
Since March 1998, NOSLINA has served as the leading Sierra Leone Diaspora organization in the US. Its core values and operational code are based on the unique diversity of its membership.  Accordingly, it promotes the interconnectedness of its members within the US and strengthens links between the Diaspora and homeland.  Specifically, the group has been supporting community projects and other initiatives at home in such areas as education; health and sanitation; cultural arts; advocating good governance and citizenship; and publicly recognizing Sierra Leoneans and individuals of Sierra Leone descent or parentage, friends of Sierra Leone and related entities in the Diaspora for their professional accomplishments and distinctive contributions to Society.  For additional information, please contact NOSLINA Executive Director Suna Nallo at noslina2011@aol.com or at +1-410-412-4311.