FREETOWN, SIERRA LEONE – Critical care nurses make the difference between life and
death for a critically ill or injured patient. For the first time in Sierra Leone, nurses participated
in a seven-week course offered by the U.S. Embassy to gain unique knowledge on how to
provide excellent critical care nursing. Heidi McGuigan, the Embassy's Foreign Service Health
Practitioner, trained 25 nurses from four Freetown hospitals. The course objective was to update
and enhance critical thinking and nursing care for the provision of critical care nursing.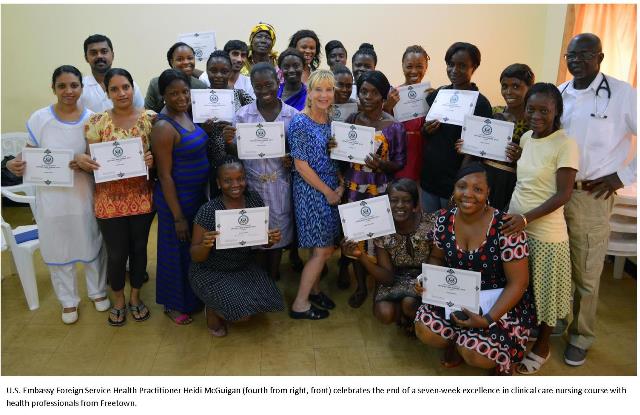 This class covered nursing standards and ethical decision making, disturbances of the heart
rhythm and electrocardiogram, airway management and ventilator support, care of the ill
newborn, infection control within the intensive care unit, diabetic crises, trauma, kidney diseases,
and nursing care. The class met for more than two hours each week.
McGuigan said she hoped the Embassy's train-the-trainer course would be the first of many
critical care nursing courses to come. Attendees are encouraged to share their knowledge with
peers.
"I challenge you to go out to the nurses in your hospitals and develop ongoing groups to further
your knowledge of critical care nursing" McGuigan said to the nurses on their last day of
training. Dr. Sokkoh Kabia, former Minister of Health in Sierra Leone, thanked McGuigan,
stating that she has "inspired you [the students] to be better nurses and to help our people."
The excellence in critical care nursing course is one of several continuing education classes
recently offered by the U.S. Embassy's Medical Unit. The Embassy has offered 12 classes for
health professionals within the past year, benefiting more than 240 health professionals