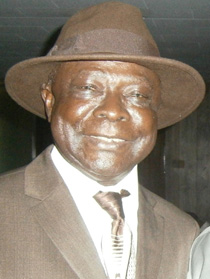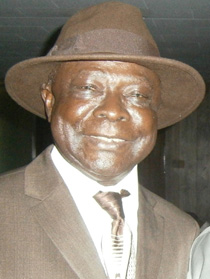 OBITUARY
THE ALL PEOPLES CONGRESS (APC) ANNOUNCES THE DEATH OF HON. WILLIAM JUANA SMITH, FONDLY KNOWN AS APC SMITH: FORMER DISTRICT SECRETARY AND CHAIRMAN KENEMA DISTRICT; FORMER REGIONAL SECRETQRY AND CHAIRMAN EASTERN REGION; FORMER NATIONAL PUBLICITY SECRETARY AND EDITOR FOR WE YONE NEWSPAPER; FORMER EXECUTIVE MEMBER APC YOUTH LEAGUE;  NATIONAL ADVISORY COMMITTEE MEMBER AND RESIDENT MINISTER EASTERN REGION, WHICH SAD EVENT TOOK PLACE  IN FREETOWNON WEDNESDAY 23RD APRIL, 2014
A BOOK OF CONDOLENCE HAS BEEN OPENED AT THE APC HEADQUARTERS. A LAYING-OUT CEREMONY WILL BE HELD AT THE APC HEADQUARTERS ON THURSDAY MAY 8 AT 11.00AM, TO BE FOLLOWED BY A CIVIC LAYING-OUT AT THE MIATTA CONFERENCE HALLAT 2.00PPM THE SAME DAY.
THE NATIONAL CHAIRMAN AND LEADER, HIS EXCELLENCY DR. ERNEST BAI KOROMA AND LEADERSHIPOF THE PARTY IS THEREFORE REQUESTING ALL APC NAC MEMBERS, NATIONAL OFFICERS; APC WOMEN'S CONGRESS AND NATIONAL YOUTH LEAGUE; REGIONAL DISTRICT AND CONSTITUENCY EXECUTIVES, MINISTERS, MEMBERS OF PARLIAMENT, MAYORS AND COUNCILLORS; APC STALWARTS, SYMPATHIZERS AND THE RANK AND FILE OF THE PARTYTO WITNESS THESE CEREMONIES AND PAY OUR LAST HONOUR AND RESPECTTO OUR FALLEN HERO.
OTHER FUNERAL ARRANGEMENTS WILL BE ANNOUNCED LATER.
MAY HIS SOUL REST IN PERFECT PEACE
SIGNED:
AMB.ALHAJI OSMAN FODAY YANSANEH
NATIONAL SECRETARY-GENERAL APC