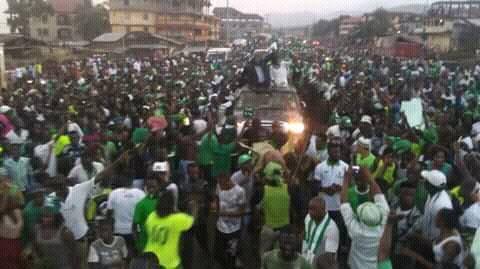 By Josey Tholley
Last Sunday the former SLPP flagbearer and failed 2012 presidential candidate Julius Bio returned to Sierra Leone, fresh from his studies at the Bradford University. Most new graduates would be frantically looking for employment and sending their CVs to employers.
But it seems that Bio is either unable to secure an employment opportunity, or his supporters are insisting that God had ordained him to rule Sierra Leone.
On his arrival in Freetown he was welcomed by a crowd which was well arranged by his supporters to show he is a very popular man. They hired vehicles that transported people from the provinces. In all, it was a planned show of crowd, which gave the impression that Bio is popular.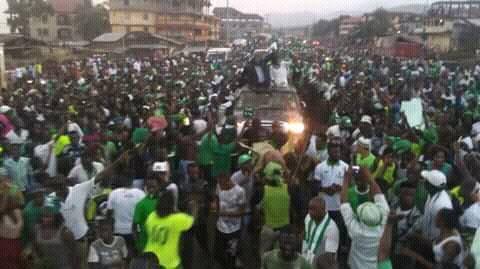 However, this is nothing new to Sierra Leoneans. Anyone who is seeking high office can organise people, hire okada riders and cultural performers to attend his homecoming event, as long as he is able to pay.
I am sure people like Kandeh Yumkella, Andrew Keili, Alie Kabba and John Benjamin will organise a bigger crowd when their campaign really get underway.
There is huge unemployment in Sierra Leone across all age groups, especially amongst the youths. So it is easy for people to be engaged in such celebrations even if they are non-committed supporters.
As a social Scientist by academic discipline, I was trained not to accept things uncritically. I always look at the bigger picture, the blind spot, which people don't bother with, and not simply follow others sentiments. When the uncritical mind looks up at the Sun or moon in the sky, it would appear to him that they are moving. But the truth is that the sun doesn't move round the earth, it is the earth that goes round.
The people of Sierra Leone have seen far bigger crowds in both 2007 and 2012 elections which SLPP lost. In the last 2012 elections, under Julius Bio it was crowd as usual on the streets of Freetown that was enough to convince people that SLPP would win that election in the first ballot.
Bio supporters in FreetownIndeed Bio promised us a victory. The same sea of people carpeted the streets of Freetown in 2007 which the late SLPP NEC chairman Jah confidently declared that the SLPP had already won the elections, and the party was only waiting for voting to take place.
SLPP lost both the 2007 and 2012 elections despite the hundreds of thousands of party supporters on the streets.
In the case of 2012 under Julius Bio, it was a straight humiliating defeat for my party at the hands of the APC. Thus crowds surrounding politicians can be deceptive. Nothing new, nothing impressive and no hope with Bio if the party delegates made another mistake in re-electing him as the flag bearer, based on his acclaimed popularity, which did not reflect the results of the election.
APC is the incumbent party; they are strong and awash with money and resources. They are extremely good at the politics of self-preservation no matter what internal problems they have or their popularity rating dwindling. They are also good at conflict management, even if risking unpopularity. They are ruthlessly uncompromising in strategic innovation on how to win an election.
The SLPP delegates elected Julius Bio on what he told them during the 2010 flagbearer campaign that he was the only one that could stand up to APC violence fire for fire, and sadly the 238 delegates who voted for him believed that dangerous nonsense.
But during elections in the country there was hardly any violence. The era of widespread political violence during Sierra Leone elections is over. Therefore Bio was elected on a false premise and campaigned on policies that were inconsistent with his questionable NPRC military junta records.
There were over 1 million registered voters in Freetown alone in the last election. The total registered national votes were over 2 million, which means that the party that does well in Freetown will form a government. Bio is certainly not the person to compete with the APC in Freetown.
The SLPP under Bio performed worse than any other SLPP leader before him, including not winning a single parliamentary or council seat in both Freetown and the North where SLPP had three MPs before Julius Bio lost all under his leadership.
In any general election in Sierra Leone, the SLPP will need to win at least 60% of votes in Freetown and 20% in the north to have any chance of winning overall majority.
Bio was a poor presidential candidate in 2012 and he would be the wrong presidential candidate to be trusted by voters in these critical regions to seriously compete with any APC presidential candidate that succeeds president Koroma in 2018.
SLPP needs a presidential candidate who can fight and win votes in areas the SLPP has consistently performed extremely poorly, with the exception of President Kabba , who although completely unknown in politics, polled spectacular election successes in both Freetown and the north in 2002 .
Unlike APC, the SLPP is cash strapped and cannot expect to campaign and win the 2018 general election.
Julius Bio is not capable of raising the level of funds the party needs to mount a serious election campaign. In the last election Andrew Keili through his business contacts raised 300 million Leones and handed it to Bio for the campaign.
Ambassador Allie Bangura paid for Bio to travel to Ghana to receive medical treatment after someone busted his head.
Bio has a very poor international image and America had barred him from travelling to the USA. He even failed to attend a fund raising occasion which was organised by the SLPP North America chapter, after he was elected as the party's flagbearer in 2011.
By all indications therefore, Julius Bio is the APC's preferred SLPP flagbearer aspirants. He poses no threats to the APC's dominance in Freetown and the North. And because of his NPRC military junta excess baggage, he is a fair game for the ruling APC.
Bio is also allegedly responsible for violence in the party. He is a polarizing figure and he is the least capable of leading a united SLPP to a general election.
Bio's re-election as the SLPP's flagbearer later this year or next year, will be of immense strategic value to the APC's election campaign in 2018. Indeed, APC government minister Balogun Koroma has said the APC would welcome Bio as their opponent again, because they had defeated him before and they would defeat him again.
I strongly believe and I am convinced about this, that APC fears Andrew Keili, Kandeh Yumkella, Ali Kabba and John Benjamin. The APC are in awe of SLPP electing a centrist presidential candidate who can appeal to voters in the regions they control, and would therefore prefer instead to have Bio again as their opponent.