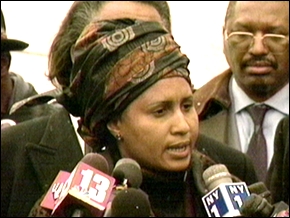 | | |
| --- | --- |
| | One year after her son's killing, Kadiatou Diallo says she struggles every day with her loss.(Court TV) |
ALBANY, N.Y. (Court TV) Kadiatou Diallo has struggled to compose herself in the first two days of testimony in the trial of the four officers accused of murdering her son. But as witness after witness described the empty shells around her son Amadou's bullet-riddled body, she could not hold back her tears at times.
"As I was in my room last night, I wondered, 'Is that my son who they were talking about?'" Mrs. Diallo told Court TV's Pros & Cons. "Every day, every second, I have been going through this pain. I will never forget it."
Mrs. Diallo reflected on the loss of her son as she, her family and various supporters prepared for the first anniversary of Amadou's killing. On February 4, 1999, Amadou Diallo was gunned down in a hail of 41 bullets in the vestibule of his own home. Officers Sean Carroll, Richard Murphy, Edward McMellon and Kenneth Boss ? all members of New York's Street Crime Unit ? were working undercover and driving in an unmarked car in search of a serial Bronx rapist when they encountered Diallo.
Lawyers for the officers claim that Diallo was acting suspiciously and ducked his head back into the vestibule when he saw them. The officers claim they identified themselves and that Diallo did not heed their command to halt. When he reached for something, the defense says, officers could not clearly tell whether he was going for a weapon, and they felt threatened. Diallo was then fired upon; 19 of the 41 bullets hit the West African immigrant. He was unarmed, having only a beeper, a wallet and his keys when he was killed.
Kadiatou Diallo told Pros & Cons that it was extremely difficult for her and her family to hear the officers' attorneys suggest her son was responsible for his own death. One year after Amadou's death, she said she feels a need to let others know that her son was a good man, a beloved son, who did nothing to cause the officers to fire at him.
"It's been hard, especially as they try to blame Amadou," Mrs. Diallo said. "They say my son drove them to shoot him. … But my son did nothing … No human being should be shot 41 times in the vestibule where he lived without anything to justify it. No family should go through what we've gone through."
Mrs. Diallo remembered last speaking to Amadou three days before his shooting. She said he talked about going back to school while still holding down his job as a street vendor. Amadou, she said, also asked her about helping him get in touch with a woman back in Guinea whom he hoped to court and eventually marry.
It is important, Mrs. Diallo stressed, that people know that Amadou was a very loving son who wanted to make his living and succeed in America. He liked reading, music and sports and was very religious, following the teachings of Islam. Mrs. Diallo indicated that her heart has been "torn up" by the initial attempts by police to link her son to the serial rapist the defendants were looking for on the night of the killing. [Another man, Isaac Jones was apprehended and confessed to the multiple Bronx rapes last April].
"It's been hard, but I have to stand and tell people that Amadou was a very good man who didn't deserve to be shot 41 times." Mrs. Diallo said. "He was beloved, had a family and had a good background."
Testimony in the trial will resume on Monday morning. Several vigils and memorial services for Diallo are scheduled to take place in New York City on Friday and throughout the weekend. One of the vigils will take place in front of Diallo's former home and the scene of his death, 1157 Wheeler Avenue in the Bronx.
The lighting of the vestibule in front of Diallo's apartment building has been the focus in the two days of testimony in the murder trial. Five prosecution witnesses have testified that the vestibule seemed well-lit on the night in question. Perhaps the most pivotal witness for the prosecution was a former neighbor who lived diagonally across the street from Diallo, Debbie Rivera.
Rivera lived at 1162 Wheeler on the night of the shooting. She testified Thursday that she saw four white men [presumably the defendants] approaching the sidewalk towards 1157 Wheeler Ave. Despite having double windows, which were closed, Rivera said she heard a motor running and she normally went to the window when she heard noise outside. The men appeared, the witness said, to have come out of a parked Burgundy car. Rivera said she could only see the backs of their heads. At least one was wearing a hat and all of them were wearing casual clothes, she testified.
Rivera claimed that the vestibule was lit, and she could see the entrance to the building clearly.
Then, Rivera said, she went away from the window. Soon afterwards she said she heard a lot of noise ? gunshots. Tapping the witness stand, Rivera simulated the pattern of the shots she heard.
"Pow, pow, pow, pow," Rivera said. " …. (Pause) Pow, pow, pow, pow. There were several shots, then a pause, then another string of shots."
Rivera claimed that she did not hear any commands such as halt before the gunfire erupted. After gathering her relatives into the living room, she went back to the window and saw one man, who was wearing his shield, throw his hat down and mutter an expletive as he leaned up against a car in front of her building. [Various reports say that this man was Officer McMellon.]
During cross-examination, the officers' defense lawyers tried to poke holes in Rivera's testimony. James Culleton, Murphy's lawyer, suggested that Rivera may have heard noises from her television (which she admitted was on at the time), not necessarily from outside. Culleton also focused on whether Rivera had heard the news accounts of the shooting before investigators first interviewed her the following day.
The defense also confronted Rivera over inconsistencies between her initial statements to police and her testimony. The officers' lawyers asked her about her initial claim that she heard, but did not observe, anything and that she was awakened by the sound of gunfire. Rivera conceded that she did not trust detectives in the beginning and thought the questioning detective could have been one of the men she observed from the window. She also denied telling the detective that she was awakened by the sound of bullets.
Prosecutors are expected to present more "earwitnesses" like Rivera as well as a medical examiner who performed an autopsy on Diallo next week. Kadiatou Diallo did not want to comment on the prosecution's progress at the trial or on the testimony. Although her son was killed by officers sworn to protect others, she still believes that justice will be served and Amadou's death will be vindicated.
"I just believe in the justice system," Mrs. Diallo said. "If people shoot at another human being 41 times, the justice system should decide their punishment."
 Bryan Robinson